Marble – everywhere we went, there it was. Whether it was at ICFF or a press preview, we spotted it and loved how designers really modernized such a rich material. These were some of our favorites:
The bi-level Duplex table from Phase Design has a rectangular wood part below and a smaller square marble piece that sits in a metal base above.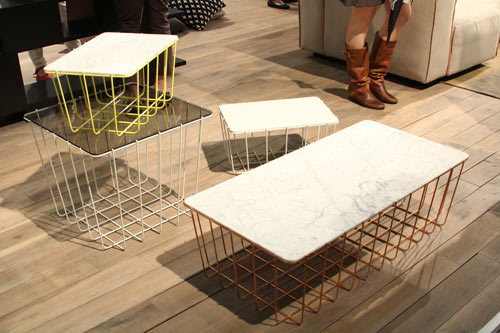 Possibly the coolest tables ever. The Scramp tables from Blu Dot were inspired by those metal contraptions they use to pick up tennis balls on the courts. You can get it in various finishes and top options. The one in the foreground also nods to another popular design trend: copper.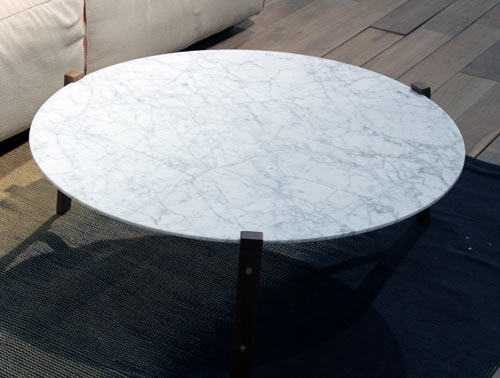 Free Range coffee table from Blu Dot
The Tambor Coffee Table from Sé Collection by Jaime Hayon. The drum-like table features a lacquered bottom with a marble top. Not only does Jaime Hayon rock the design world, he also sports some amazing footwear (more on that later today)!
Launched at ICFF, The Stromborg Table Collection by Daniel Stromborg for Knoll is made for both indoor and outdoor use and comes in various sizes.
Bees and Honey by Christopher Roy combines wood and marble in a unique way. The marble shelving unit on top is in a honeycomb shape, while the base of the table is made of simple oak with black edging.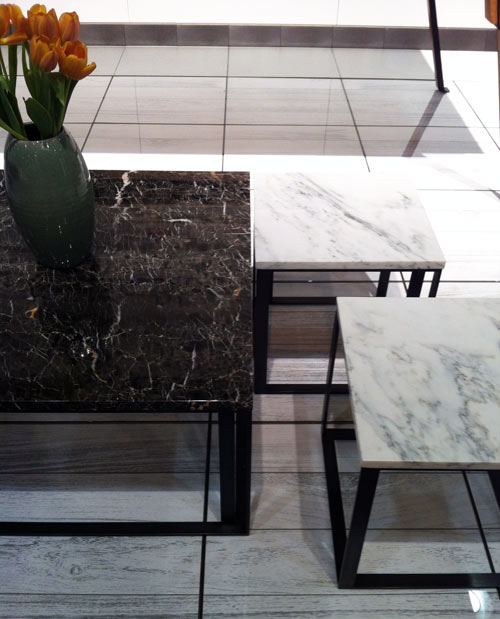 Edwin Blue's Iota Tables are a statement in minimalism with modular functionality. You can use them separately or place several together to form a larger table.
I love the shapes of this marble mosaic from Stone Source. Full of parallelograms and rhombuses (fun words!), the pattern they create gives regular marble a new twist. This also combines another trend from the show: geometrics.