In its 2nd year, WantedDesign was back with a multitude of designers, architects, manufacturers, students, and more for an exhibition that ran during the unofficial New York Design Week. The event is meant to bring about new relationships and to spread ideas. The Tunnel was buzzing with creative energy and brilliant design and it's definitely an event not to be missed.
Designer Todd Bracher partnered with 3M Architectural Markets to create Lightfalls, a lighting installation that utilizes the laws of physics to bounce light repeatedly from a single source.
David Trubridge is well-known in the lighting community and he was back for the 2nd year in a row at Wanted. He displayed more large-scale fixtures that feature his signature geometric cutout designs that cast amazing patterns on the walls and floors. The three lights are inspired by a Maori legend.
"OnTime" was Joe Doucet's exhibit that made us take a moment to stop and look. Each piece reflects and challenges perceptions of time. The piece above is called "Timeframed" that slowly moves and completes a circuit in one minute.
François Chambard, the founder of UM Project, displayed a series of playful lamps called Craft System™ that definitely had a robot-like feel. Each design is one-of-a-kind and full of personality, making it impossible to choose a favorite. Basically, we wanted them all. In case you missed it, we featured the entire project yesterday.
Avram Rusu Studio debuted their new Confetti and Confetti Glass Lighting Collection that had metal and glass discs, crystals, and stones that are threaded on spokes and almost look like mini explosions.
Furniture by Debra Folz that featured hand pleated fabrics.
The wire Silhouette chair by Zorine Design has an overall simple form but upon closer inspection you notice the complex details.
12×12 was an exhibit that featured twelve furniture designers of pieces using salvaged wood from twelve NYC buildings that were demolished. It was so tempting to hop on Nikolai Moderbacher's seesaw like it was recess all over again.
Also part of the 12×12 exhibit – Louis Lim demonstrated how his Circle Bench worked. Very cool piece that is full of hidden storage.
Fun bench from Quadrante Design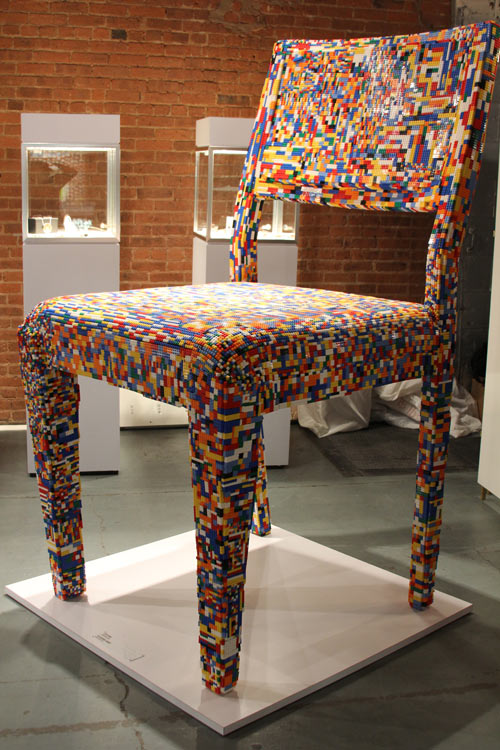 Enormous Lego chair from Alessandro Jordão debuted as part of the "Fresh from Brasil" exhibit.
Necklace from Rosely Kasumi, another piece from "Fresh from Brasil"
Necklace from Camila Lovisaro, more from "Fresh from Brasil"
Part of the VOOS exhibit, these industrial light fixtures by Work and Design were beautiful.
And the pièce de résistance of the entire night was spotting the legendary design duo Massimo and Lella Vignelli!