It is not often we are equally impressed by food and design innovation with the same intensity. But Nami Nori, a new Japanese restaurant in NYC's West Village, has officially blown us away. Besides the three founders all being alums of Masa, the only 3-Michelin-star sushi restaurant in the country, Nami Nori has captivated our creative senses with their show stopping take on temaki served up "taco style" on perfectly cut wood blocks in a laid back Cali-Scandi-Japanese décor.
"Normally temaki is served either in a cone shape or like in a cylinder, but we serve an open-style of temaki, which allows you to see the ingredients inside," Limb, the operations director, said. "You can eat with your eyes before you taste it, and it's very easy to eat."
The trio's attempt to be more inclusive without sacrificing quality is something sushi restaurants have been lacking for decades. The chill interior vibe by MN Design Professional Corporation, is light and bright, inspired by "both modern beach houses and traditional Japanese residences."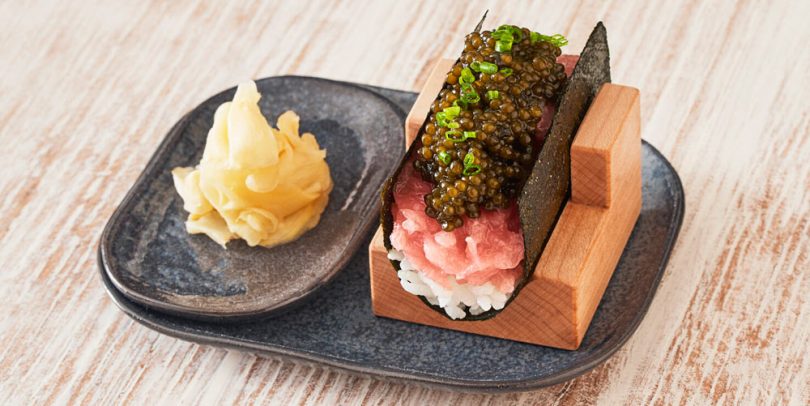 This entire menu is not only gluten-free, but turns fresh fish, vegetables, and rice wrapped in nori into two-bite taco eye candy! And after you devour the luxe rolls of uni, toro-scallion, and lobster tempura with yuzu aioli… They even have open temaki-style desserts (sans nori). Ice cream flavors such as choco-Hojicha are topped with candied pecans and caramel and wrapped in a waffle-cone shell.
All photos courtesy of Sebastian Lucrecio.