The Old Stocks Inn is a quaint, rustic establishment in Gloucestershire (UK) with an otherworldly facade that hides an ultra modern interior. With Jordan Littler as the interior designer, the inn has 16 bespoke guest rooms, restaurant, bar, library, and even an independent coffee shop.
They first started by stripping the dark 80s update that had been done to expose the original 17th century architectural details. The dark timber beams were refinished and new ceilings were installed to reflect natural light.
Modern accents, like Lee Broom pendant lights and Tori Murphy geometric cushions, are juxtaposed with vintage Ecrol furniture to create a unique, eclectic look. Old antique characteristics and new, contemporary furniture sit side by side in perfect harmony.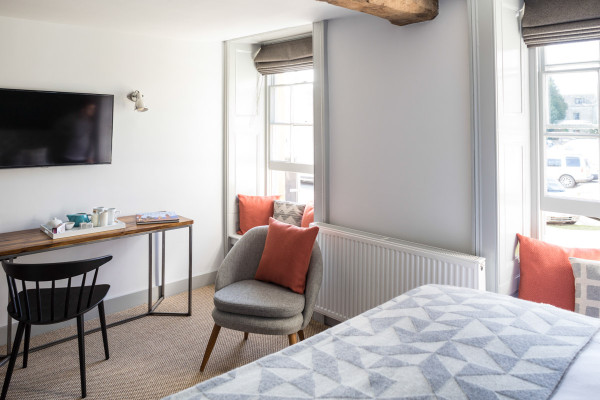 Each room has its own unique look. They're fully decked out as well — replete with amenities like a Nespresso coffee machine, smart TVs, and roll top baths. Bright, punchy colors keep every room light and cheerful, and complement its eclectic look.
Photos by Mark Bolton.