You may have noticed numerous new online framing services have popped up in your social media feed lately promising many of the same bespoke framing services as traditional brick and mortar framers, but with quicker turnaround, lower prices, more contemporary finishes and styles to choose from, most designed with app-friendly and upload convenience. Its part of an industry wide evolution, with new players dedicated to eliminating the barriers normally associated with getting art onto our walls.
After moving last year into a new home, I finally felt compelled to unpack the embarrassing amount of art prints I've collected that had languished inside cardboard tubes awaiting the long promised, "one day". It seemed the ideal moment to give some of these online services a try, and in the process discover whether newer was easier (hint: it was!).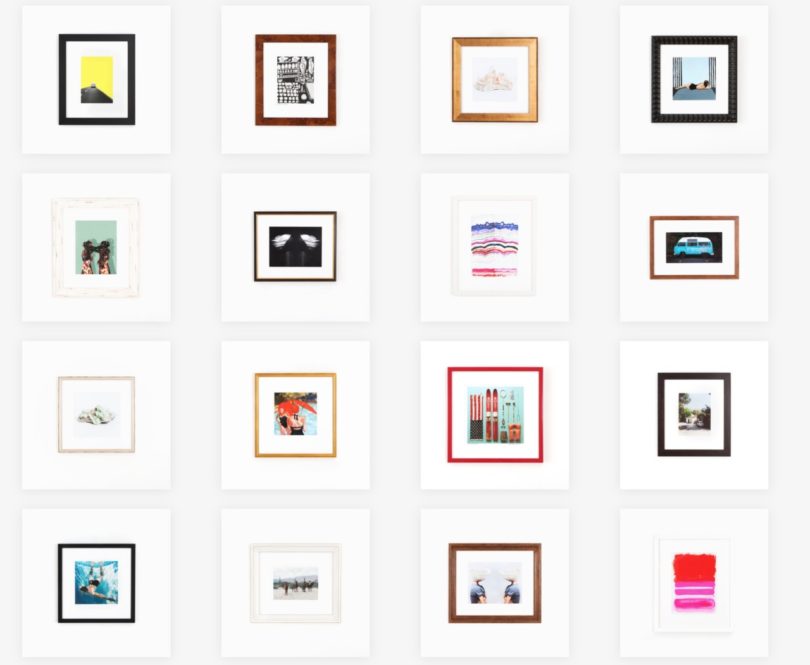 1. Framebridge
Aimed squarely at the Instagram generation, Framebridge is the online framing service most adept at turning an iPhone captured moment into an archival print framed to grace a wall. The service's most glowing feature is its flexibility: they'll send a prepaid tube directly to your home and handle everything from there, including measuring and matting your print or poster, promptly mailing back the finished piece all ready-to-hang (in a secure and well padded box respectful of its contents), including easy-to-mount hardware. There's also the option to upload a photo directly from either the Framebridge site with drag and drop ease, or using their app with similar results sans the mail-in process. Free shipping, a sizable catalogue of tasteful and contemporary framing options, and reasonable prices makes Framebridge an attractive option for anyone looking to upgrade their framing game beyond off-the-shelf IKEA options.
2. Simply Framed
Focused upon simplifying the framing process into an experience with "no more than 5 steps", Simply Framed's selection of 22 styles is outfitted for the next generation of nesters looking to beautify their homes with affordable art and prints. Customers are invited to upload images/photos directly via Facebook, Instagram, Dropbox, Google Drive, or from the hard drive for "print and frame" output at sizes ranging from 8″x10″ all the way up to 40″x60″. The site's shoppable Instagam feed exhibits a plethora of examples to use as inspiration, both in finishes and also for ideas of wall arrangements.
3. Level Frames
Level Frames' selection of all-wood frames are made using wood from sustainably harvested forests, a commendable decision baked into their online platform's deliverables. Like some of the other services listed here, the site offers instant image uploads and custom framing sizing, but also distinguishes itself with an artist and designer community offering limited edition prints framed and ready for delivery (including Design Milk favorite, Joey Roth).
4. Framed & Matted
Framed & Matted's online Frame Builder feature is easy and straightforward, providing customers the option to pick and choose from a multitude of frames categorized by color, with a rainbow of mats to choose – or abstain – from. In total, it's 14 frame options and 30 mat colors that can be mixed and matched to your heart (and art's) content. The service also stands out for their free design assistance feature that invites customers to email photos of their artwork with a general description of the intended space/room where the art/print is to be displayed; Framed & Matted will in turn offer recommendations based upon budget. Note, Framed & Matted does not offer direct upload or artwork framing services, so measure twice before ordering.
5. American Frame
Of these five options, American Frame is the most established and traditional ("since 1973"). But don't let the site's more sedate presentation lull you into skipping them for consideration; they offer a multitude of frames by color, material, and size like their competitors, but open up an array of additional options of customization, specifically when uploading an image directly for framing. A multitude of mediums are offered to print upon, like archival quality photographic paper, canvas, Plexiglass, and even aluminum. American Frame even offers professional photo retouching and color proofs for more professional output, alongside an excellent blog dedicated to the expertise of framing art worth perusing.