When December rolls around, the design world waits with bated breath on Pantone's announcement of the following year's color selection. To mark the occasion for 2019, Pantone partnered with Tribute Portfolio, Marriott International's newest collection of independent hotels, to launch a series of playful pop-ups that celebrate color and travel to show just how powerful they can be at inspiring creativity and connection. The first Pantone Pantry popped up last week in Miami Beach at the Royal Palm South Beach Miami Resort during Art Basel before traveling to two new Tribute Portfolio Hotels next year.
At the Pantone Pantry unveiling, Pantone Color Institute's Vice President Laurie Pressman announced that the 2019 Pantone Color of the Year was PANTONE 16-1546 Living Coral. They popped the doors open to reveal a curious world of color that featured whimsical, travel-inspired vignettes that give nod to the perfectly peppy shade of orange-y pink. "Linked to tactility and human connection, PANTONE 16-1546 Living Coral is a warm and welcoming shade that fosters immersive experiences and encourages playful expression; so it made perfect sense that we partner with Tribute Portfolio, a brand that shines a light on the individualized and personalized spirit of all its characterful hotels, to create a unique way to experience color and bring PANTONE 16-1546 Living Coral to life," said Pressman.
With Tribute Portfolio's knack for igniting imaginations through travel and Pantone's ability to inspire through color, these quirky pop-up experiences are sure to encourage a fresh perspective for guests and locals alike.
– Amanda Nichols, Global Brand Director, Tribute Portfolio
Hidden behind the back wall of the pantry was a hotel guest room where a projected video played on a loop with animation by pop art illustrator Gabriel Alcala and music by supergroup LSD, whose members include British musician Labrinth, Australian singer Sia, and American music producer Diplo.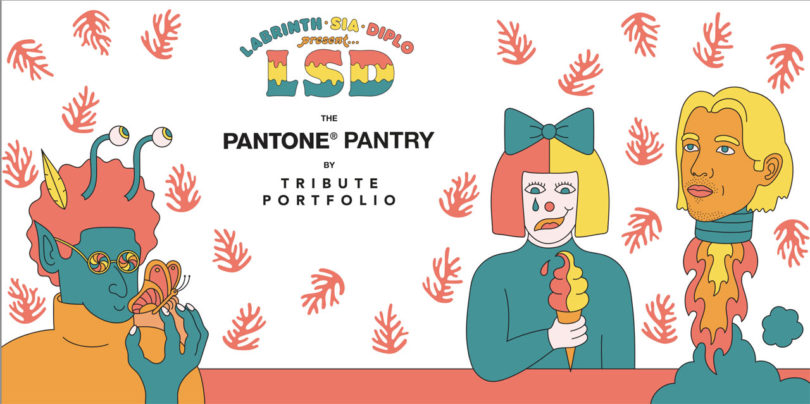 The Pantone Pantry next hits Savannah, Georgia for a stay at The Alida before heading to The Slaak Rotterdam in March 2019.