Some of us know exactly what it is we want to do when we grow up and others walk along until they come upon it. Pia Riverola, who rose to global acclaim in recent years thanks to her talents and good eye, was always interested in photography but didn't discover her real passion for it until she left her hometown, Barcelona, for Mexico City.
"When I moved, I started to capture things very spontaneously. Everything felt really new and exciting," she said. "Mexico's bright colors were everywhere and there are beautiful desert and lush landscapes. The new architectural styles that I had not seen before were especially a main source of my inspiration, and helped to shape what my work would become in the following years."
Pia now splits her time between Mexico City and Los Angeles, and says each place and its personality have transformed her understanding of both detail and color. Recently, we had the chance to speak with her about her career, her diverse photography styles, and how launching her website through Squarespace helped make her professional dream a reality.
Travel has played a huge part in fueling and shaping Pia's art:
"Once I got used to taking photos, I inevitably wanted to travel to see more places and capture more moments," she explained. "That led to sharing my photos on the internet, mainly to be in touch with my friends and family back in Barcelona, and also very organically some magazines and brands got interested in my work. They started featuring it or commissioning projects for me to shoot."
Her photography styles similarly evolved as others started taking notice, weaving in between the worlds of fashion, still life, landscape, and architectural photography.
While living in Barcelona, Pia studied film and took a few photography classes in the process. She credits this time in her life with discovering a new language that would allow her to communicate in her own way, using photography to share her individual point of view. After that, a move to New York for a year gave her the opportunity to take her studies further and focus on documentary film at SVA.
Pia continued to branch out with her talent, eventually building up her portfolio to include a number of genres that made her photography style even more appealing to potential customers.
"Architecture and documentary came first while traveling, then I introduced more personal portraits and started playing around with still-life and set designers. Fashion came along very organically, and was the last since it involves more people for a project. I enjoy being able to adapt my vision and taste to different genres, I become less excited when I have to shoot the same thing over and over. Photography is my job, but it's also become my way of living and getting to know what surrounds me. It's exciting being able to learn about it all," Pia opened up to us.
When she's not on assignment, colors, textures, and light moments are what most draw her attention most. Pia also shared a few tips for capturing the personality of a location when traveling.
"I try to get to know local people who can take me around, show me their point of view or the things that they enjoy in their city or town. I'll always try to be outside during sunrise or sunset. I love chasing the first and last light of the day, especially if I'm somewhere new. I also pay attention to everyday things, I'm always looking around."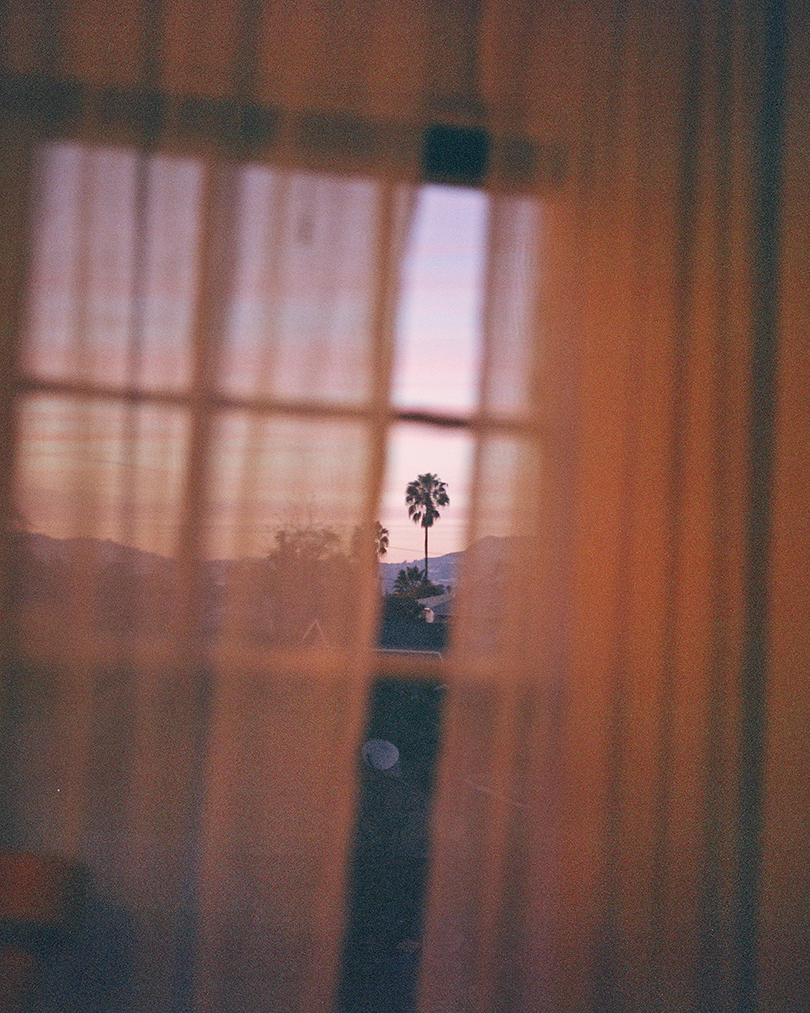 Other times, inspiration is literally right in front of you. In this case, a window in Pia's home. "I'm unsure why, but I find myself taking the same photo from this window in my room at different times of day, on different days, during different sunsets or sunrises," she shared. "I have a collection of these images and I find a lot of pleasure in them, even though it's something I see often. I'm guessing it's because I travel so much for work that I get excited to be home, and still find beauty in it even if it's not exciting."
Pia's client list today is extensive and impressive – Nike, Wall Street Journal, and Soho House grace it among many others. But names aside, every photographer has a favorite project.
Pia let us in on hers, "I loved working on the campaign with VIDIVIXI in Mexico City. It was really special to help create the mood, lighting, and the specific setting that we wanted the furniture to live in. It ended up feeling dreamy and almost from another time, like if you were in a movie."
By turning to Squarespace for the tools to create her website, Pia has turned her dream into a reality. After drawing from the places she's visited across the globe for inspiration, creating an incredible photography portfolio site was the next step and the perfect place to showcase all of her work.
"It was really incredible when I finalized my website and was able to share my work living in a beautiful space," she said. "It made it feel very real and allowed me to show my work and my world to everyone."
Among other things, Pia loves that Squarespace gives her the ability to infuse her own style into her website through easy-to-use fonts and layouts. The template she chose was intuitive to build and for potential clients to navigate. Being a photographer, she also makes use of the ability to edit brightness and color levels specifically for website use. And as she takes her professional dream to the next level, Pia's limited edition print shop will soon be up and running as a Squarespace-powered store.
Ready to get to work on your own site? Take the first step with a Squarespace website. Use coupon code DESIGNMILK at checkout to get 10% off your first purchase.