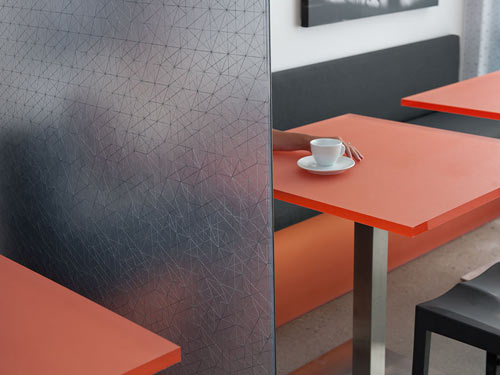 3form is the king of really cool materials for use in the home and office, but my favorite is their Varia Ecoresin line. These translucent panels are harder than glass and completely customizable. And, they're not a burden on the earth, using non-toxic, sustainable material made from ecoresin™, which is GREENGUARD Indoor Air Quality Certified®. Having recently discovered a few new patterns (like the one above) were added to 3form's lineup, I thought it would be fun to share my favorite 3form Varia Ecoresin patterns.
Above and below: Starcrossed
Just imagine what you could use these for… from room dividers to craft projects to artwork and even in furniture or jewelry design… but make sure to check with 3form for more information.
Cirque – also available in Mega Cirque
Bulbe – this comes in a larger pattern, too.
But, don't let it stop here – there are tons of other patterns and colors available in this line and their other products like pressed glass and stone. Check it out.

Design From Around The World