Deconstructed-Reconstructed.
PASSED HORS D'OEUVRE RECIPE: Buffalo Chicken Wing | Celery | Cambozola Blue
Here is an hors d'oeuvre whose flavors have been broken down and put back together with a slight enhancement on each ingredient. Since there are only four main components, each one has been upgraded.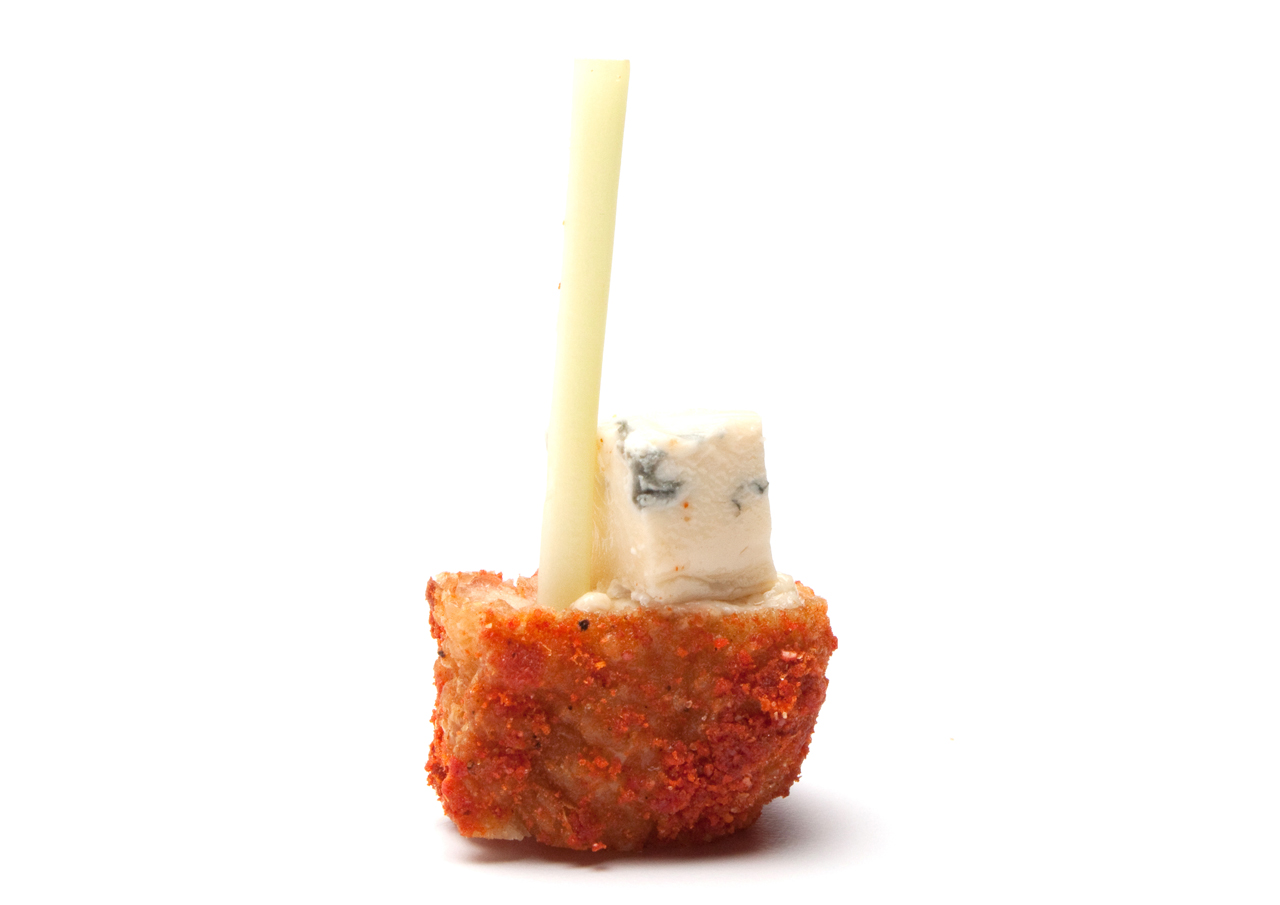 Although its namesake is not a city known as a culinary mecca, it's a mistake to deny that this combination of flavors is magical. Here, the wing's essence is unchanged, but we've removed both sauces by drying the peppers and using pure Cambozola blue cheese to make it less messy.
Chances are you've never de-boned a chicken wing before, but don't worry—a yank and a twirl and you'll have a meaty piece of poultry that makes the spicy bite even more succulent (not to mention easier to eat). Grab a few extra wings for practice; you can always eat the evidence of less-than-perfect pieces.
YIELD: 12 servings
SPECIAL EQUIPMENT: Silpat liner, food dehydrator (optional), electric deep fryer or oil thermometer, kitchen shears, needle nose pliers (optional)
Spice Mix
1 red pepper, stemmed, seeded, and finely diced
2 teaspoons kosher salt
1 teaspoon cayenne pepper
1 1/2 teaspoons sweet (Hungarian) paprika
Place the diced red pepper in a single layer on a baking sheet lined with parchment paper or a Silpat liner, or on food dehydrator trays.
Turn your oven to the lowest temperature it will reach (170˚F or 175˚F is ideal) or use a food dehydrator to gently and completely dry the red pepper. (Timing will vary based on your equipment, but could take as long as 8 hours. It's all hands-off time, and the intense flavor is worth the wait.)
Grind the dehydrated peppers in a spice or coffee grinder, or in a high-speed blender like a Vitamix, until they're reduced to powder.
Transfer to a bowl and whisk in the salt, cayenne, and paprika. Store in an airtight container at room temperature until needed.
Wings
12 large chicken wings
2 cups vegetable oil
Heat the oil in an electric deep fryer or a heavy, high-sided stockpot or Dutch oven until an oil thermometer registers 375˚F. Line a baking sheet with paper towels.
Fry the chicken wings until they begin to brown, then transfer to the baking sheet until cool enough to handle.
Cut both ends off the wing with kitchen shears, leaving the two unconnected bones in the middle section (like an archery bow that doesn't join at the ends). Reserve the drumette portion for eating later and the skinny winglet for soups or stock. Using the same shears or needle nose pliers, cleanly pull the bones from the wings, making them boneless.
ASSEMBLE AND SERVE
Additional Ingredients
3 celery stalks from the heart of the bunch, with leaves attached
2 oz. very cold Cambozola Blue cheese
Slice the celery into 2-inch matchstick pieces with leaves attached.
Dice the blue cheese into 1/2-inch cubes (freeze your cheese for 30 minutes to make it easier to slice if necessary, or use unflavored dental floss to cut it).
Refry the boneless chicken until golden, then return to the baking sheet just until the excess oil drains off. Sprinkle with the spice mix.
Cut the edges off the wings and stand each up on one cut side. Skewer each wing with a celery stalk, top with a cube of diced cheese, and serve immediately.
Now enjoy!

Design From Around The Web