Roche Bobois released a series of exclusive collections in Milan at Salone.
Descriptions below from Roche Bobois.

Syntone Sofa by Roberto Tapinassi and Maurizio Manzoni
Geometrically appealing elegance and supreme comfort, the Syntone sofa plays with oversize proportions in the manner of contemporary loft spaces.
Cute Cut coffee tables by Cedric Ragot
Mayflower armchair and ottoman by Studio Roche Bobois
Egos sofa and armchair by Design Roberto Tapinassi and Maurizio Manzoni
A sculptural invitation to comfort, Roberto Tapinassi et Maurizio Manzoni's Egos sofa and armchair are as well-suited to the private domain as they are to public spaces.
Calisson bed by Maurice Barilone
With its softly-padded round-cornered frame and headboard, the Calisson bed has an air of Pop playfulness about it.
The Ava Chair by Song Wen Zhong
The Ava chair is a project to result from the first Roche Bobois "Design Awards", a competition launched in China in 2009 and held in a different country every two years. Under the theme of "Nature, the universal link between east and west", 28 year-old design independent Song Wen Zhong, a graduate of Beijing Academy of Arts, sought inspiration for his Ava chair in the myths and stories of Chinese legend. With its long sensuous tapering limbs, Ava resembles a dragon-like avatar transformed into a chair: a fine yet strong specimen such as a giant ant. Representing the first plastic injection-created design from Roche Bobois, Ava marries high-tech purity with organic form.
Dervish low tables by Studio Roche Bobois
Dervish, a series of low rotating tables. Fun and mobile, these tables are available in a number of finishes that are perfect for mixing and matching.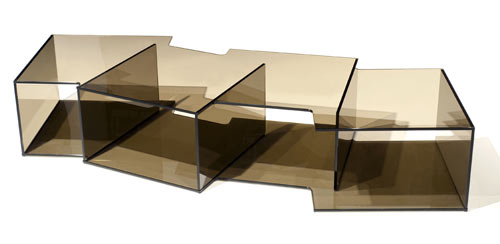 Offset low table by Sacha Lakic
Offset has something of contemporary sclupture: randomly positioned glass cubes overlap, disobeying the principles of symmetry and creating a sense of dynamism.