From Asiatic Carpets, the Funk rug is hand-tufted in India and its thick pile is full of vibrant, pixelated colors making this all-white space look super fun and playful.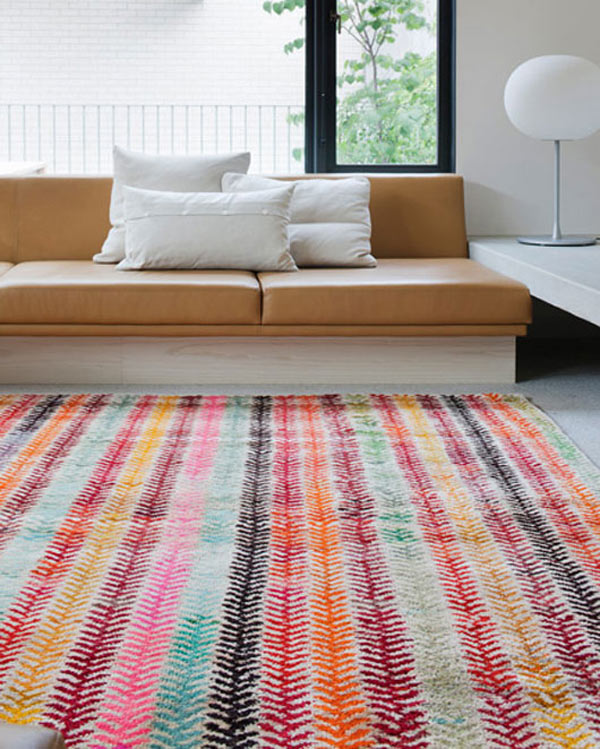 Loom Rug's Old Yarn Wheat Rug is like a rainbow of modern stalks growing across the floor of this room with a neutral, built-in sofa.
Housed within a warehouse in Hong Kong, this apartment's dining room goes for bold with its striped rug full of pinks, reds, and browns that grounds a Matt Hilton dining table.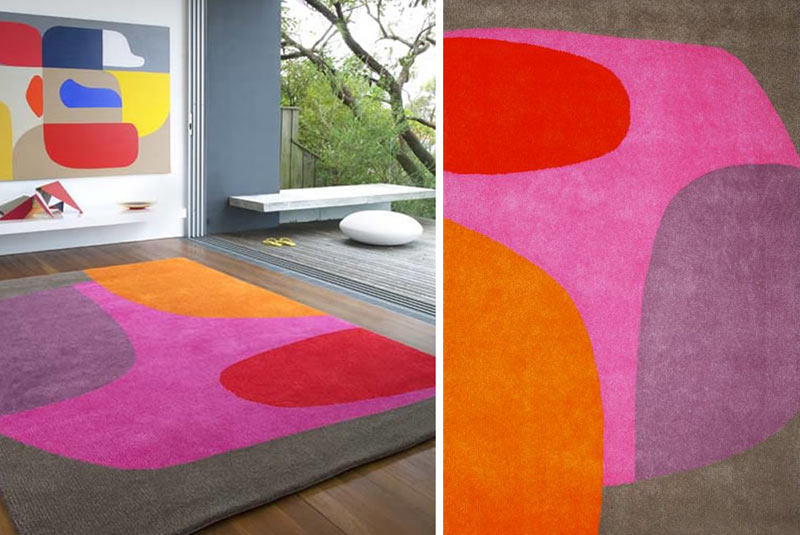 Dinosaur Designs brings their colorful palette and design savvy to the Lava rug, which is part of a collaboration with Designer Rugs. The organic forms filled with striking colors works perfectly in this white room that's connected to a patio.
The eclectic, Melbourne living room of Simon Griffiths and Melissa Loughnan has a gallery wall full of art and low bookshelves styled with various knickknacks so, a colorful geometric rug fits right into the large space.
Paired with a vintage-inspired, black leather sofa, a yellow Jieldé floor lamp, and a vintage black pendant, the multicolor rug from Loom Rugs brightens this Melbourne space with pinks, greens, yellows, blues, and whites.
Carpet tiles are a smart way to go, especially in a kid's room since they're not always the neatest. id 810 Design Group used different striped patterns and colors to create a patchwork-like rug that covers the entire room.
The Swirl rug, designed by Paul Smith for The Rug Company, brings swirling stripes of color to any room with Smith's signature style pattern that's covered everything from clothing to handbags, to cars.
From one of interior designer Eileen Kathryn Boyd's showhouses, this living room, and its rug, mixes safe neutrals with punchy neon colors like fuchsia, orange, and green.
In this guest bedroom, the Américo rug from Carpet Diem has a gutsy diamond pattern that's mixed with vintage lamps and a gallery wall of older paintings.
Nothing beats a brightly colored kilim, which merges a bit of history with a modern feel. Jessica Helgerson Interior Design used this colorful kilim in a moody bedroom that's outfitted with mid-century pieces.
Swedish blogger Joanna, of AprillAprill, uses a bold, graphic rug in her all-white dining room. The rug was passed down in her family so it has sentimental value along with adding a striking pattern to the mix.
A colorful diamond patterned rug sets the tone in this home full of rustic and raw finishes that was designed by Heather Nette King.
Tom Dixon's Beam rug, for The Rug Company, references a 1970s disco with its colorful triangular beams helping to spruce up an office space that has lots of wooden details.
This bold rug dons not only cool colors, but a really cool pattern – almost like pieces of rug that have been zipped together. Paired with a traditional dining set and a vintage chandelier, this all-white dining room would make family get togethers way more fun.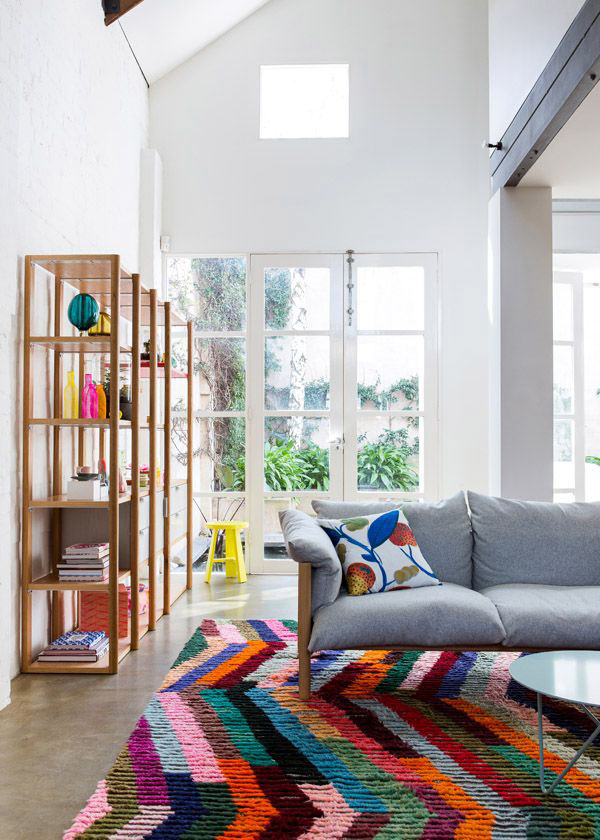 Australian design blog The Design Files holds a yearly Open House that opens up a house to act as a pop-up shop of various wares scoped by the blog's founder, Lucy Feagins. This gorgeous rug by Loom Rugs was used in the 2012 Open House.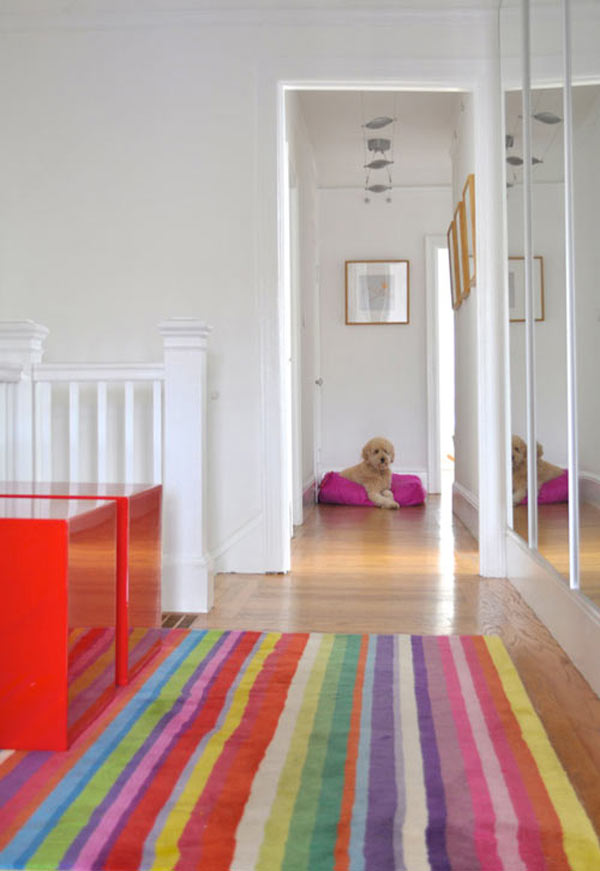 Designer Tina Frey creates modern housewares and jewelry out of resin and it's no surprise that her home, as seen on Design*Sponge, is equally as stylish. In the mostly white entryway, she uses a candy colored, striped rug from IKEA to energize the space.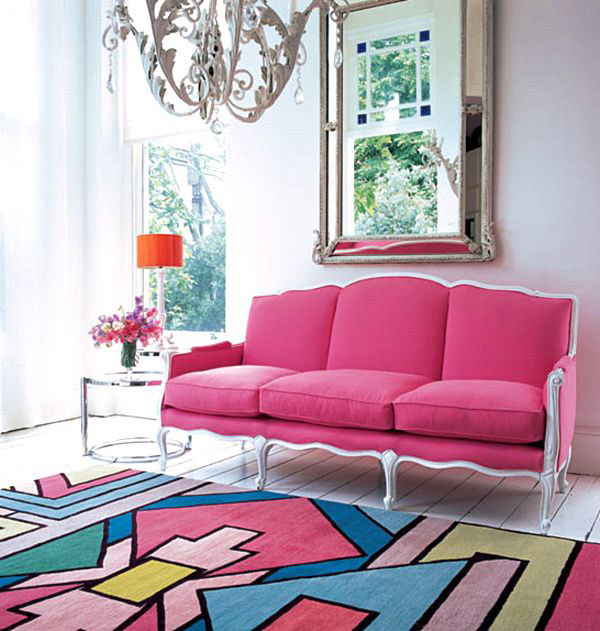 Another sublime rug from The Rug Company is Matthew Williamson's Tribe rug which is paired with a more traditional sofa covered in hot pink fabric. The geometric print was inspired by an African tribal print which works with the classic and modern details in the room.