The last decade undoubtedly belongs to the dominance of the smartphone in almost every aspect of modern life. But when it comes to the realm of work, another notable transition emerged in parallel: the disappearance of the desktop office and computers everywhere. Today, thanks to smaller, slimmer, and lighter laptops and tablets, we're working anywhere we can find a flat surface with desktop machines relegated mostly to niche professional duties or dedicated gamers. In the process of the world going fully mobile, a market for accessories catering to this new "way we work" lifestyle has sprung forth, including these 10 recent mobile accessories which work well, and look even better:
1. Rollbahn Large Notebook: Even in this day and age a notebook still deserves some space in everyone's tote, backpack, or laptop bag. The Rollbahn spiral notebook from Delfonics offers two of my favorite notebook features: graphed pages and micro-perforated edges, making it easy to share sketches and notes.
2. This Is Ground Mod 2: The Mod Mobile made our Gift Guide for Him last year and there's a good chance this larger update for the iPad Air and other tablets will make it again for 2015. The sequel is an evolutionary continuation of everything we like about the customizable tech and accessories carry-all with modular inserts, but bigger.
3. Adonit Jot Script 2 Evernote Edition: Adonit streamlined their already excellent Jot Script with this rechargeable follow-up optimized and engineered for Evernote-loving users (6 months of Evernote Premium for free is included), firming up the Bluetooth stylus's 1.9mm tip pressure to look and feel more like an actual pen. Perhaps more important than Evernote for creatives is knowing the Jot Script 2 plays nice with Adobe Illustrator Line, Adobe Photoshop Sketch, and Procreate. A clever magnetic USB charger refills up to 20 hours of use, plenty for a couple days of sketching and notes.
4. Surface Pro 3: You have to give credit where credit is due, Microsoft stuck to their guns with the Surface in its various iterations. The first version was an admirable device with many shortcomings and improvements came with updates. But the current Surface Pro 3 and its newly announced more affordable sibling, the Surface 3, have become bona fide laptop replacements, full-featured creative devices realizing the best of a laptop and Wacom Cintiq. Considering the full-featured specs and what's possible using its pen-optimized user interface, the Surface Pro 3 might be the best device for touch workspace workflow, steering far from allegations tablets are only for consumption, not creation.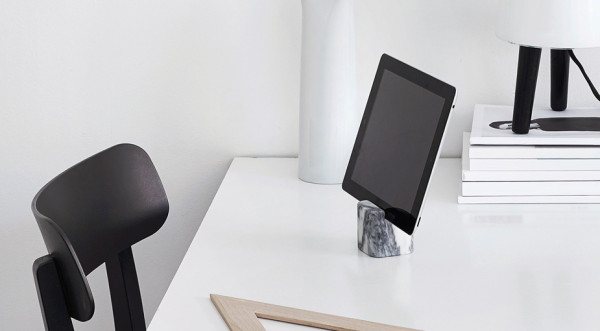 5. Blok Marble Tablet Stand: Many of us already put our digital devices on a pedestal when it comes to our attention, so why not just formalize the relationship by placing a tablet or phablet upon this regal slab of Portuguese ​Acquatico marble?
6. Emma Boxy Natural Leather Backpack: Living somewhere between a backpack and a purse, the Emma's cosmopolitan minimalism is its most admirable feature. With plenty of room for a sleeve-covered laptop, smartphone, notebook, and a collection of miscellaneous items, the elegant vegetable tanned leather carry-all should patina beautifully with use and wear.
7. Moment Photography Lenses and Moment Case: Sometimes the idea of lugging a camera, even a compact point-and-shoot, seems tedious and unwieldy. But even the better mobile lenses like the multi-element lens inside the iPhone 6 come up short when compared to dedicated camera glass. What to do, what to do? Moment is a beautiful compromise, add-on lenses designed specifically for the iPhone 6/6 Plus built around light-hungry glass that captures details without distortion, converting the iPhone into a legitimate camera. The metal and glass lenses have serious heft to them for their size, but are still small enough to stow away into any bag, backpack, or even a pocket while traveling or exploring. There's also been the addition of a new compatible case simplifying the shooting process and quick lens mounting for even easier iPhonetography.
8. Definitive Technology Symphony 1 Headphones: I don't usually use the word "love" when it comes to tech devices. I'm more of a "can we just be friends" sort of fella when it comes to digital accessories. But considering I've had to deal with loud traffic noise permeating our apartment walls throughout the work week, not to mention a pair of always hungry and crying felines, my test time with the Symphony 1 Headphones and their Active Noise Cancellation has been a sort of whirlwind romance. Very capable of masking annoying ambient sounds, these Bluetooth wireless cans are deceptively lightweight considering their large size (very welcome considering my head size), their size reflecting the 50mm drivers and a digital-analog converter housed within. The cups are comfortable for long stretches covering the ears to establish great isolation, and Bluetooth pairing is quick and painless once established the first time. Definitely – or rather, definitively – worthy of a spot inside a backpack when you need to drown out the sounds around you to get work done without sound intrusion.
9. Beam LED Lights and Digital Projector: Beam is the sort of device which invites curiosity when pulled out from a bag. It appears to be a corded light, but shares the appearance of a compact wireless speaker. And curiosity is further piqued once it's revealed to be capable of being screwed into an overhead light socket, operating not only as an LED bulb, but a 100 lumen pico projector compatible with iOS and Android devices. Pretty cool surprise technology, if you as us. There's even two 2-watt speakers inside, turning any tabletop into a miniature theater ideal for those who like to share videos, photos, or apps with others over dinner.
10. Native Union CLIC Marble: There are very few materials which draw the fingers to its surface like marble. Knowing we're constantly in touch with our smartphones, Native Union's Head of Design Fabien Nauroy and his team figured how to slice pieces of the natural cool-to-the-touch mineral thin enough to create a lightweight iPhone 6 case. Available in either white or black marble, we're only disappointed our oversized 6 Plus can't wear such a sophisticated cover.