Dads, husbands… all dudes can get the short end of the stick when it comes to gifts in the design department, relegated to the low hanging fruit of ties and tech, so we've gathered a few gift ideas which will show you've put good design at the forefront of your choice for the important gent in your life.
Side Project Indigo Skateboards \\\ $175
Side Project Skateboards of Houston, Texas are handmade from reclaimed and found wood, then dyed using 100% natural indigo for a finish which looks almost too beautiful to ride. We want the whole collection to ride and display.
CLAE Bruce \\\ $70
Super comfortable footwear is always welcome and these casually chic summer shoes will do well for walks to the beach or out for lunch seaside with a layered mesh upper that breathes easy.
Rock Pillows Ultimate Set \\\ $179
Gifting a gent a set of pillows would normally be greeted with a tepid response. But gift him a set of pillows that look like a small avalanche of rocks and it's a totally different story. We met the father and son team behind these handmade pillows recently at Dwell On Design and were impressed by their shape, size, and softness. They're fun in piles to nestle into…and occasionally throw at passerbys.
Artisanal Gourmet Cola \\\ $20.84
Concocted to be enjoyed both as a natural cola or accompanied with something a little stronger for a cocktail, these small batch cola concentrates would pair nicely with an additional gift of single malt whiskey for dear old dad.
Adam Frank's Lucid Mirror \\\ $880
He'll think you bought him a small flatscreen television, but instead he'll be delighted to discover you've gotten him something much more unique, an optical illusion wall art installation which combines 3D imagery, LED lighting, and a mirror to bring the luminous beams of a sun breaking the clouds into any room.
Y Studio Mechanical Pencils & Pens \\\ $70-$100
Brass, copper, and phosphor bronze are a sophisticated combination, and these writing instruments are so nice anyone would be apt to write more often the old fashioned way.
Adam Cornish Design Wooden Hammock \\\ $5,500
Manufactured from a sheet of American Ash and inspired by vertabrae, this wooden hammock is like nothing we've ever seen in the hang seating realm. It looks like a gigantic trilobite, doesn't it?
ASUS Transformer Book T300 Chi + Chi Stylus \\\ $679
Convertible laptops are great for designers to switch from consumption mode to creative mode, and with a compatible stylus this super slim but solid all-aluminum ASUS Transformer Book makes for a capable canvas for digital drawing, sketching, and photo editing. That it's thinner than a MacBook Air at 0.3″ thickness makes it a formidable hybrid priced competitively for those who prefer Windows as their OS home.
Ian Anderson's Shapes Mug \\\ $42
Philadelphia-based designer Ian Anderson slip casts clay into an array of geometric handled glazed mugs which will most definitely insure nobody mistakes your/dad's mug for anyone else's.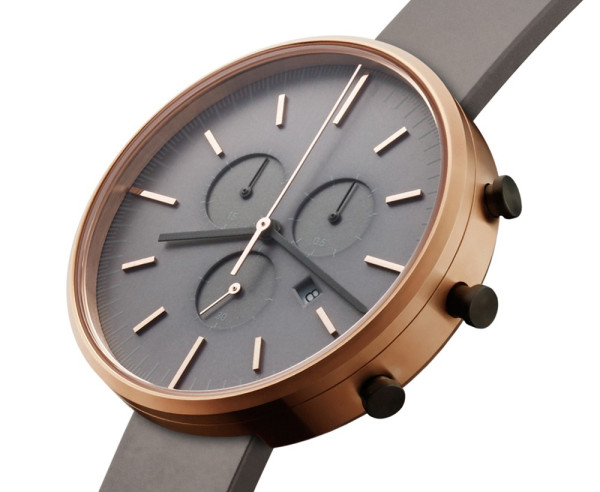 Uniform Wares M42 Chronograph \\\ $1090
The heft and solidity of these chronographs need to be felt in person to truly appreciate the craftsmanship which goes into Oliver Fowles and Patrick Bek's timepieces. These watches may not have any of the tech features of the Apple Watch or Android devices, but that's not the point; these are a statement of style which will never become outdated, nor ever need upgrading.
Big Ass Fans Haiku \\\ $895 and up
These are undoubtedly the coolest – for the lack of better words – looking ceiling fans sold today. Unlike other big box home improvement store ceiling fan models, the Haiku is made in the USA, Energy Star rated for efficiency, but most significantly smart-technology enhanced. The SenseME technology option monitors temperature and adjusts fan speed automatically and can be adjusted via app for 10 speed settings, a sleep mode, timer, and something the company calls Whoosh mode (simulating the changing flow of a natural breeze). The Haiku's technology will impress, while the company's name will amuse, perfect for those afflicted with "dad humor".
Gentlemen, Start Your Engines!: The Bonhams Guide to Classic Race and Sports Cars \\\ $53
This 288 page tome dedicated to the most beautiful and historically signficant auction house cars sold will likely become a favorite title to comb through between car shows amongst gearheads and classic car aficionados alike.
Topo Designs x Salomon Rover Pack \\\ $159
Topo Designs collaborated with outdoor gear brand Salomon to create this colorful hiking backpack made with coated pack cloth and a durable 1000d CORDURA fabric outer deceptively capable of taking into the wilderness for a day hike. If the dad in your life has a soft spot for Snoopy, may we recommend checking out Topo Designs' Peanuts styled option.
Leica Q \\\ $4,250
The cursive L and red round circle will make it clear you emptied a fair amount of change to buy someone one of the most coveted new cameras on the market. The textured minimalist body hides a 24 megapixel CMOS full-frame sensor within, with a Summilux 28mm f/1.7 and an electronic viewfinder with a 3.68 megapixel resolution making this Leica's best compact camera yet.
Trobla \\\ $75
The recipient will have to wait a little while for delivery since the Trobla still isn't yet available, but if he likes handmade wooden sculptural objects that also passively amplify the sound of both iOS and Android devices, we're sure he'll be fine knowing it's coming by summer's end.