SaloneSatellite turned 15 this year, and in honor of the late great Steve Jobs, its theme was technology. Salone was the first design event on this scale to dedicate a section to young designers, although in this case, the criteria for "young" is under 35, so they are a little more established than the student designers seen at the likes of Greenhouse at the Stockholm Furniture Fair.
I loved Gorgiera Pack by Macarena Pollock. Made of Yupo paper, this fruit packaging turns into a display stand with a simple twist.
Equally ingenious is this light from Design Facility, which projects a focused A4 beam, casting into darkness anything that might distract you from the task at hand. Part of the Experience and Product Design Diploma at the Singapore Polytechnic Design School, Design Facility was created as a research facility where students can learn through live design projects.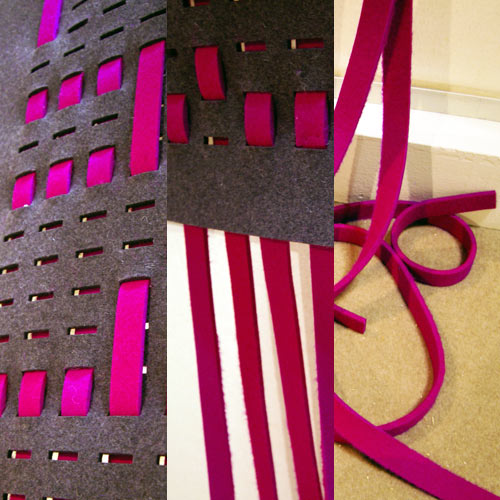 Part of the Addict Lab stand, Loom by Meric Kara simplifies the weaving process, allowing users to create their own design.
I was drawn to the saccharine colors and amorphous forms of these Melt Down lamps, by Lindsten Form. The story behind them is a bit more serious than their playful appearance suggests… "The concept [is] based on an amazing inspirational trip to Japan that was delayed for six months after the tragic accident in Fukushima. Would an actual meltdown occur and what would the impact be? The disaster is reflected in the lamps where the process already begun and the bulb are about to melt through the last defense of the glass."
More playful aesthetics; the Tvi Tvi by Siren Elise Wilhelmsen is inspired by spinning tops and aims to bring a bit of fun to the kitchen table, as you twist the tops to grind and collect salt or pepper.
Third year industrial design student at ECAL/University of Art and Design Lausanne, Christophe Guberan, conceived and developed Hydro Fold which uses a modified ink-jet printer to print a combination of ink and water in geometric patterns onto paper, causing it to curl up into beautiful 3D forms. It is quite magical to watch.
Ana Fatia presented something much more organic, at least in its origins – the Mother Mine All of Us Collection is inspired by human anatomy.
Studio BAAG was founded in 2010 by Swedish designer Caroline Bauer and Italian architect Pier Francesco Galuppini. They are based in Milan, and their work encompasses projects ranging from design to architecture. I loved these lights and this match-stick hat stand, which is actually made by burning wood, and then varnishing it.
Portuguese Rui Alves works under the title My Own Super Studio, which he founded in 2001 when he graduated with a degree in Industrial Design from IADE in Lisbon. He is a third generation craftsman, and says his "mind is always working on creating or disassembling something." I loved the simple, almost childlike, design of this chair and footstool.
I also liked the Play Lamp by Spanish brand Pro2 – more nostalgic references to childhood – I'm sure I had a toy that fitted together like this, I just can't quite remember what it was!
Carpet Structure by Lisa Jo-Fan Chang was an interesting concept. Described as "flexible floor furniture," it can be used as a carpet, as floor seating, or as a table base. The vinyl hinges and triangular cork pieces allow the structure to fold and stack in a twisting format, creating unexpected forms and functions.
Our trip to Milan Design Week 2012 was supported in part by Airbnb.com.