Samsung Neo QLED Nearly Erases the Bezels and Includes a Solar Cell Remote
Samsung Neo QLED Nearly Erases the Bezels and Includes a Solar Cell Remote
1/9 Photos
2/9 Photos
3/9 Photos
4/9 Photos
5/9 Photos
6/9 Photos
7/9 Photos
8/9 Photos
9/9 Photos
If the 2021 edition of CES is any prognostication of things to come, televisions are experiencing a renaissance of sorts, both in the design department and burgeoning (and competing) technologies. Samsung has long committed to exploring various "lifestyle" interpretations of the flat panel, notably in the forms of The Frame, Serif and Sero, working with outside designers to imbue their sets with unique aesthetics and features specific to needs and lifestyles. Even so, it's arguably their newly announced family of QLED televisions – now equipped with Neo QLED technology and a sharply minimalist design – that many will aspire toward purchasing when 8K sets become a mainstream option.
Samsung's newly announced QLED-powered sets are immediately noticeable for their thin, sharp and nearly bezel-less design – a form factor made possible by Quantum Mini LEDs, Samsung's latest backlighting technology, resulting in LEDs 1/40 the height of conventional LEDs.  These thin micro layers pack in a considerable larger amount of LEDs behind the screen, reducing blooming, increasing luminance, and improving HDR experience while also affording Samsung's design team to explore forms hiding nearly everything except the screen.
The new Neo QLEDs arrive in five iterations, each sharing a nearly bezel-less screen with a design reminiscent of Apple's Pro Display XDR, but supersized for home theater purposes. The Neo QLED 8K further sells itself as a minimalist's dream, offering cable clutter control with the inclusion of an all-new cable management system –  the Slim One Connect box— designed to attach to the TV's back for a cleaner connection set-up.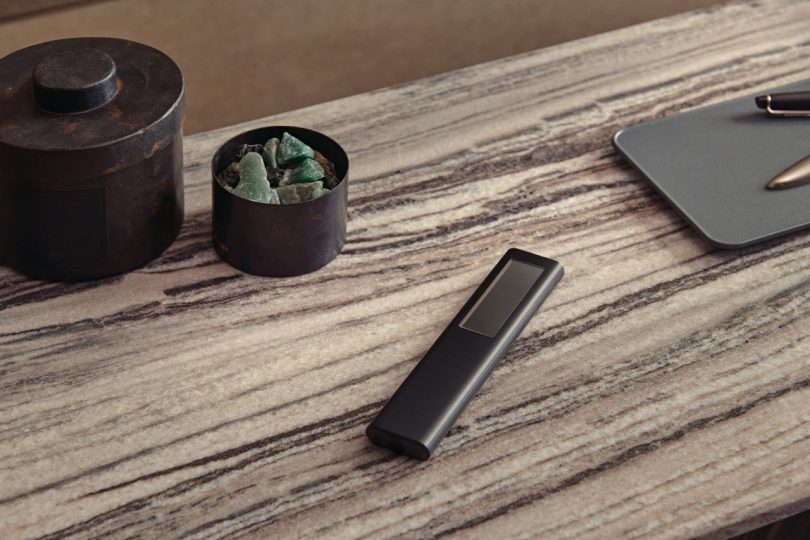 Not to leave any stone unturned, Samsung has also paired their minimalist display with an equally minimalist new remote control. The Solar Cell Remote Control forgoes batteries for an integrated solar-powered source that can be recharged using indoor light, outdoor light or USB. The remote is advertised to not only to reduce battery use/waste, the remote itself is manufactured with nearly a quarter sourced from upcycled recyclable plastic bottles.
Samsung has yet to disclose how much these new sets will cost, but for reference their existing 2020 QLED sets offer a good idea of the ballpark where prices will likely land once these new sets arrive later in 2021.
Give Modern. Give The Best.
From a Beast Blender and cult-favorite portable candlelight to puzzles and retro classic keyboards, the Design Milk editors have curated the best of the best modern holiday gifts for 2021.