The Sir Hotels hospitality collective recently added its first Spanish property, the Sir Joan hotel in Ibiza, to its already impressive collection of boutique hotels. Surrounded by the city's center, nightlife and Talamanca Beach, the hotel embodies a free-spirit ethos that attracts party animals and recluse modern travelers alike.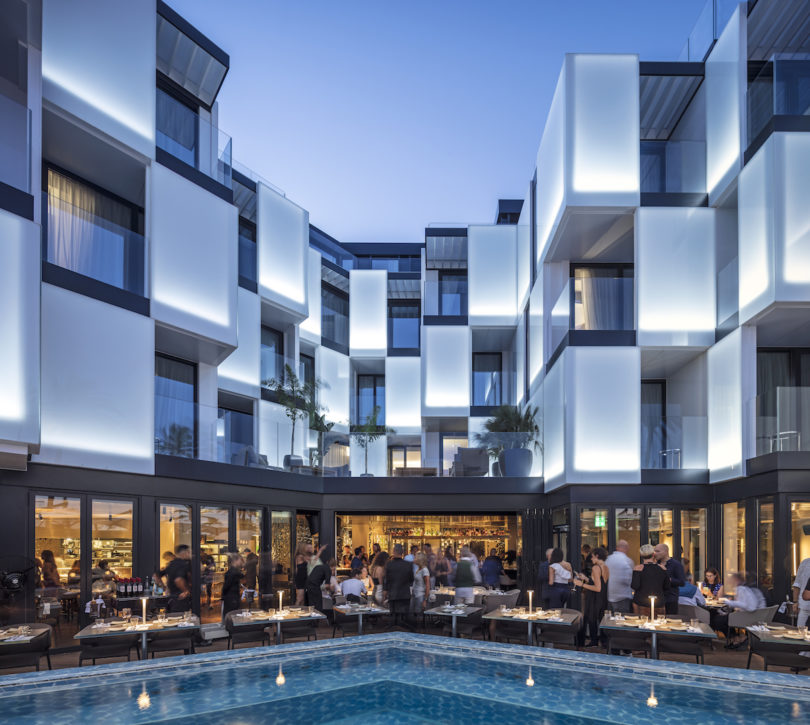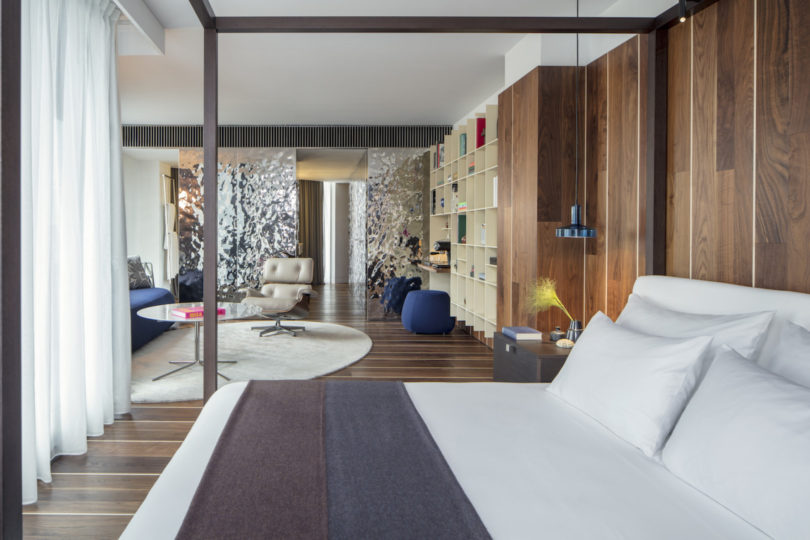 There are 38 rooms and suites on the properly, all designed to reflect the hotel's maritime surroundings. Designed by architect and interior designers Baranowitz + Kronenberg, the interiors of the guest rooms feature walls and ceilings that look like choppy waters and round mirrors that resemble the windows below deck on a yacht. The rooms are also adorned with curated artworks by Spanish artists Joan Hernandez Pijuan, Carlos Irijalba Inercia, photographs by Ibiza-based Landry A., and decorated bookshelves that give a homely touch. For the ultimate splurge, spring for the top floor penthouse suites which boast wraparound terraces and 360 degree views of Ibiza.
The interiors of the public areas feature the same deceiving, reflective walls as the guest rooms. Plank wood lines the floor while reflective aluminum lines ceiling giving off the effect that you're on a boat at sea. For a bite to eat, you can pick between the hotel's IZAKAYA Asian Kitchen & Bar, a contemporary restaurant that serves Japanese cuisine fused with Peruvian flavors, or THE BUTCHER, a high-end burger bar that's open late for party goers.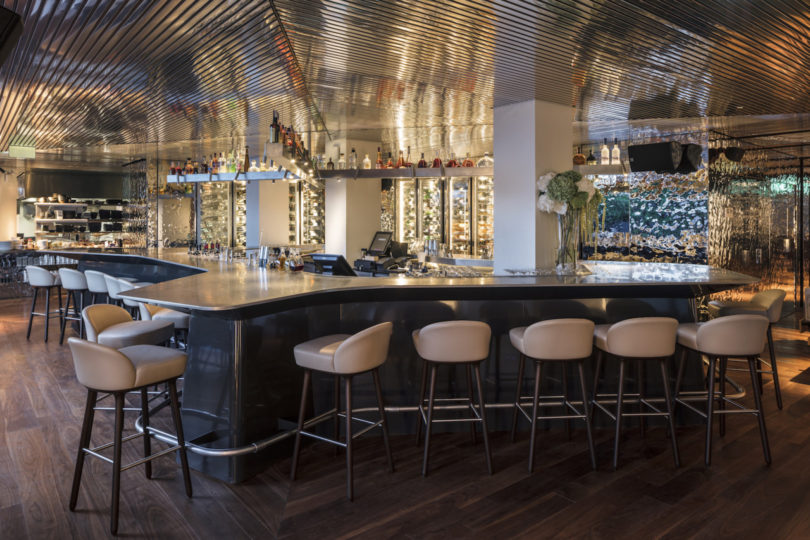 Since this is Ibiza we're talking about, the hotel wouldn't be complete without a heated triangular pool surrounded by cabanas and lounge chairs for resting and relaxing. From the pool, you get a front row view of the hotel's facade, a mosaic of staggered, glowing cubes.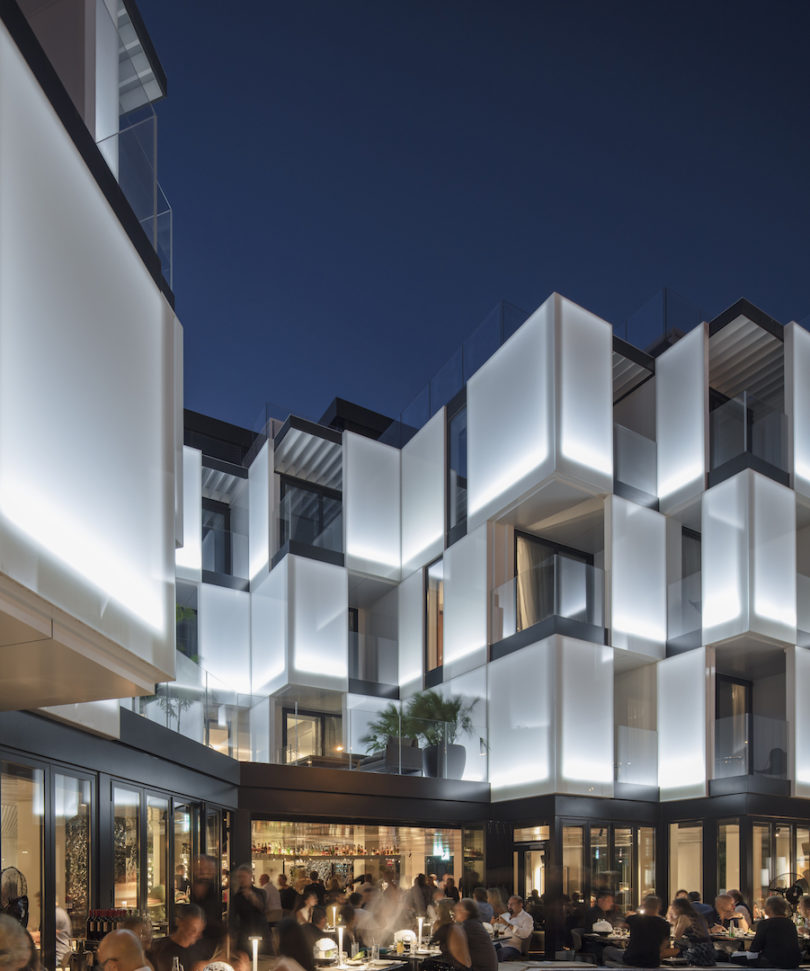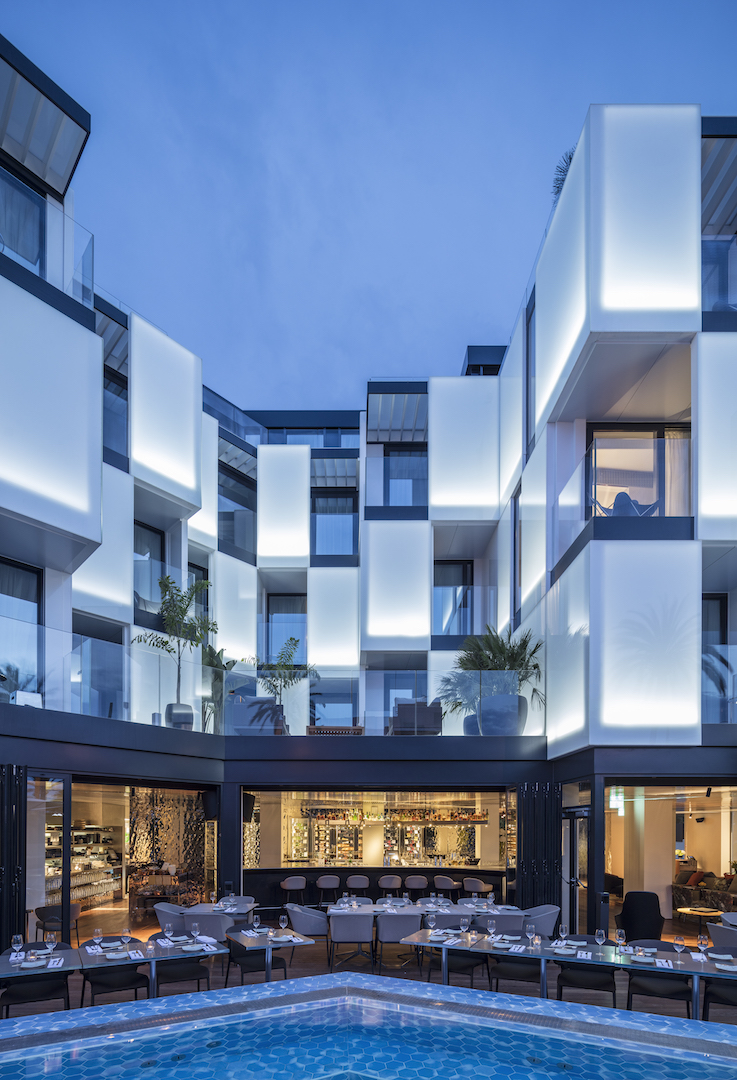 What: The Sir Joan Hotel
Where: Passeig Joan Carles I, 1 07800, Ibiza
How much? Rooms start at approximately $702 per night
Highlights: Sir Hotels' first Spanish property is designed to be a luxurious resort escape for travelers looking for a night life scene or a reclusive, quiet stay.
Design draw: Inspired by the hotel's coastal surroundings, the interior design by Baranowitz + Krnonenberg pays homage to yacht-living in the ocean with reflective metals and textured woods giving off the effect that you're vacationing on a boat.
Book it: Visit the Sir Joan Hotel website
Photos by Amit Geron.

Design From Around The Web