At this year's ICFF, Skram Furniture Company unveiled their newest American-made modern furniture. Much like its previous designs, all the pieces are created using sustainable practices, extraordinary workmanship, and innovative design.
V5 Rocker_Timber is a completely new addition to the Skram line and is the solid wood version of the V5 Rocker. It is offered as an alternative to the existing leather sling seat and back version of the rocker, and instead has a carved timber seat and mid-height back. For those who want a unique version, you can request the V5 Rocker_Timber in a special timber option.
L01 Lineground Armchair is the re-launched improvement on Skram's signature armchair, which was first released in 2006. It has enhanced ergonomics, contract grade durability and a lower price with the same high-quality workmanship. Skram recently invested in different manufacturing processes and tooling that allows them to offer the same quality furniture for a larger audience.
The Piedmont Sideboard is a limited edition offering that's a customizable, made-to-order sideboard that combines modern design with traditional techniques and materials. It has hand-matched veneer work that's complemented by the maple inlay corners and edges. Piedmont Sideboard has no standard options, and is offered in a multitude of burls and metal finishes.
Along with the sideboard is the Piedmont Elliptical Low Table, which is a bold addition to the company's collection. Its strong metal finish and clean look is simple, yet not simplistic, austere yet still approachable.
Piedmont #1 Stools have the same aesthetic as the low tables, with a design that's durable yet distinctive. It comes in three standard sizes so that it can provide seating for a dining table, counter, or bar. The seat has reinforced belting leather slings and a steel and timber structure.
The Wishbone Nightstand/Side Table combines slender lines, an elegant cantilever, and asymmetrical proportioning to create a modernistic table with a dramatic effect. It comes in two different widths and can be made with all standard or custom Skram wood and metal finish options.
Littlebox is exactly what it sounds like. Made with repurposed wood scrap offcuts from their manufacturing process, Littlebox is a convenient storage item that can be used within the home, or when taking trips to the markets. It has a utilitarian look that's inspired by the lunch boxes of construction workers.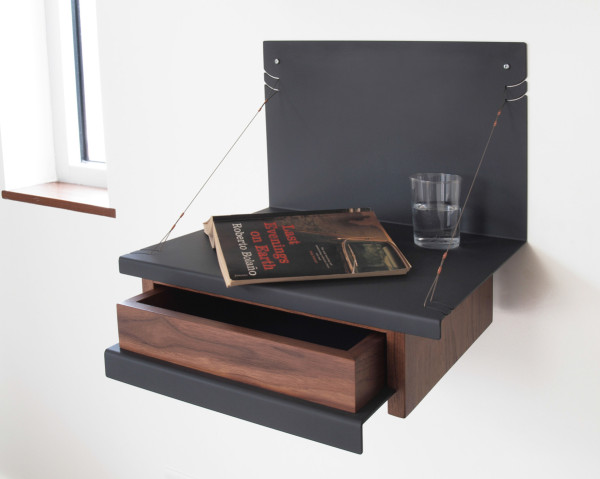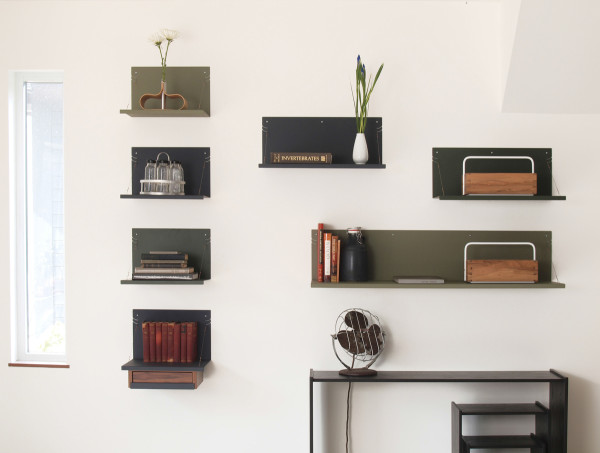 Gil Shelving System is Skram's wall-mounted shelf system that's made from a single piece of folded steel, with military grade wire rope and copper compression fittings. It comes in three different widths and with an optional drawer accessory. The drawer is secured without tools and instead attaches via rare earth magnets.