If you've ever wondered what it would be like riding on top of a bazooka, look no further than the Sol Motors Pocket Rocket, an aggressively styled "noped" hailing from Stuttgart engineered to rocket forward at speeds up to 50mph powered by an 8.5hp electric motor.
Making its official debut at the INTERMOT International Motorcycle Fair in Cologne, the SOL Motors Pocket Rocket's unusual large aluminum tube design is functionally driven, encompassing the noped's removable 220V battery power source and an internal computer compatible with both iOS and Android apps. Each end is capped by LED lights: a 6-bulb headlamp up front, and a circular array of rear brake lights and turn signals in the rear. The design is reminiscent of Vanmoof e-bicycles, sharing a similar large tubular top tube design, exaggerated even further into artillery-sized proportions.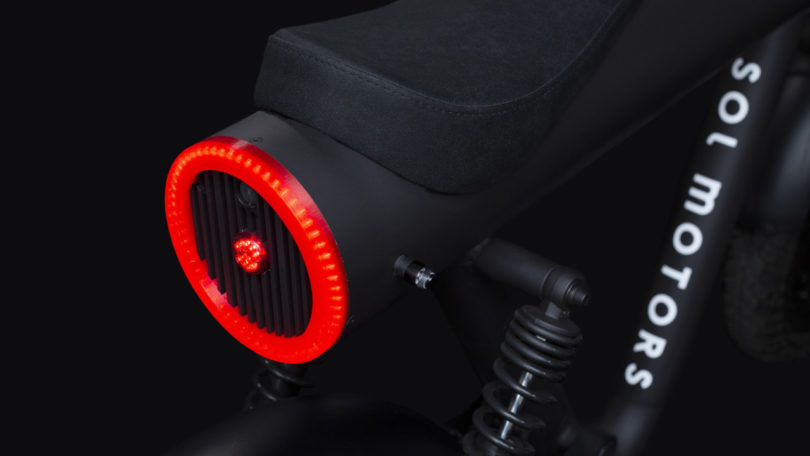 Hydraulic braking system with regenerative brakes helps this compact personal vehicle eke out a range of up to 50 miles per charge. Additionally riders can switch between the three riding modes: "eco", "sport", and "wheelie", the last showcasing the torque demand performance of EV vehicles.
The company seems to have intentions to ride the wave of electric vehicles currently reshaping the mobility landscape in urban environments around the globe, noting the Pocket Rocket's "optional connectivity module for sharing and fleet management integration". But those yearning to own a Pocket Rocket untethered from a fleet will have the option to pony up around $6,000 to own the slower 6hp entry-level model, with the option to add a $1,500 premium for an upgraded "S" version capable of unleashing the electric 2-wheeler's full 50mph capabilities.

Design From Around The Web