Overlooking Lake Washington and the Cascade Mountains, this Seattle house sits on a steep lot where an existing structure was demolished to make way for the new build. The sloped property allows the Stair House, designed by David Coleman Architecture, to extend through three levels that span 2,400 square feet.
A concrete wall disguises a courtyard and entryway, which also leads to an exterior staircase with a welded wire mesh screen that protects it. The screen will eventually be covered with plants.
Once inside, visitors are greeted with another set of stairs, which are open letting light penetrate through the three floors.
The stairs reside in a glass box in the center of the house where the glass extends through all of the levels.
Mahogany treads, blackened steel channel, and perforated steel guards make up both the interior and exterior staircases.
The main living spaces are located on the main level with the entry courtyard and rear terrace.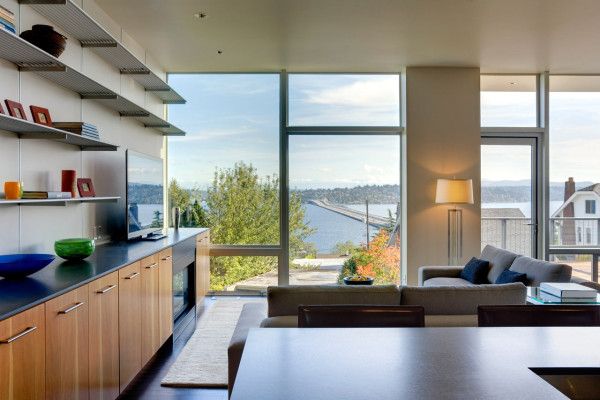 The master suite resides on the top level letting the residents enjoy the spectacular views. On the lower level, there's a guest suite.
Photos by Steve Keating.