Sitting upon a picturesque hillside in the town of Aiguablava in Catalonia's Costa Brava coast, the undulating rooflines of Stgilat Aiguablava villa could be mistaken for the natural geological extension of the Mediterranean landscape. Representing a holistic and organic dialogue between structure and its surrounding hillside, the project is the sum of numerous technologies, prefabricated parts, and rapid manufacturing techniques in service of an organic expression of 'smart' Mediterranean architecture.
Commissioned by a client passionate about Mediterranean culture and lifestyle, and also receptive to prioritizing innovation over mere luxurious treatments, Cloud 9's chief architect Enric Ruiz-Geli was given reign to incorporate digital and sustainable techniques in constructing Stgilat Aiguablava villa. For example, advanced fiberglass engineering was used to form the enormous sweeping Catalan vault stretching across the main residence interior, a feature echoing the view outward.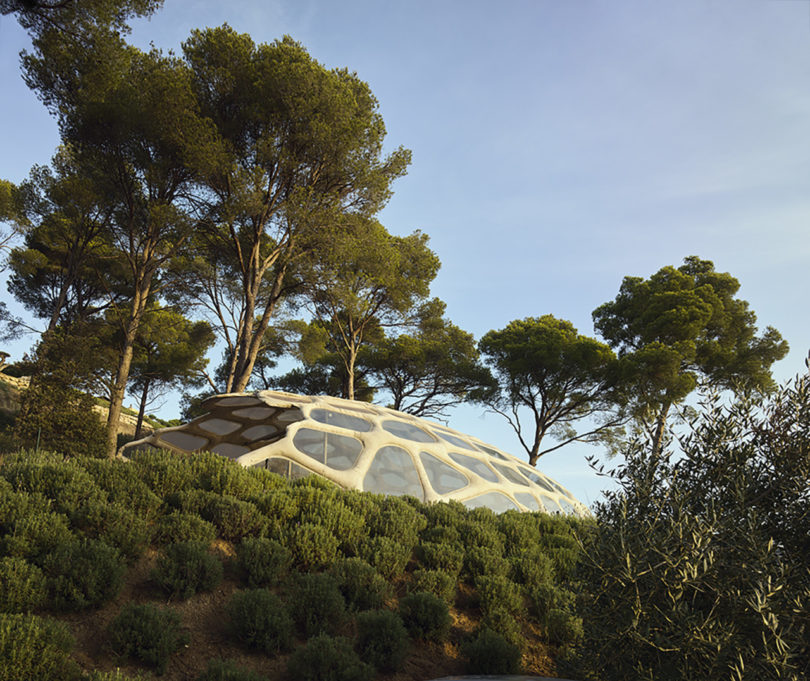 Respectful of the site's preexisting community of pine trees, the Cloud 9 team preserved and integrated native foliage into the project's landscaping, with a filtered rainwater swimming pool and adjoining wild native plant garden completing the organic footprint of the Mediterranean home.
When I was studying architecture, I visited the Casa da Pergola in Begur, a house designed by Pep Llinàs. Later, I had Esteve Bonell as a professor and I visited his house in Begur, which he too designed. I would like to think that the house we have designed in Aiguablava represents a further step in the architectural excellence that these architects transmitted to us during my years in the ETSAB.
-Enric Ruiz-Geli
Stgilat Aiguablava represents a pilot housing project evoking the spirit of Richard Neutra and Eames, all who helped to define the concept of a "case study" home. It is Enric Ruiz-Geli's hope the technological and sustainable manufacturing lessons learned from this project will help revolutionize design and construction, reducing costs and opening the availability of modern Catalonian architecture for all.