Espace St-Denis is a project on the ground floor of a triplex in Montreal with a storefront appearance. Designed by Anne Sophie Goneau, the renovated condo fills 1,280 square feet of space and kept with the architectural integrity of the existing building. Highlighting and maintaining the original details, like the brick wall, wood wall, and the steel structure, were important and surprise finds as they details were uncovered during demolition.
The living space was divided up to make individual rooms but natural light wasn't sacrificed. The bedroom is partially enclosed in glass helping to keep the space flooded with light from the front window. Most of the surfaces are white which helps the light bounce around the condo.
The storefront window is a large expanse of glass which provides the entire home with light. I love how they kept the brick wall in the living room which balances out the mostly-white space. I'm also digging that green sofa!
A massive bookshelf provides necessary storage but it also acts as a divider between the main bedroom and the living room.
Glossy black cabinets and appliances blend together to form the kitchen which sits against another brick wall. The large white island paired with the white dining table draw your eye through the space, much like the cabinets do.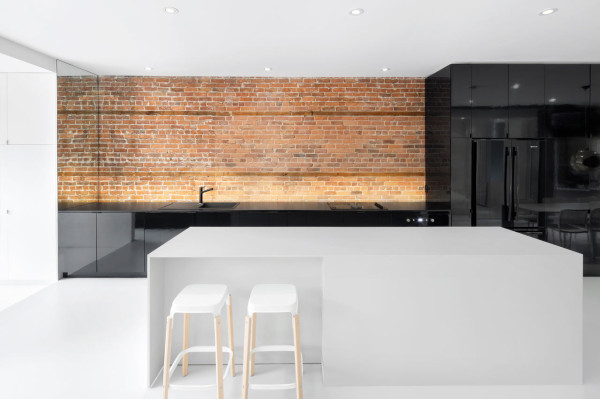 A radiant hot water heating system was installed under a concrete slab, which was then covered in a light gray epoxy and polyurethane matte finish.
The bedroom and bathroom floors are finished in a glossy white epoxy to distinguish them as the private areas of the home.
Original wood beams remain in the hallway that leads to a second bedroom and the bathroom.
In the bathroom, a custom stainless steel countertop was installed, almost overlapping the tub.
Dark gray epoxy was used in the shower and toilet area signaling a more private space.
Photos by Adrien Williams.