Susanna Cots Creates a Connected Home With Few Walls or Doors
Susanna Cots Creates a Connected Home With Few Walls or Doors
1/23 Photos
2/23 Photos
3/23 Photos
4/23 Photos
5/23 Photos
6/23 Photos
7/23 Photos
8/23 Photos
9/23 Photos
10/23 Photos
11/23 Photos
12/23 Photos
13/23 Photos
14/23 Photos
15/23 Photos
16/23 Photos
17/23 Photos
18/23 Photos
19/23 Photos
20/23 Photos
21/23 Photos
22/23 Photos
23/23 Photos
Barcelona-based interior designer Susanna Cots always has a way of utilizing white throughout her spaces without them ever feeling cold or stark. Such is the case with Autumn in the North, Cots' latest residential project in Navarra, Spain. The modern residence pairs white surfaces with wooden accents within a connected space that does away with walls and doors. In total, the home only has three doors, a far cry from typical houses these days.
A raised platform becomes the perfect reading nook for the children of the house.
Both the kitchen and the semi-open staircase mark the center of the home, and while they are defined by dividers, they're not closed off by walls.
A massive skylight in the kitchen brings morning and midday light. A black central island underneath is flanked by minimal white cabinets with embedded wood shelves that complement the floor-to-ceiling wood wall in the back.
Black rimmed windows frame the surrounding green landscape from every angle. No matter where one stands, there's always a window within view.
A curated selection of furniture and accessories offer comfortable, usable rooms without being overdone.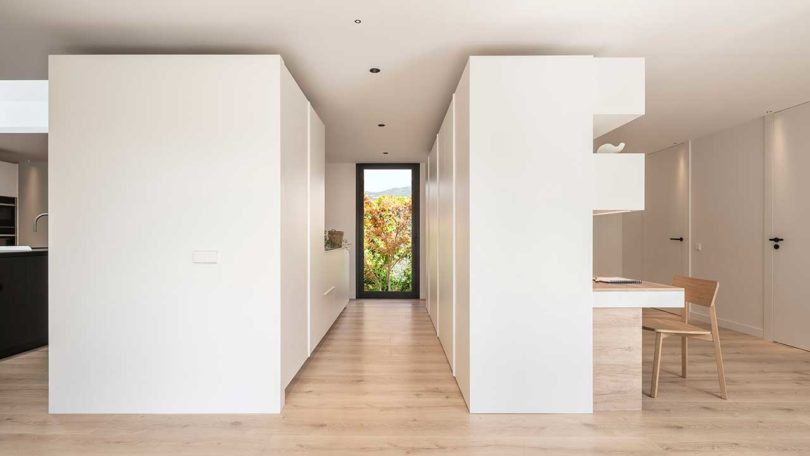 Built in white cabinets section off areas for storage and a long, custom desk which has privacy but also remains connected to the rest of the space.
Sliding wood panels offer privacy when needed in the bedrooms or can remain open for extra space.
A white door at the top of the stairs slides to close off the primary bedroom or to block off the adjoining bathroom.