Editor's Note: Meet Pinch Food Design, dynamic designy duo of Bob Spiegel and TJ Girard, whose work we've admired for quite some time. I knew that one of my biggest passions seemed to be missing here on Design Milk: Food! Pinch is going to visit us each month with some delectable design for us to visually nosh on… enjoy!

Presentation has always played an important role when it comes to food. We eat with our eyes. Sure, aroma can also arouse an appetite, but over the past decade we have seen a tremendous leap in the way food is processed, plated, packaged, and consumed. From the culinary innovations of Chef Fernan Adria to the ultra conceptual stylings of Eating Designer Marije Vogelzang, Food is beyond nutrition; it's a new medium that crosses all cultural borders.
For our first contribution to Design Milk, we want to highlight some of our favorite examples of Food Design within the events world, and introduce you to our work and approach to the vastly evolving industry.
Marije Vogelzang
This is a fun and quirky way to get the whole table of guests interacting and curious. Surely, this is a meal they will never forget!
We love the communal aspect of people eating out of a trough, not to mention the incredibly dynamic rainbow of color. There is also a deeper aspect for this project: Marije is hoping to encourage children to make healthy food choices by introducing color-teachings such as red snacks stimulate confidence, yellow snacks stimulate friendship, etc.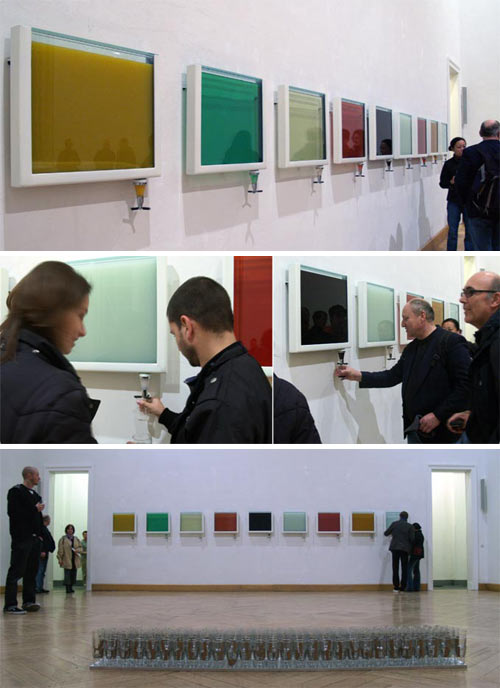 Access Agency's 'Drink Away The Art exhibition
At an exhibit in Dresden, Germany, guests were invited to drink away the art. These beautiful multicolored liquor infusions not only add a splash of color to the decor (pun intended), but also are a perfect example of culinary interactivity within the event setting. We love how as the night progresses, the levels of the liquid will constantly change the visual environment.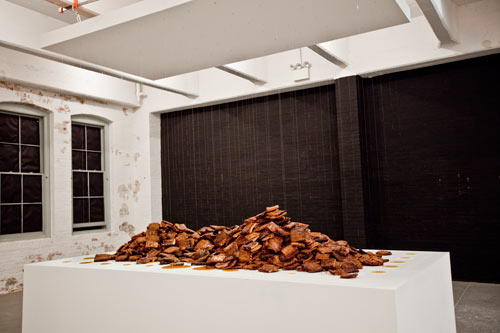 Jennifer Rubell
Of all the buffets we've seen, this by far the most minimalist, almost Neanderthal. A pile of meat! But intriguingly appetizing. BBQ ribs piled up with dripping honey from a trap mounted to the ceiling.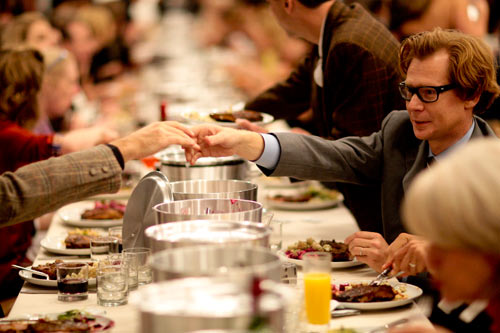 Side dishes in pots for the ribs as a centerpieces – now guest are really interacting.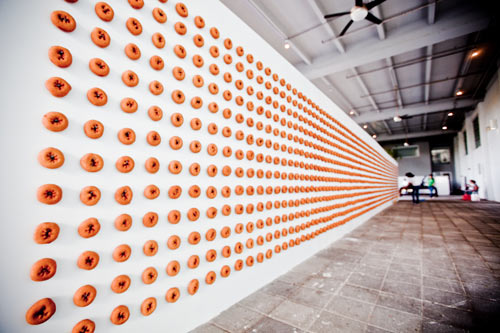 Photo: Kevin Tachman
And another from Jennifer Rubbell – this time, a buffet of only one item. Instead of 75 brown paper bags, she organizes an endless display of "old fashioned" donuts. Is this how Andy ate at The Factory?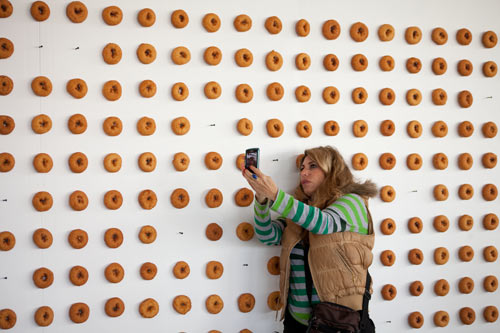 Photo: Heather Rasmussen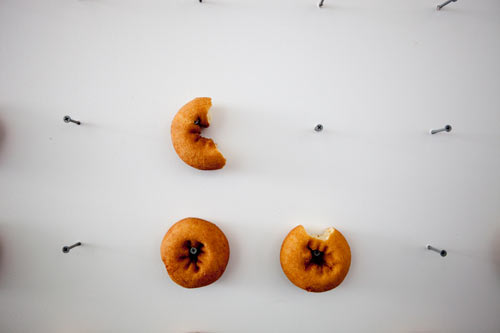 Photo: Kevin Tachman
Pinch Food Design is our new company; its our baby. TJ designs, Bob cooks, we create somewhere in the middle. We live in the entertaining capital of the world: New York City. Warhol, Herring, Hopper, Schnabel, Mondrian and Basquiat. Boulud, Battali, Reipert, Jean-Georges and Chang… We are seeing artists and chefs borrowing skills from each others' craft to create new experiences.
It is the collision of the art and food worlds that perfectly define our relationship. We have similar styles, using high contrasts to stimulate the senses, like glossy and matte materials or bitter and sweet flavors. We believe that rousing the senses creates a more memorable experience. We like to make people smile; this is our goal. We want people to not only enjoy the food and be delighted by its presentation, but also to spark conversation and generate an interactive moment between strangers.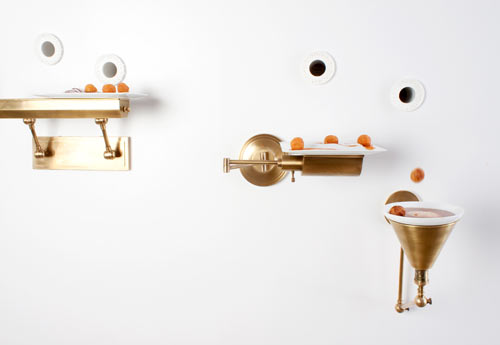 We wanted to make food fly and have it still be tasty and HOT. So we lit these wall sconces and shot prosciutto fritters into chili honey. We love the dead stop from flight to honey.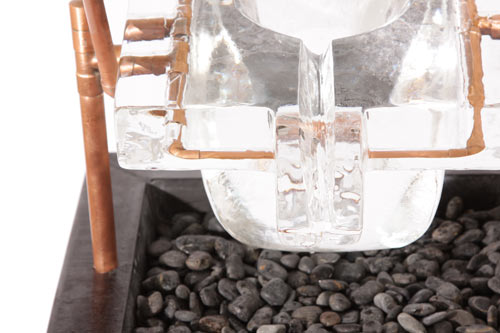 Part ice bowl, part tilt-a-skillet. We muddle and chill cocktails in the mortar before turning and pouring into a guests' glass.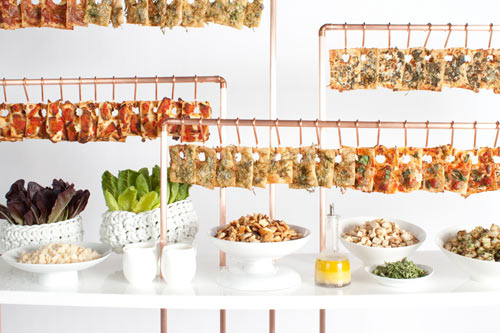 Taking inspiration from Jennifer's donut wall, we separate pizzas by hanging them from copper hooks. It's a pizza jungle gym. This suspension changes the vantage point of the food. A very effective mingling tool.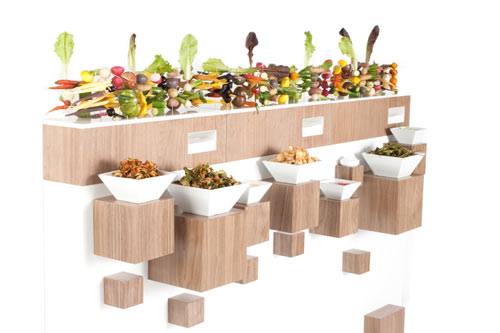 This hedge is only six inches deep, like a table on it's side. It's fun to watch guests come from different sides of the party and graze together over food.
We look forward to sharing more food fun with you in the coming months in our new Taste column.