This month we thought we would share some inspirational plated food by some of the legends in the restaurant world. These chefs / designers take the food canvas to new heights.
Alinea has created some of the most inspirational dining experiences of anyone in the last 10 years. Their collaboration with Crucial Detail has lead them to create aroma pillows, hanging bacon, plated smoke and sauce painting on tables.
Here they use a stem of lemongrass as the "plate" giving you aroma and flavor in a clever way. This keeps dish washing costs low, but food cost high.
Here, Chef Achatz uses a single ingredient, rhubarb, as a theme to experiment with different compositions, tonality, pairings, shapes and methods. It is rhubarb seven ways, it's not deconstructed; it is individual rhubarb experiences "plated" as one dessert course.

Photo from A Life Worth Eating
This is Luxury in the food and the canvas. Combing oysters, caviar with creamy tapioca pearls in butter on FIVE evenly stacked custom designed plates. Each plate was designed to nestle in each other to create the illusion of one large rim. The plates treat the food with the ultimate respect… And act as bicep curls for the server!
Ferran Adria, the founder of deconstructed reconstructed food, collaborated with industrial designers to create a collection of service ware specifically for his cuisine.
This straining spoon is specifically designed to serve these olives made from olive juice. You cannot help but smile at the irony of these non-traditional olives served in old-fashioned jars with oil and herbs. Modern meets traditional in extreme. We recently had the pleasure of collaborating with the El Bulli team in our kitchen for a week.
Here are some of the other inventive service ware from El Bulli. Years old, but still pertinent and stylish.
One of our favorites of the EL BULLI FACES collection is the writing spoon. The playfulness of stirring your coffee at the end of a meal, and having "espresso ink" to doodle away on the paper tablecloth, reminds TJ of many a dinner out with her family in Paris. But, we also love how it turns the ingredient into a medium for the diner to take a stab at creating at the table; a very interactive spin on the classic end to a delicious meal.
This plate is so carefully designed. If someone were to hand you all of these ingredients and said make a presentation, it would never come out as deliciously inviting as this one. How was this designed? No one particular item stands out, as all the shapes and colors are artfully arranged to create a clean rectangle frame. The longer you stare at this plate, the more you appreciate its genius.
Combining multiple shades of brown, creating an ombre on white, this organized chaos is somehow sensual. Possibly the material CHOCOLATE helps evoke this. Plating in the void forces the diner to focus on its edginess and beauty.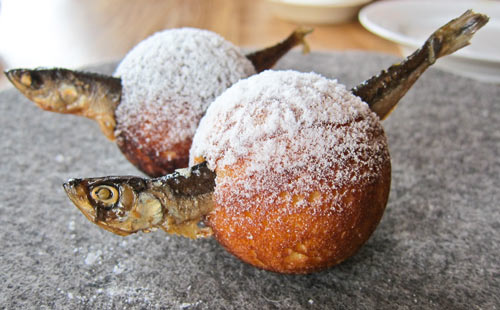 Photo: Pocketfork
The clean lines of the perfectly round fritter and the smoked fish swimming upstream are gorgeous and HILARIOUS. Which came first? Is the fish diving into the fritter, or is the fritter wrapped around the fish? The cleverness in sprinkling the white vinegar powder on the fritter alone leaves you to believe the fish dove in afterwards. This is one of those high five dishes, they must have chuckled for hours during its creation.
The inventor of infinity plating, with Michel Bras there is usually no rim in sight. He uses negative space to accentuate hundreds of colorful ingredients.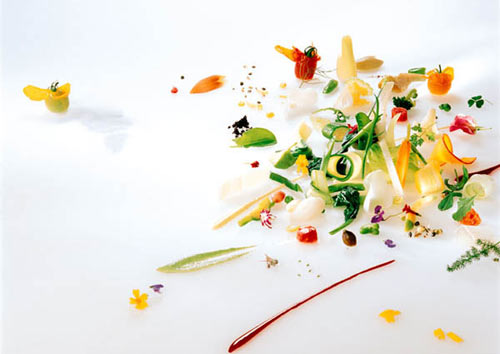 Photo via Starchefs
Though it might appear spontaneous, this dish is carefully plated with over 100 touches. Each shaving of carrot, peeled tomato, sliver of chive is perfectly calculated in its place. Though hard to figure out how to eat this, you can stare at its beauty while waiting for your next course!
\\\ BLUE HILL AT STONE BARNS \\\
Dan Barber loves to reinvent the dining experience by bringing in unexpected presentations to truly highlight his passion… local and seasonal ingredients.

Photo by Thomas Schauer
Here we see Farm to Table dining where the presentation almost reenacts the rows of plants in the ground, and gives the guest the feeling of harvesting their own baby heirloom vegetables.
… \\\ THE FUTURE \\\ …
In our own future of plating, we see taking existing objects and redefining their purpose. Here you have the beautifully designed Weight Vase collection by Decha Archjananun that we cannot help but envision the endless ways to display food. By filling the base compartment, and suspending above it. Filling the base with beautifully crisp crostinis scraped with garlic and olive oil, while playing on the traditional hanging of salamis, and using the top piece as a way to artfully display a variety of thinly sliced charcuterie, allowing light to shine through.
The first time we saw this piece by Shiro Studio, we wanted to plate food on it. Mare Tranquillitatis was designed to evoke the beauty of lunar craters. We love how it possesses endless ways to fill, rest, and balance ingredients. A true sculpture… it's so inspiring.