One of the coolest NYC design stores, The Future Perfect, launched a new private label furniture collection at ICFF with seating and lighting design by Lindsey Adelman, Charles de Lisle, Jason Miller and Russell Pinch.
The collection begins with three sofas, a chair and a chandelier that are more transitional than cutting edge modern, with a focus on traditional craftsmanship and methodology. Much of the inspiration came from 19th century upholstering methods and early 20th century lamp making.
The work consists of a blend of soft, natural materials like sustainably-harvested hardwoods, horsehair, coconut fiber and solid brass. A nice balance of hard lines and soft curves, this is a new modern that looks back to the past: Founder David Alhadeff says, "The Future Perfect is about modern. I believe what's very modern right now is honoring tradition… I looked backwards to make work that was uniquely forward thinking."
Tardi Sofa by Lindsey Adelman
Linden Chandelier by Charles de Lisle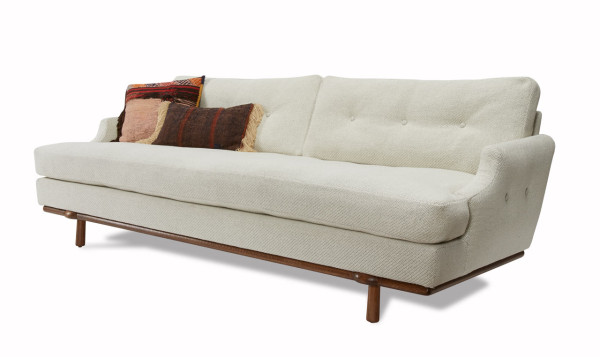 Kent sofa by Jason Miller
Goddard sofa and armchair by Russell Pinch (top photo also)
Photos by Lauren Coleman.

Design From Around The Web