If there were three takeaways from this year's Los Angeles Auto Show they were: 1. SUVs are back with a vengeance, 2. virtual reality is the new marketing tool of choice for auto manufacturers, and 3. matte grey paint is the unofficial concept car color of 2016/2017. Jaguar also unveiled a showstopper electric SUV, 3D printed auto parts/detailing were on display everywhere, Bentley's new luxury SUV is as smooth and luxurious as you'd imagine, and I might have found a strong contender for my next car. There weren't as many outlandish concept vehicles at this year's show with numerous vehicles already unveiled earlier this year, but the following vehicles left their impression as expressions of design, ergonomics, and future automotive technologies:
Divergent 3D Blade Supercar
The retina-tantalizing paint job stopped plenty of passerbys in mid-stride. Closer inspection revealed a supercar that is built based on 3D printed aluminum parts, one powered by a 700 HP engine capable of slingshotting this vehicle from 0-60 in 2.2 seconds.
Bentley Bentayga
I can't say I really experienced Bentley's first SUV at its full and intended capabilities; Los Angeles traffic basically negated the Bentayga's 600 HP, 6.0-liter, twin-turbocharged W12 engine to a staccato of stop and go traffic – albeit a remarkably smooth, quiet, and comfortable evening commute in its back seat. That said, the slow drive gave me an opportunity to carefully inspect the characteristic craftsmanship of a luxury vehicle not so much driven as donned, like a bespoke suit. The interior is graced by so much hand stitching, a Chesterfield couch would be struck with envy. Small details like the round touch capacitive lighting brought unexpected joy as passengers fiddled around. But ultimately this is a vehicle designed to be enjoyed driven, not driven in, with serious off-road capabilities hidden behind its ultra-luxury SUV appearances tested and tuned out in the dunes outside of Dubai. Your best bet catching a Bentaygas out in the wild will be in Dubai, Los Angeles, South Beach, and in tonier parts of China – markets that helped define Bentley's most popular model.
Acura Precision Concept
The Precision's muscular downward demon pose and Diamond Pentagon grille were both what first lured me closer. But it was a closer inspection that revealed a dazzling frozen constellation of shattered geometry housed within its Jewel Constellation LED headlights that convinced me this was the show car I wanted most to drive off in. Alas, the Precision is all show, no go – a design study intended as the aesthetic framework for the entirety of Acura's future vehicles. We found some consolation in the official unveiling of the Acura Precision Concept next door, a futuristic instrument panel and console system demo complementary to the Precision's concept exterior – an interior representing Acura's vision of intelligent and adaptive technologies, all controlled from a pair of 12.3-inch LCDs and a console touchpad.
Cadillac Escala
Cadillac reps made it a point to emphasize the Escala's nine layers of paint, a finish that gave the concept a chameleon-like presence under the bright show lights. The 22-inch wheels, slung-back profile, its blunt nose front, and five-door liftback design further underlined the "flagship model" spirit on display. Even the Cadillac emblem is neutralized into a minimalist badge, with focus redirected to the tasteful execution. But it was the Escala's light grey fabric against an inlay of walnut that left the greatest impression, an interior that steers away from most of the tropes of automotive interiors and more toward fashionable textures and color combinations. Let's hope something close to this design exercise becomes reality.
Infiniti QX Sport Inspiration Concept
This was the North American coming out party for Infiniti's mid-size SUV concept – perhaps a misnomer noting the open intent behind the QX Sport Inspiration is to transition from concept to a production vehicle with many of the styling cues intact. Infiniti's tri-city collaboration between their Beijing, San Diego, and London design studio's basically created a tastefully aggressive mid-size SUV that normally would expect from Audi in years past. If any vehicle at the show wore a matte finish best, it was the QX Sport Inspiration.
Mitsubishi eX Concept
The angularity and harsh creased lines are admittedly a love/hate affair, but the bodywork by Michael Bay design was undeniably eye-catching. I also give Mitsubishi points for bucking the trend of sedate and neutral colors, the bright yellow communicating the all-electric, 250-mile range engine inside its next generation skin. They also had the longest line at the show, partially because of the eX Concept, but also thanks to an impressive buffet.
Jaguar I-PACE CONCEPT
Most memorable LA Auto Show unveiling goes to Jaguar, who invited a gaggle of journalists to don HTC Vive headsets to explore the interior, exterior, and inner workings of the manufacturer's very first electric crossover in virtual reality. While we were all oohing and ahhing blind to the real world, Jaguar secreted the concept to reveal the real thing before our very eyes. Sneaky, but well played. What was even better was inspecting what might be the very first serious Tesla contender at the luxury end, a fighter jet rolling on four giant 23-inch Nighthawk wheels, capable of a 220+ mile range and 0-60 in 4 seconds acceleration. And I think every car moving forward need's the I-Pace's full-length panoramic glass roof embedded with LEDs. Wow!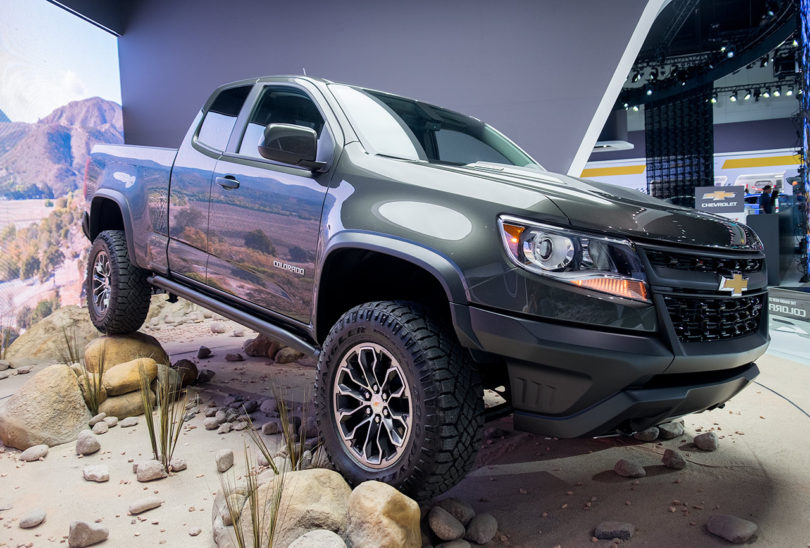 Chevy Colorado ZR2
Maybe you didn't expect to find a pickup truck in the mix, but Chevy's sequel to their popular and highly-rated Colorado ZR1 is everything I'm looking for in a mid-size truck, including a very tastefully executed aggressive profile from every angle. The styling is undeniably rugged, but the ZR2's leaned back posture communicates speed usually seen over in the crossover market, and I couldn't find any angle as it was spun around for inspection that I found disagreeable. Outfitted with improved dynamic suspension, higher clearance, and 1,100 lbs payload capability, I'm going to have a hard time deciding between a ZR2 and Toyota's similarly categorized Toyota Tacoma TRD Pro. I'm just disappointed I missed out on the drive-along obstacle course.
Mercedes-AMG GT Roadster
The GT Roadster was memorably the show vehicle I saw the most people taking selfies while sitting behind its wheel. Getting any alone time with this popular car required patience. Considering the GT Roadster will probably fall in the ballpark of $150,000 when available fall next year, it's no wonder show attendees were prone to fawn and fantasize for a few moments.
Divergent 3D Dagger Motorcycle
Another 3D printed vehicle from Divergent 3D, this time a two-wheeled 3D-printed carbon fiber chassis, one "50% lighter than contemporary motorcycle materials" designed for speed and fuel efficiency. Can you believe this was constructed just a day before the show?
Suburu VIZIV-7 SUV Concept
Nevermind the name – short for "Vision for Innovation" – the VIVIZ-7 is a big deal for an automotive brand that has defined and (re)captured a new generation of drivers by mostly ignoring the SUV trend for a stable of beloved crossovers. The three-row seven seater from Subaru will be the brand's biggest vehicle ever in dimensions, with yet-to-be-determined reception for the manufacturer's legion of Forester, Outback, and WRX loyalists, but the large crowds at the show bode well.
Porsche 911 RSR
What's better than a Porsche 911? Very little, to be honest. Porsche rarely fiddles with the evolution of its most iconic model. But this racecar designed to endure the 24 Hours of Le Mans houses some newsworthy news that may shock Porsche loyalists: the 2017 RSR moves from a rear-engine over to a mid-engine design, with a carbon fiber exterior attached to the chassis by latches. The combination of lightweight aerodynamic design and 510 hp delivery is counter-balanced with radar-supported warning system designed to help avoid accidents, something quite useful in a car intended to compete at teeth-clenching speeds.
Toyota C-HR Concept
The C-HR – Coupe High-Rider if you want to get specific – looks like a beefier Toyota Mirai from some angles with a splash of Land Rover Discovery thrown in if you squint. Toyota is calls the exterior design language a "distinctive diamond" and there is indeed a bevy of sharp angles defining the profile of this compact crossover.
Volvo V90 Cross Country
Volvo really knows how to shape metal these days. Their V90 Cross Country's sleek profile belies how much usable room is available within, and how much ground clearance this category defining sports wagon offers.
The Pink Panthermobile
The most ridiculous, strangest vehicle at the LA Auto Show wasn't a future-forward concept, but a throwback from the late 1960s – a vehicle designed for the The Pink Panther Show. It really didn't matter where you stood, every angle presented a wonderfully weird and imaginative view from the front, side, and back. The interior was no less over-the-top, with shag carpeting, a liquor display case, pink telephone, and rabbit ear antenna within inviting a comfortable…ahem…time inside.