The Nordic Cube House Was Entirely Designed Around a Staircase
The Nordic Cube House Was Entirely Designed Around a Staircase
1/25 Photos
2/25 Photos
3/25 Photos
4/25 Photos
5/25 Photos
6/25 Photos
7/25 Photos
8/25 Photos
9/25 Photos
10/25 Photos
11/25 Photos
12/25 Photos
13/25 Photos
14/25 Photos
15/25 Photos
16/25 Photos
17/25 Photos
18/25 Photos
19/25 Photos
20/25 Photos
21/25 Photos
22/25 Photos
23/25 Photos
24/25 Photos
25/25 Photos
Designer and planner Ayelet Levi Adani was tasked with designing a modern style home in Tel Aviv, Israel for a couple raising their three small children. The challenge of this particular home was the stairs, which are located in the center of the house and trapped inside walls that closed off the continuation to the second floor. It also made the house seem smaller than it actually is. To remedy the problem, Adani designed a perfect cube centered around the stairwell. With the center of the cube now playing an important role, interior wings of the house are clearly defined.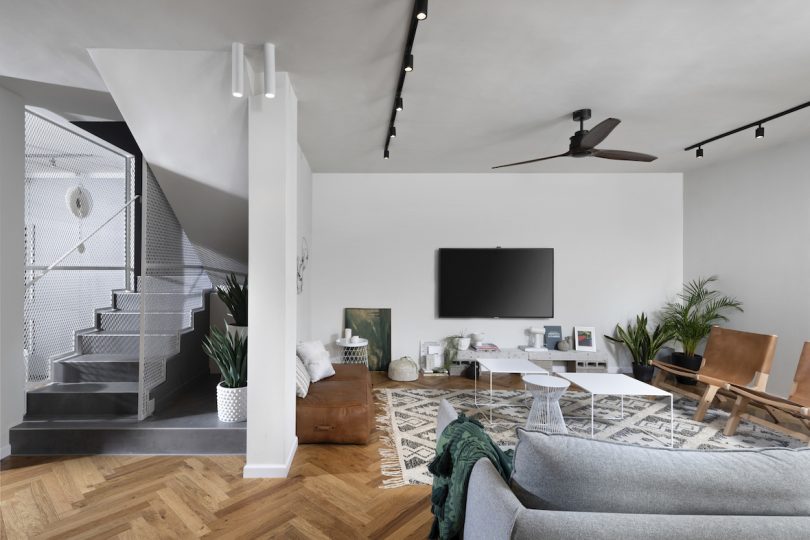 The first step of the stairwell was extended to signify its importance, a kind of stage that sets the tone for the entire house. A portion of the walls were removed and white iron mesh was chosen for the railings so that this center piece of the home didn't feel closed off while still providing walls for safety.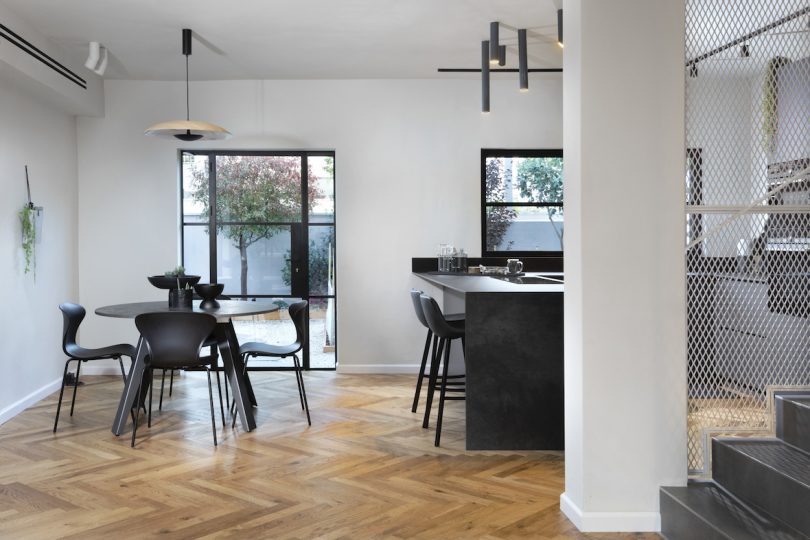 On the first floor, the guest room in front of the living room was turned into an office and playroom, allowing the parents to keep close eyes on their toddler children.
To contrast the dominant parquet flooring, a monochromatic color palette was implemented throughout the interiors with black, white, gray, and camel brown tones blending together.
The second floor contains the baby's room, children's shared room, and main suite that includes a spacious closet equipped with a coffee machine and a stand for making night time bottles for the baby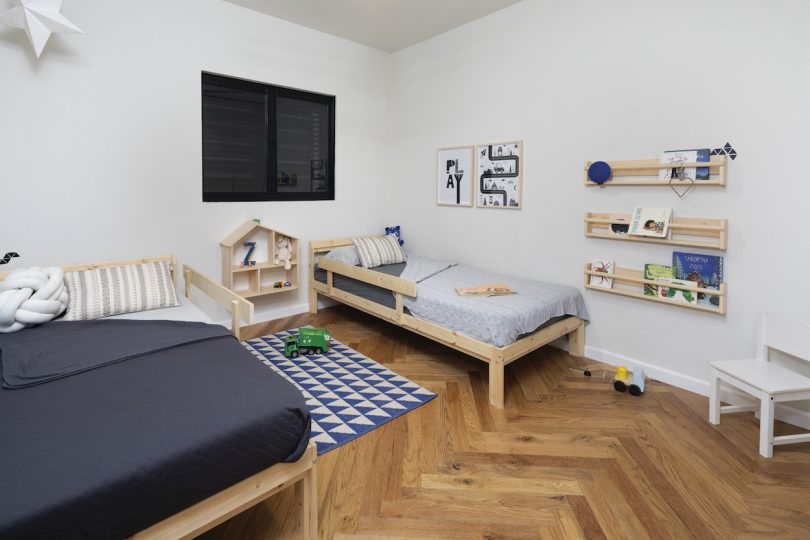 .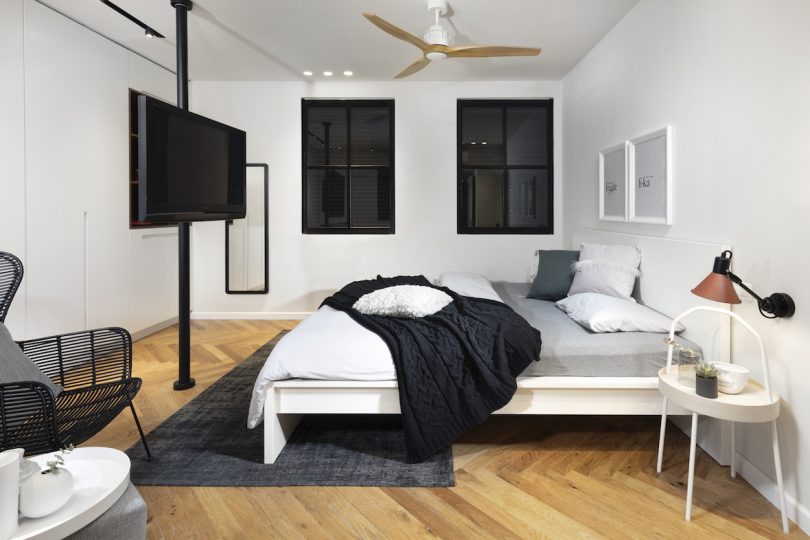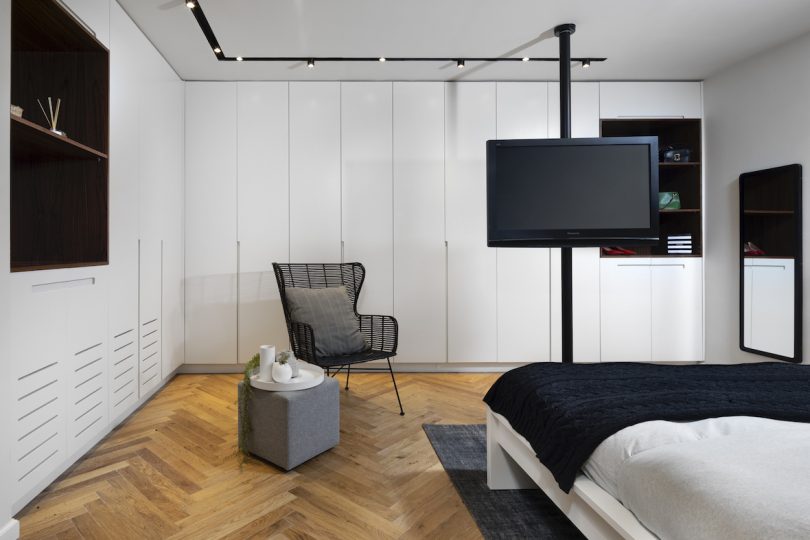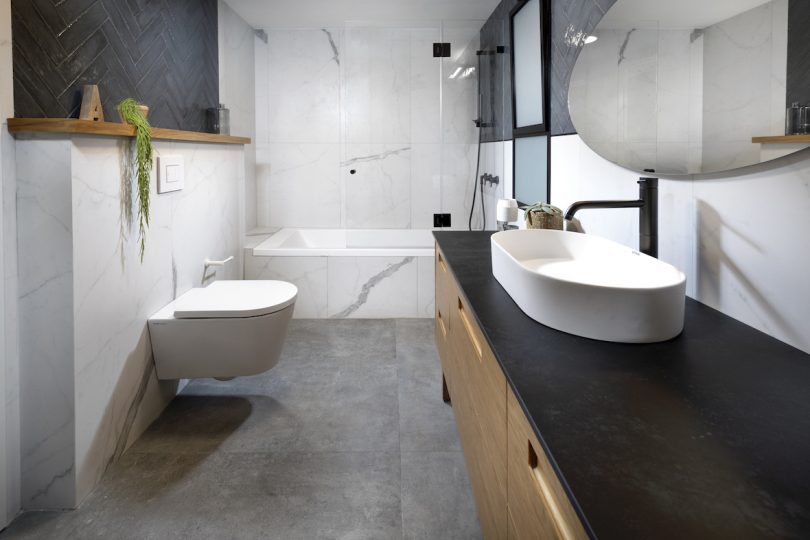 Photos by Eran Turgeman.