The Poetry of Francis Mallmann's Primal and Honest Approach To Food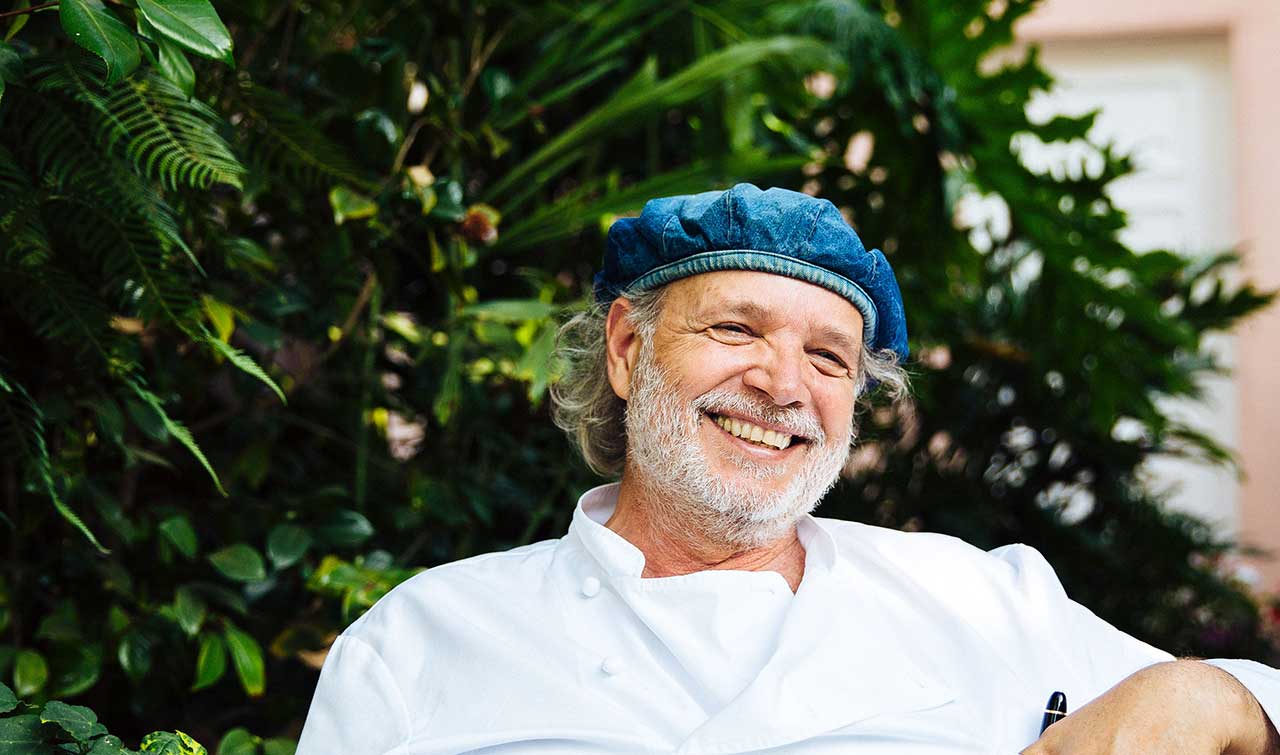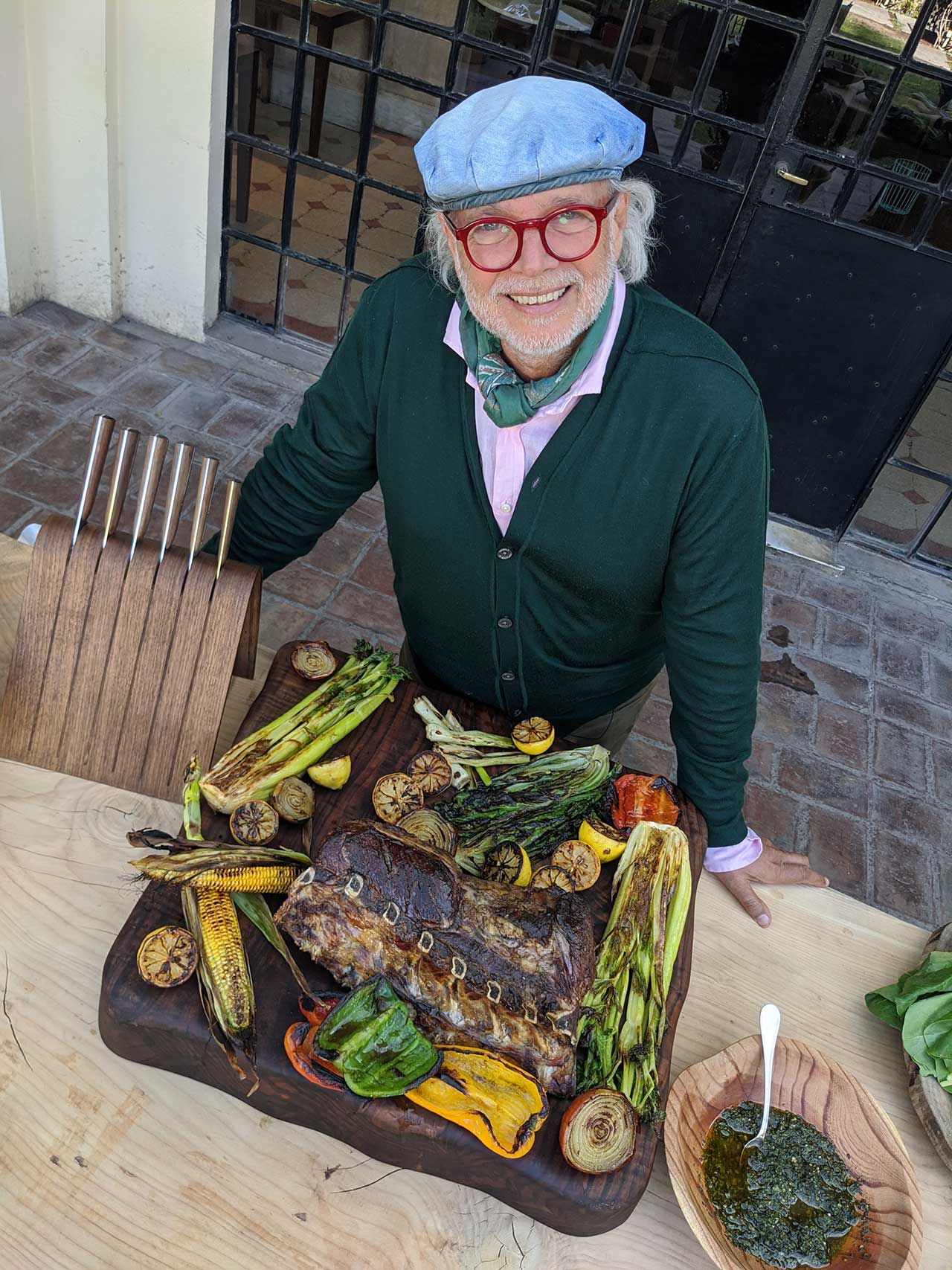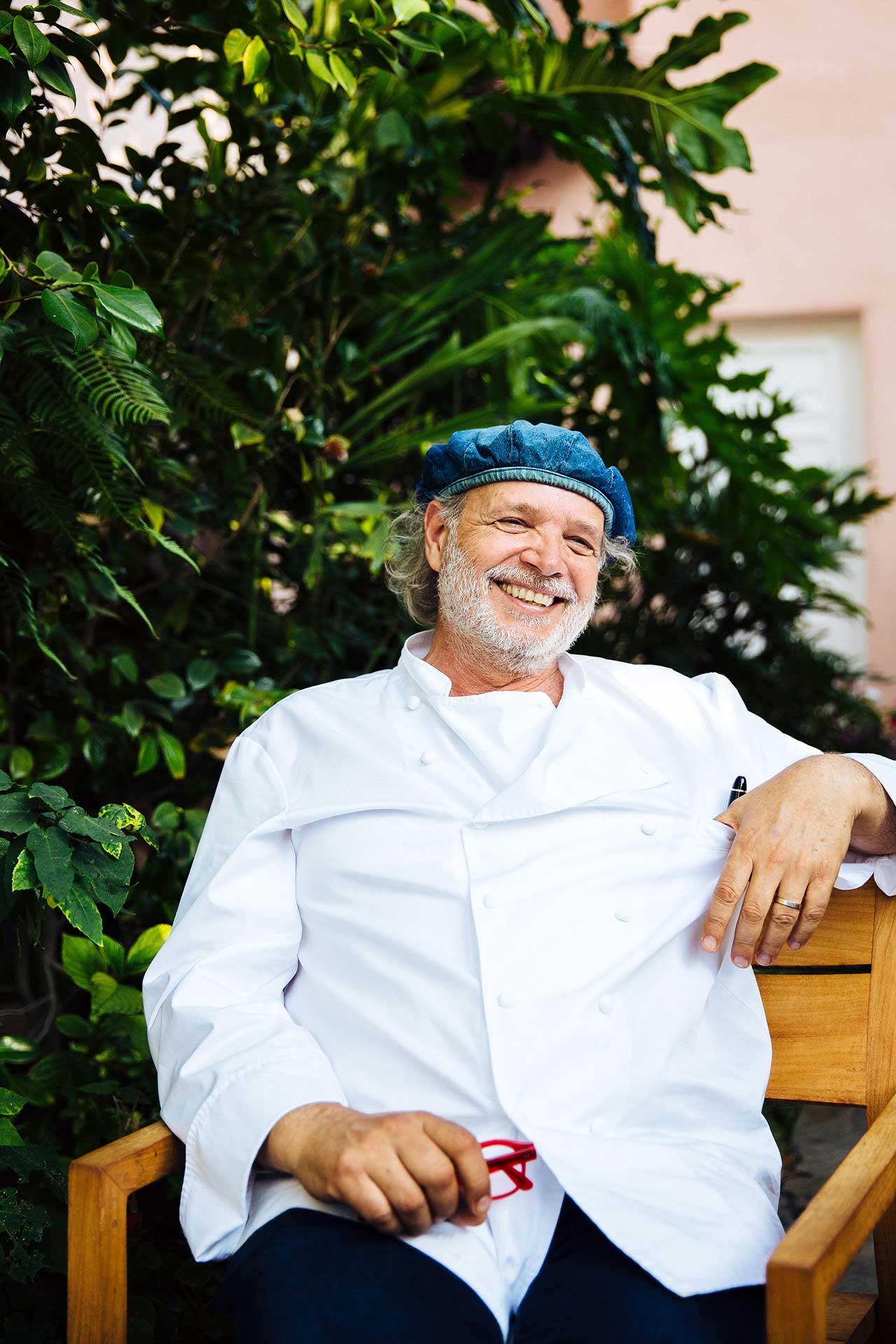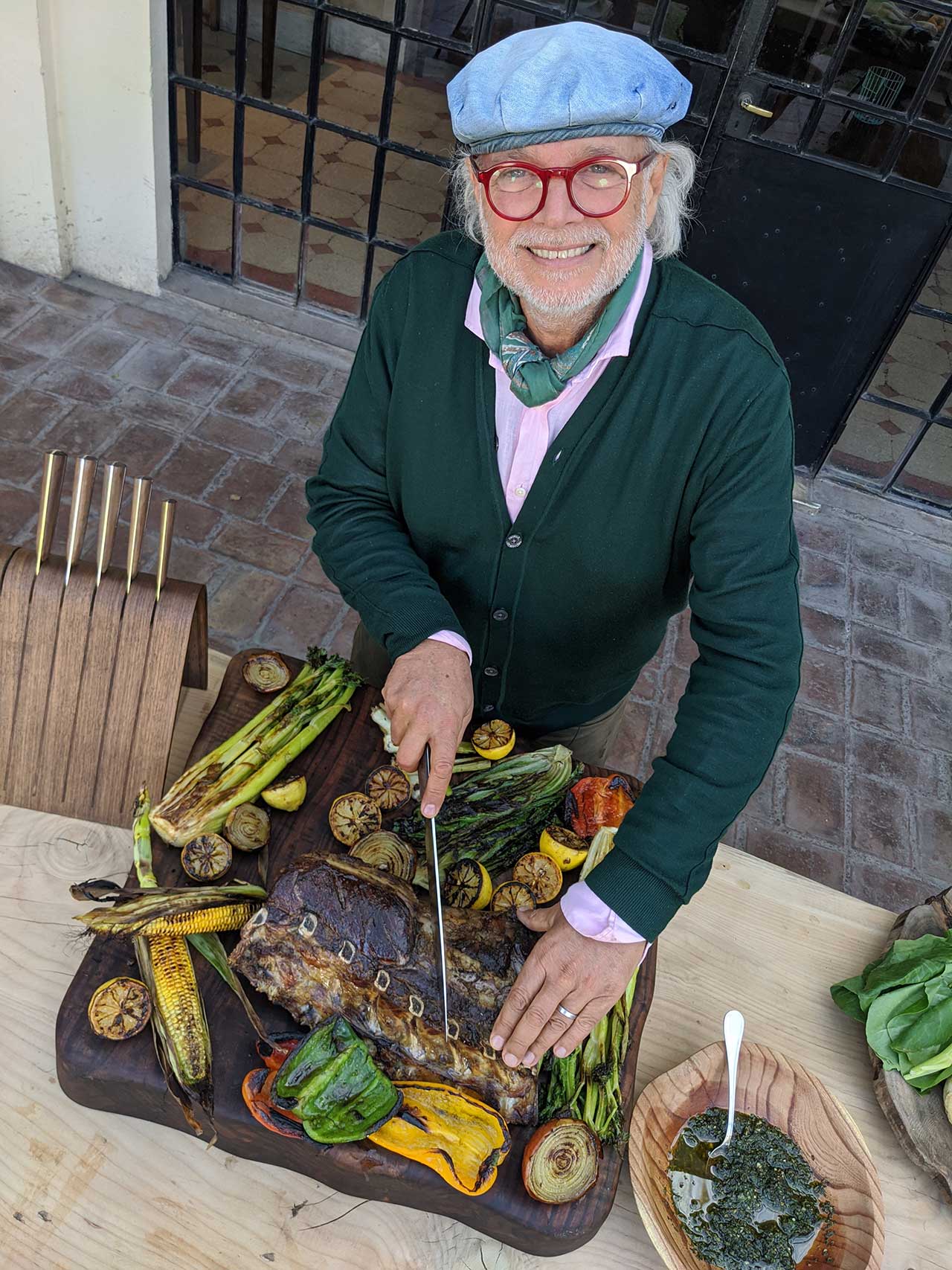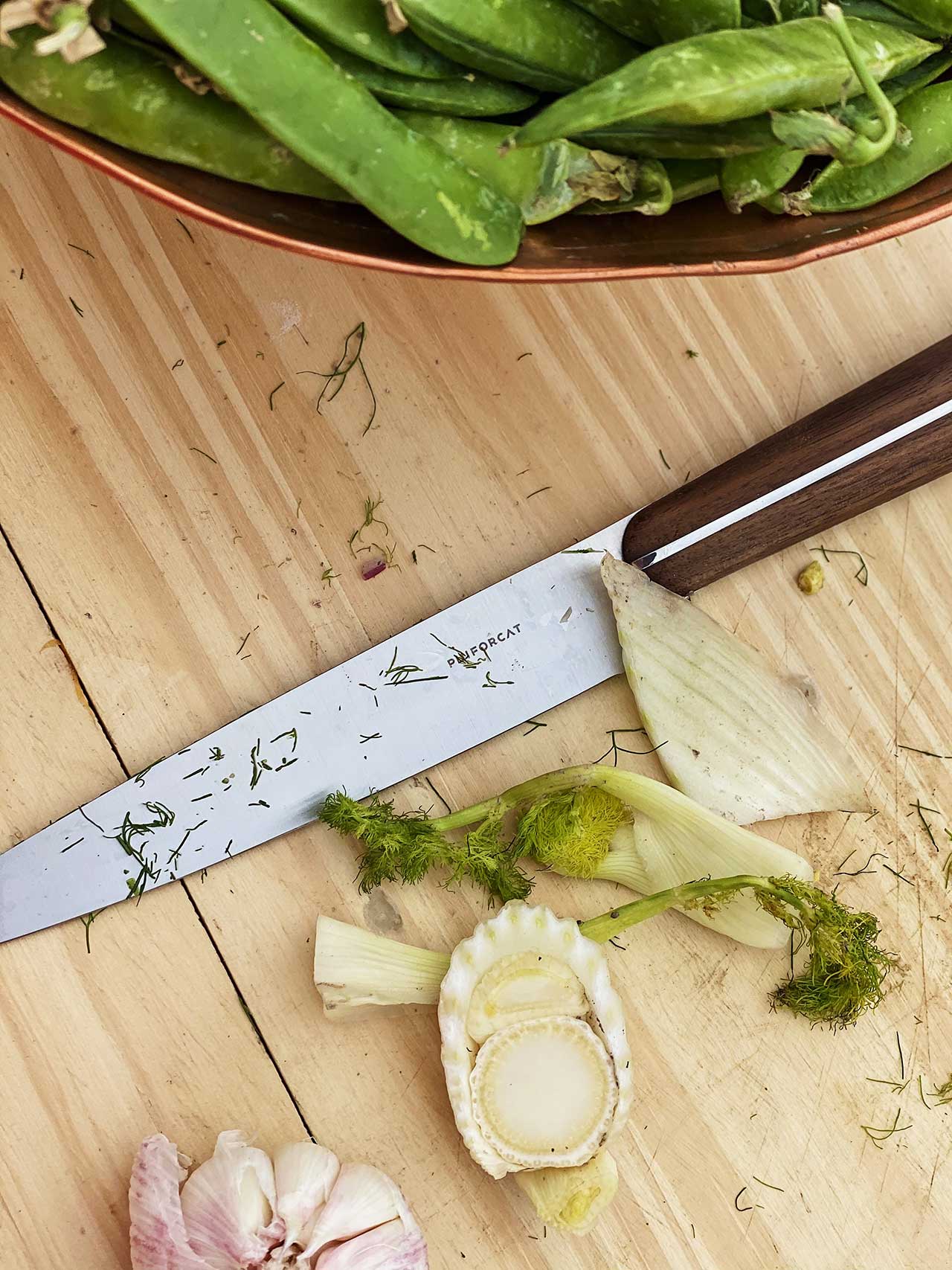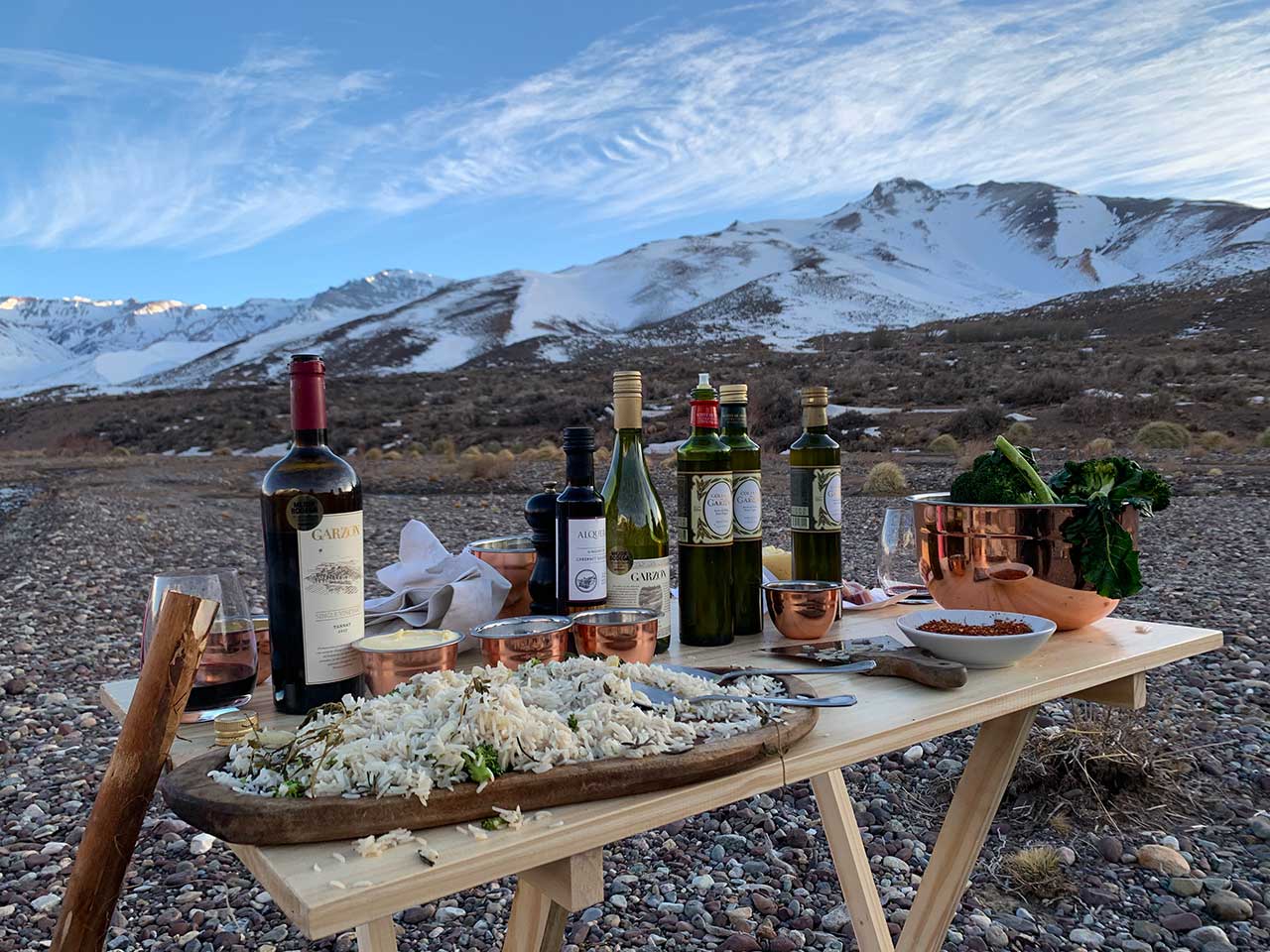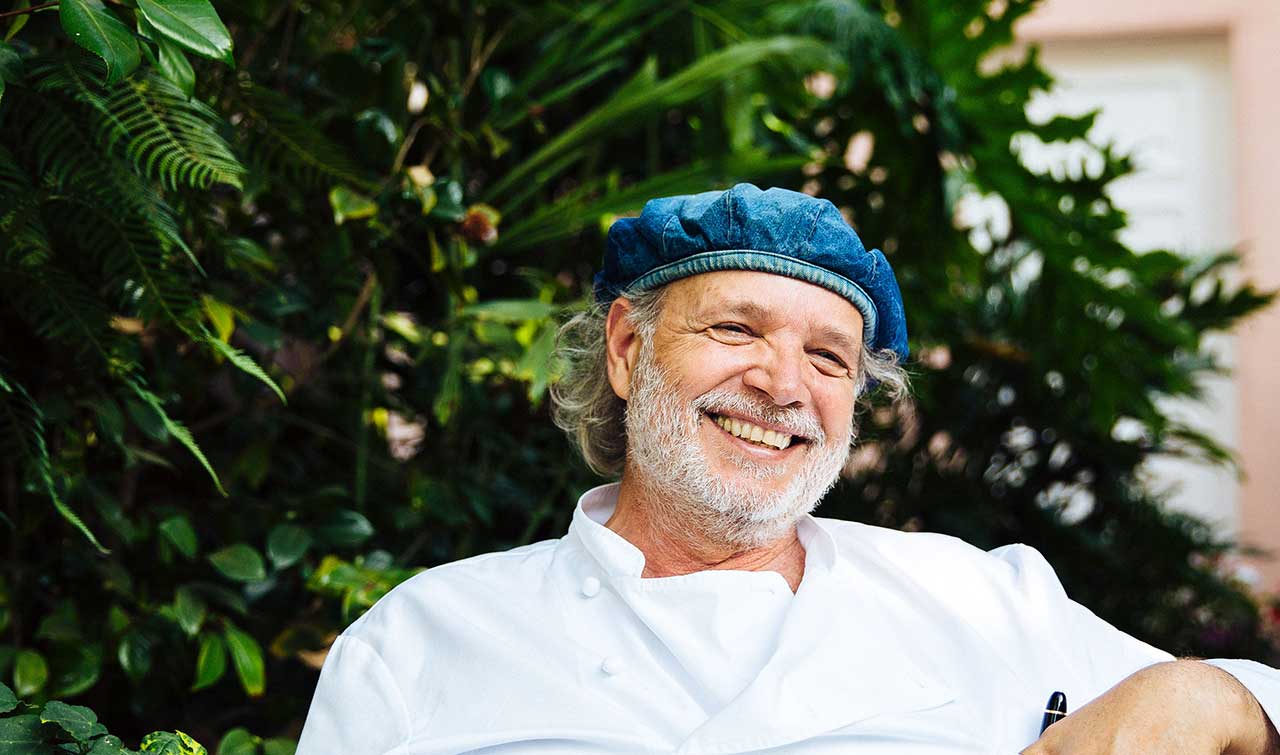 The Poetry of Francis Mallmann's Primal and Honest Approach To Food
1/6 Photos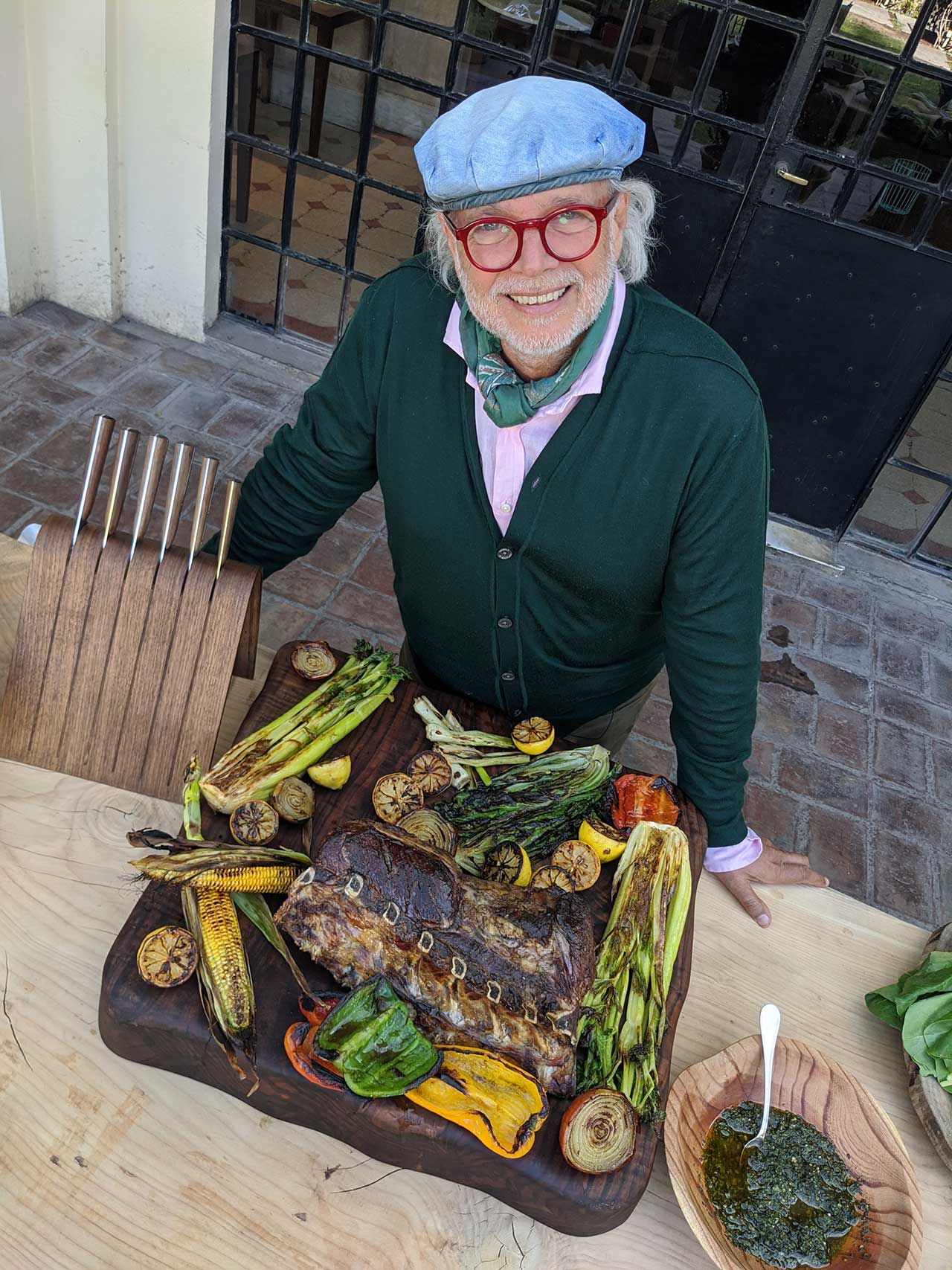 2/6 Photos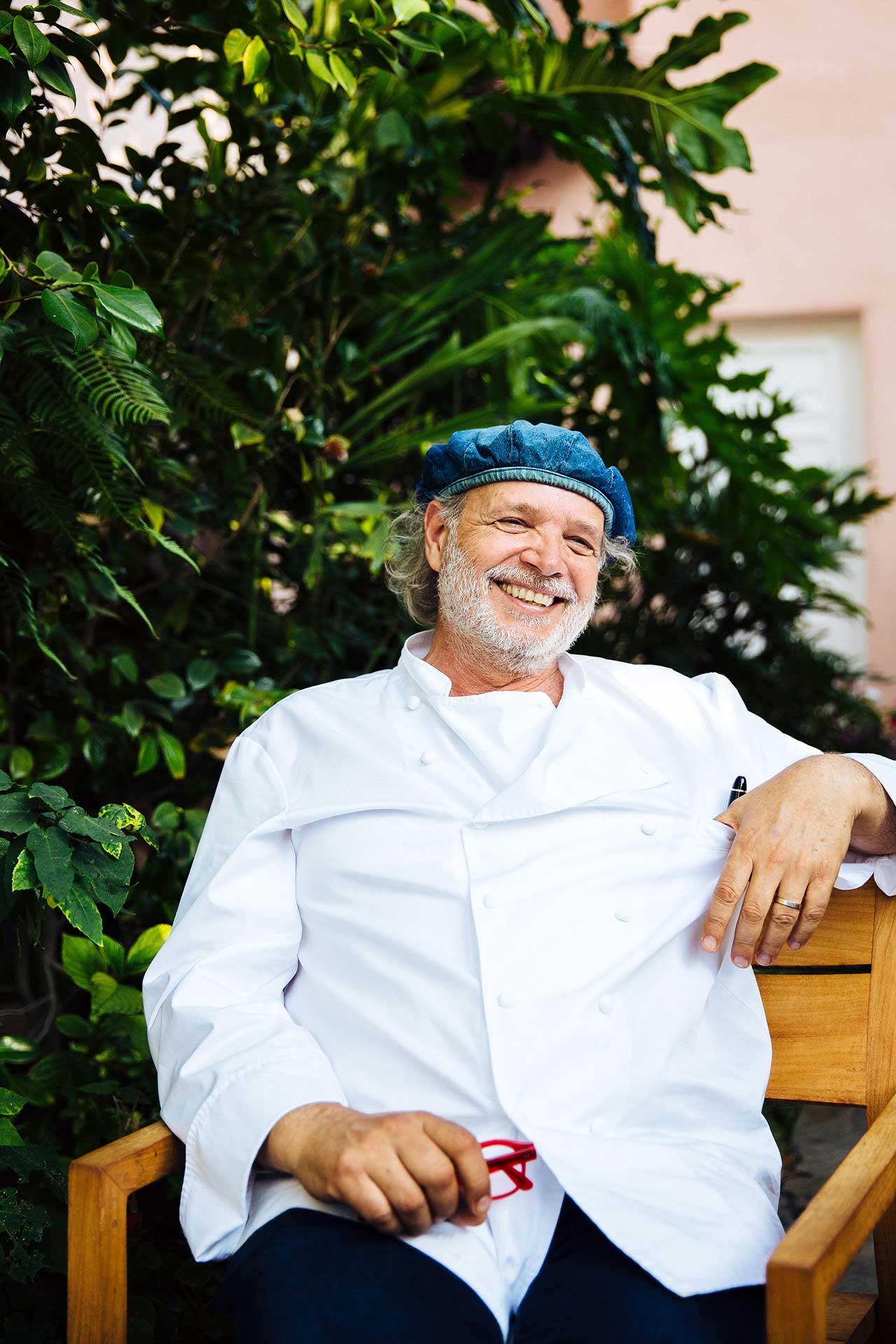 3/6 Photos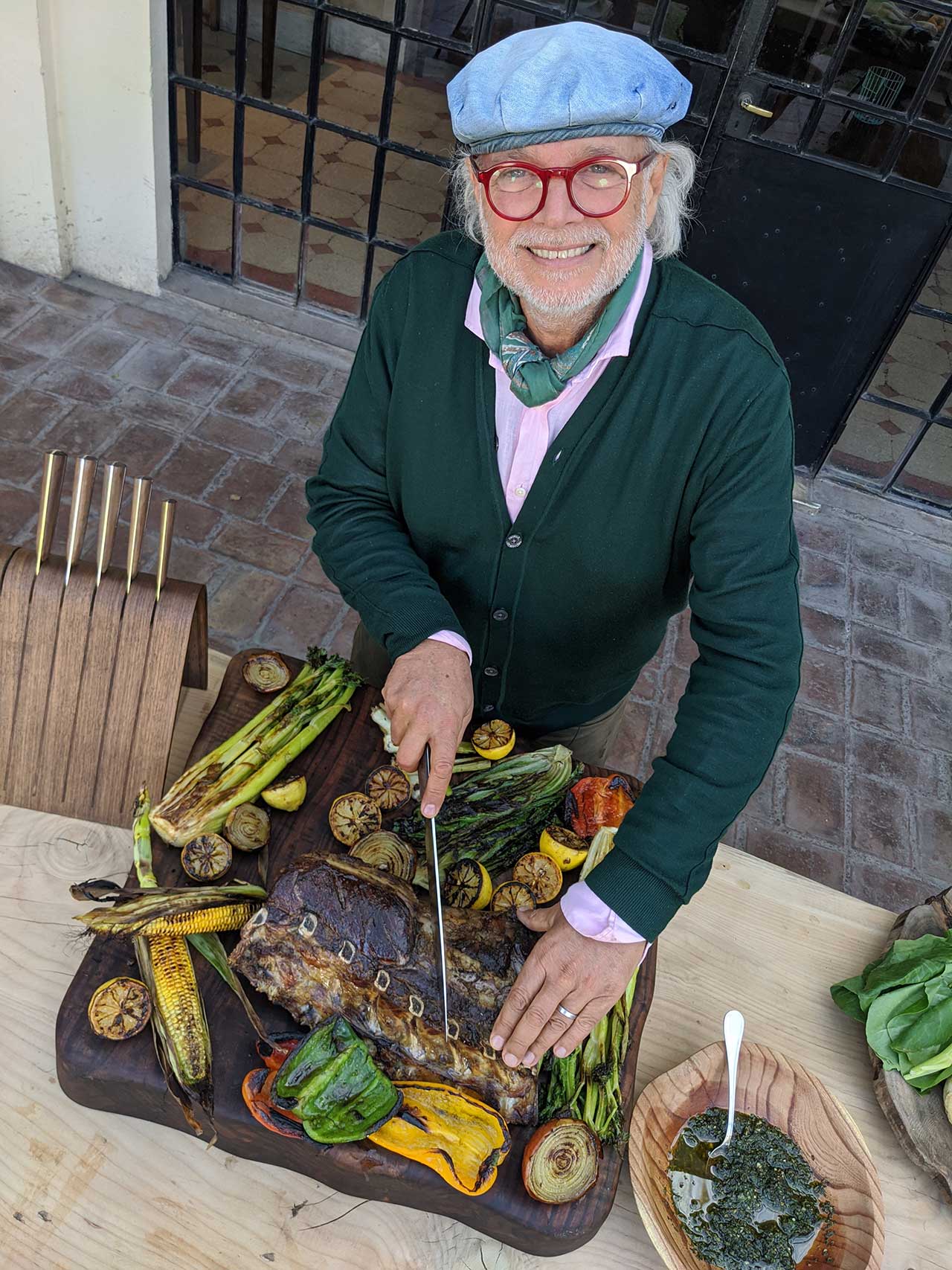 4/6 Photos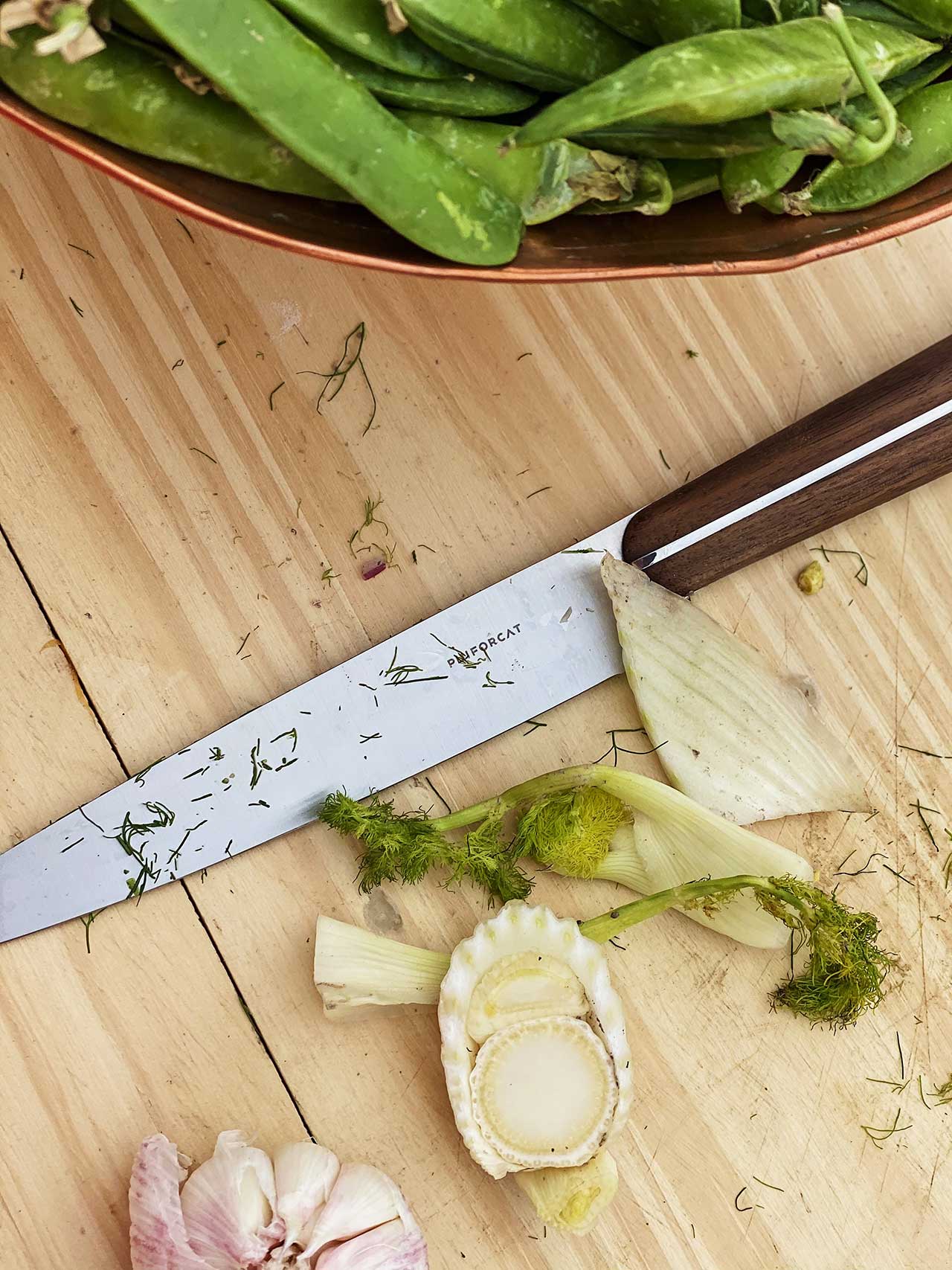 5/6 Photos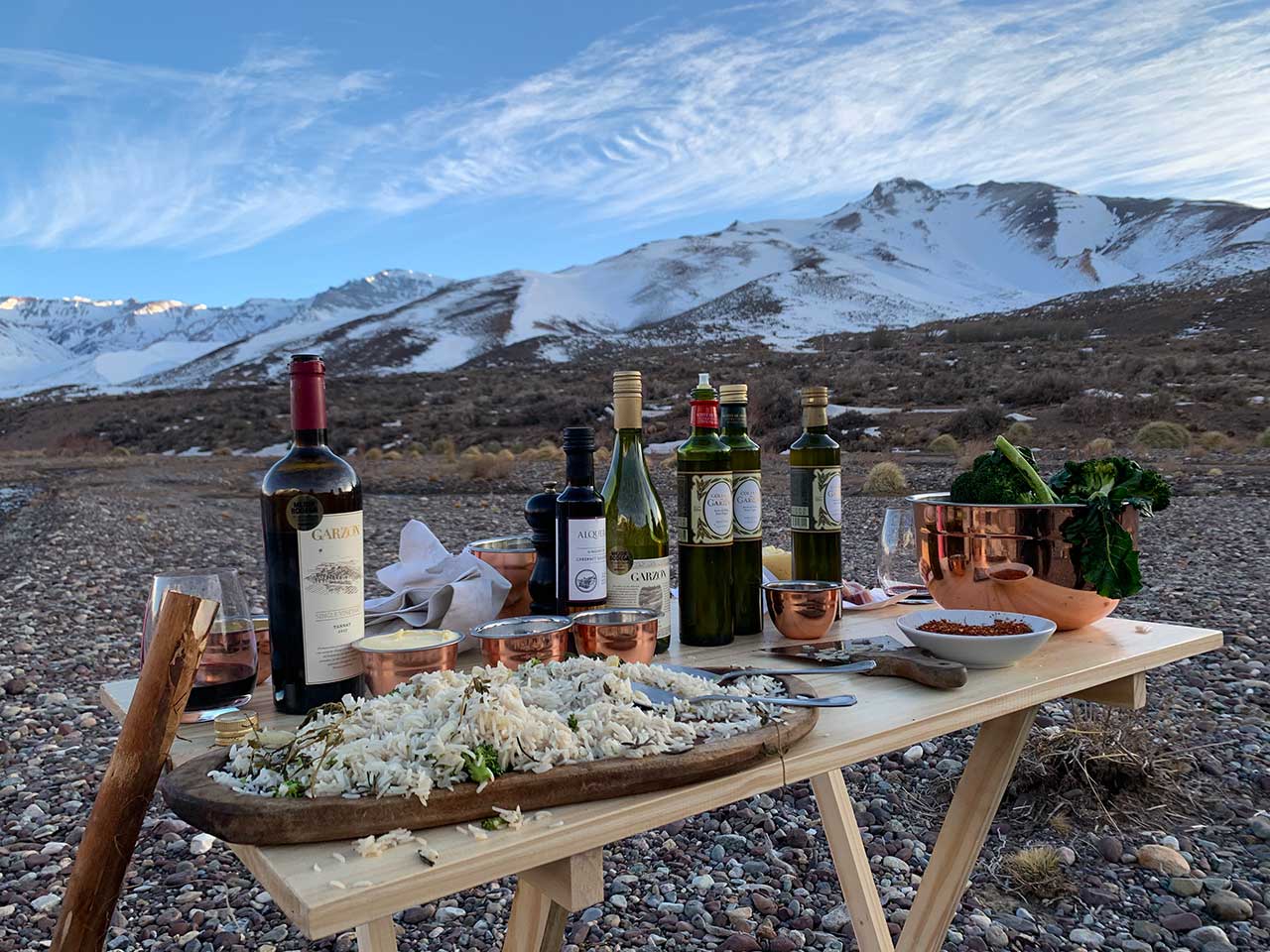 6/6 Photos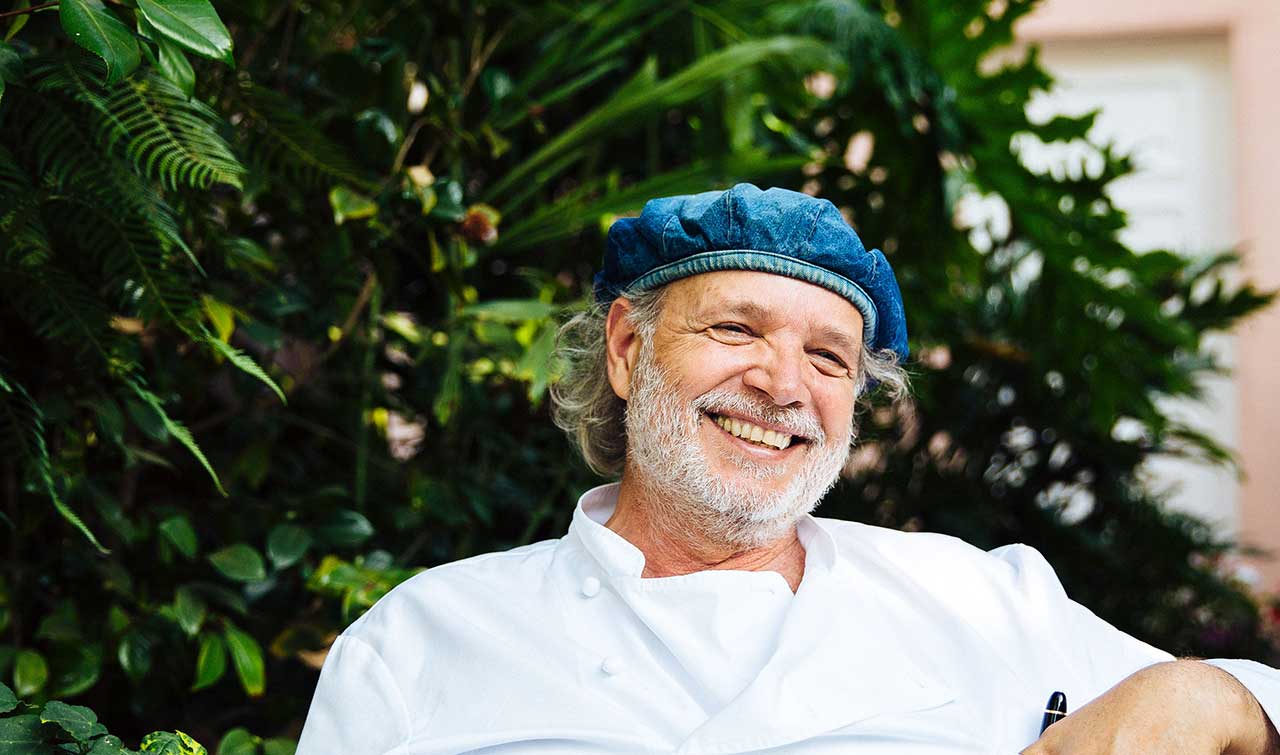 As long-time fans of Chef Francis Mallmann, we jumped at the opportunity to interview him for TASTE. Sure, as food designers we are fascinated by his theatrical cooking methods, his expansive contraptions dripping in spectacle, all while rooted in culinary history. But in digging a little deeper, it is clear that chef has more to offer us. His insight on listening to the planet, embracing mistakes, stopping to smell the Basmati rice… A chef full of passion, lessons, and willingness to eat with his hands, we hope to share the poetry of Francis Mallmann's primal and honest approach to food and life.
What makes a food experience memorable?
What makes a good experience memorable is the spirit, art and inspiration of sharing. That's the only reason to sit down and eat. It's not about the food or the wine (if by the way they are both good much better). But the beauty of eating with friends, lovers, family, children is to share. Is to sit and think and be witty and say what you have to say in most honorable and thoughtful way. Being a mirror of your heart and your thoughts, that's the most memorable thing about food and wine.
What inspires you outside of the culinary world?
What inspires me outside the culinary world are words and languages because they tend to improve in your heart and thoughts as you get older. You take them with you everywhere and they take no space. They are very deep and inspiring well of thought. So words and languages are for me very important. As is silence, remoteness and very very special – the silence of fire.
Do you still make mistakes?
Luckily I do make mistakes. We all do. And that's the path of growing, improving your skills and your being and your life… Without mistakes we are nothing. It's the most beautiful way of learning. When you are in the ground with your face marked with mud and blood of your fall, you look up and as Kipling said: "Pick up your worn out tools and start again". That can be related to a pancake, to a steak, to an over burnt tomato, to love and to work. What is life without mistakes. It's a hallow pit.
Has this past year given you new ideas?
Our industry has been wildly and strongly hit by this crisis, this health crisis. As we all know and feel in the tip of the fingers, we've been suffering with the restaurants and hotels closing all around the world, and I feel that in a way it's not the human beings talking but the planet who is telling us to halt so we can re think how we work and live. So I think is a great opportunity for the planet and for all of us. I think about Chernobyl, I saw some photographs the other day, a city that was so badly hurt by us, left on its own, abandoned and thirty something years today it has been eaten by trees and plants and that shows you the strength of wildernesses. The trees invaded the buildings and the roots moved the walls and destroyed them. So probably in a hundred years you will walk among trees on the rubble of buildings. That's how strong this planet is talking to us today with what's happening. So we have to look into the horizon and think how each one of us can be better to change the way you lived in the past.
If this past year gave me new ideas, I look back onto my eighteen, nineteen-year-old self when I started doing my apprenticeship in France with incredible chefs of those days – three star chefs with whom I worked, there where 8 of them. They where very rigorous and generous with me. They gave me like a handful of seeds that I've been carrying in my pocket – I don't know why but they contain a message of hope. So it's a hard time now – I'm grown up and I am their age when they taught me. It's time for us to teach the young about hope, hard work and conviction and what we want to do with our lives.
What is your favorite ingredient?
My favorite ingredient is white rice, in fact Basmati rice. It is the most pure, delicious and perfume product I know. In those days when I was eighteen a friend of mine from Irán, who lived in Paris in those days of the late 70s, he use to take me to Iranian markets and he would make me kneel on the floor in front of the bags of rice and put my head inside the bag to understand what truest rice was. Then we would choose one of them and we would go home and cooked them as they do with a bit of butter and a piece of linen on the top of the casserole until it was crusty. Since then my favorite meal is white rice with red cabbage salad with a very special dressing I do with many things. So I could eat that every lunch and dinner and be very happy.
Do you have a favorite kitchen tool?
My favorite tool in the kitchen these days is my wooden block of Puiforcat knives. They are the most handsome tools I've ever seen with their wooden, metal handles and their sharp happiness to cook. I love the bread knife that I use to peel my oranges and grapefruits and lemons as well as for cutting bread or cooking and incredible "coulibiac" full of caviar and rice, eggs, mushrooms and a beautiful brioche.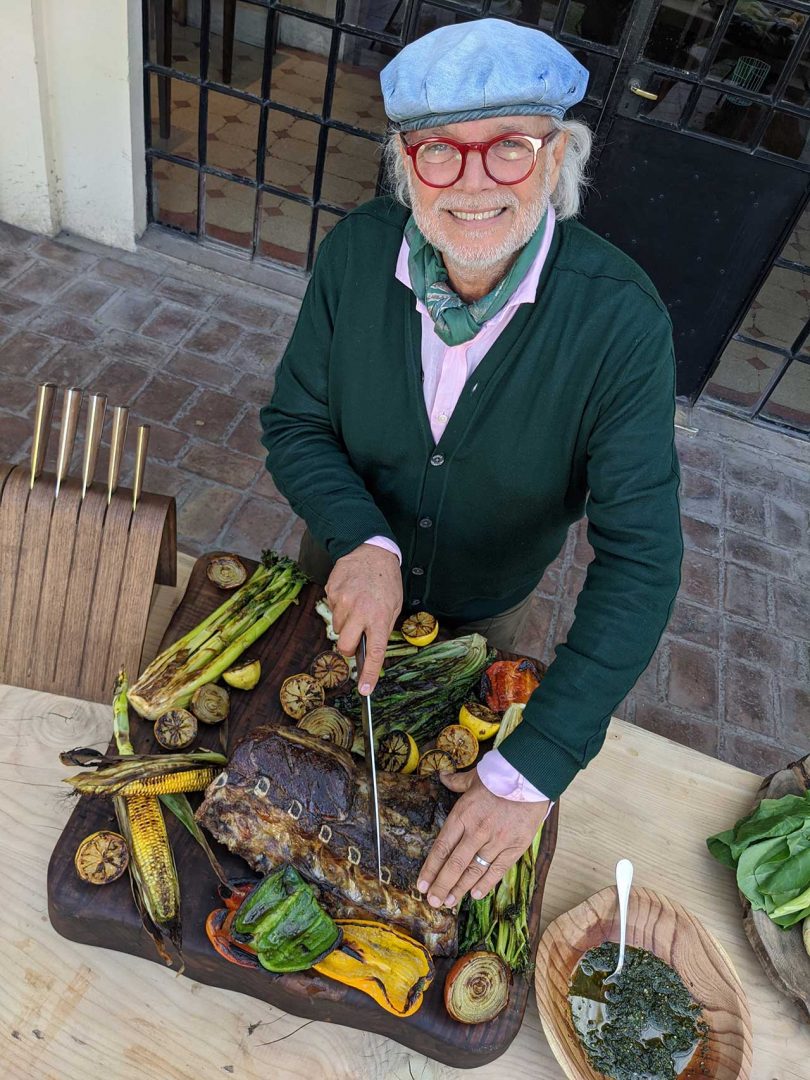 What is your favorite way of eating?
Certainly my favorite way of eating is with my hands – after sixty you lose shame and you can be under a tree or in a palace and suddenly grab with your fingertips some delicious food you are eating and do it graciously. And if you are old enough you will always look like a prince or a king because it comes out of your heart, that desire of holding in your hands that mouthful of delicious food you're about to eat.
What would we find on your dining table at home?
There are four things in my table at home that must be there for dinner, lunch and breakfast, and they are cold pressed olive oil from late harvest, a great pepper mill like the one I have done in wood from Puiforcat, sea salt and the very best red wine vinegar from Cos d'Estournel France or an aged vinegar from Spain.