Do you remember the last Beat Boxed post I did a few weeks back with the Flaming Lips inspired bathroom? Well I was pretty sad when I found out I wouldn't be seeing The Flaming Lips playing at this year's Coachella. But I was ecstatic when I was contacted by FitzSimmons Architects, the masterminds and architects behind the renovation of The Flaming Lip's Oklahoma residence featuring the "real" Flaming Lips inspired bathroom pod. This bathroom is just incredible! As Mr. Wayne Coyne says, "now you are entering into the drug damaged, artist element of our home."
Wayne Coyne's imagination is constantly running wild and this space definitely does not try to stop it. As Wayne says, he can get up in the morning and go from his "strange, artistic bedroom" and into his '"strange, futuristic bathroom." His dreaming doesn't have to end when he gets out of bed.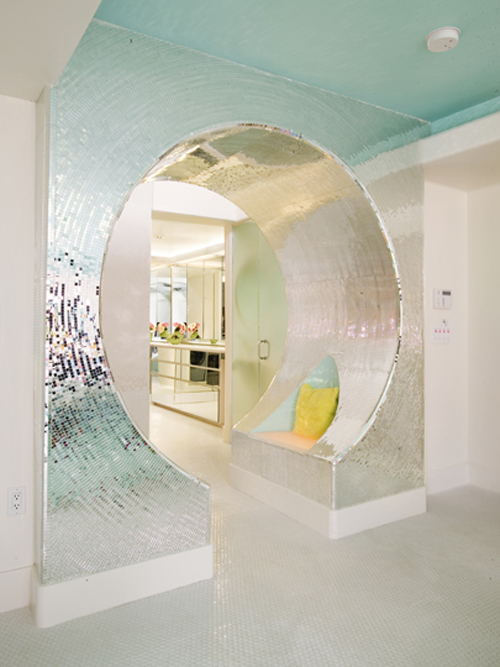 I cannot even tell you how inspired I am by FitzSimmons Architects and the Flaming Lips. This unique space truly captures the spirit of The Flaming Lips and then some. Just like any other artistic expression that Wayne Coyne is involved in, this is visually magical. When you combine this talent with an architecture firm that "approaches architecture as a form of art, creating built forms and spaces that both inspire and serve as meaningful places of purpose" you end up with a masterpiece.
Wayne's wife, Michelle Martin-Coyne, was also very involved in the process of developing this space. A gifted artist herself, she is responsible for the majority of The Flaming Lips photography and has published a book of her photographs titled Placebo Head Wound that documents life with the Flaming Lips.
Check out this video and let Wayne Coyne inspire you as he takes you on a little tour of the "compound" and the renovation:
Framing for the pod:
Photography by Joe Mills Photography.