The following post is brought to you by Mondaine. Our partners are hand-picked by the Design Milk team because they represent the best in design.
With only 1,957 pieces produced worldwide, the Mondaine Helvetica 1 Smart 1957 Special Edition is truly befitting of the oft used label of "limited edition", with each unit marked with a "1 of 1957" inscriptions on the side of the case. But while the limited nature of these timepieces will no doubt stoke desirability amongst horologists (and those with a deep affinity for typography), it's the special edition's understated integration of technology hidden within the exterior of confident tradition which makes Mondaine's smart watch a noteworthy entry into the ever-growing wearable smart device category.
Mondaine's first smart watch can be considered representative of the company's philosophical commitment to design based upon concise refinement rather than one in pursuit of cramming ever more technological features. First and foremost, the Mondaine Helvetica 1 Smart is a timepiece in the classical sense…but a watch engineered to discretely monitor activity and sleep patterns using both MotionX activity tracking and Sleeptracker sleep monitoring. Sleep cycle alarms, activity alerts, adaptive coaching, and automatic time alignment are pushed to any compatible smart device (Apple and Android), all available at the launch of an app. But otherwise it would be easy to mistake the solid chronograph as another smart-looking Swiss made time piece in Mondaine's existing Helvetica series, a real world equivalent of a James Bond gadget where fashionability hides technological function.
Curious to learn more about the motivations and technologies which led the Swiss brand's decision to enter the smart watch arena, we asked Mondaine CEO, Andre Bernheim, alongside industrial designer Martin Dreschel about the trials and tribulations of balancing tradition with innovation during the dawn of wearable technologies:
Why a smart watch now?
Andre Bernheim (Mondaine CEO): I was asked back in 2014 during the launch of our Mondaine Helvetica whether we were developing a smartwatch. My answer then was, 'no'. The reason was at that particular time there was not yet any way to integrate smart features while retaining a traditional analog watch form factor. Then in early 2015 I learned about the MMT (Manufacture Modules Technologies) movement powered by Fullpower. My brother and I were immediately in agreement that this was exactly the technology that would fit within our design philosophy and the Mondaine Helvetica line.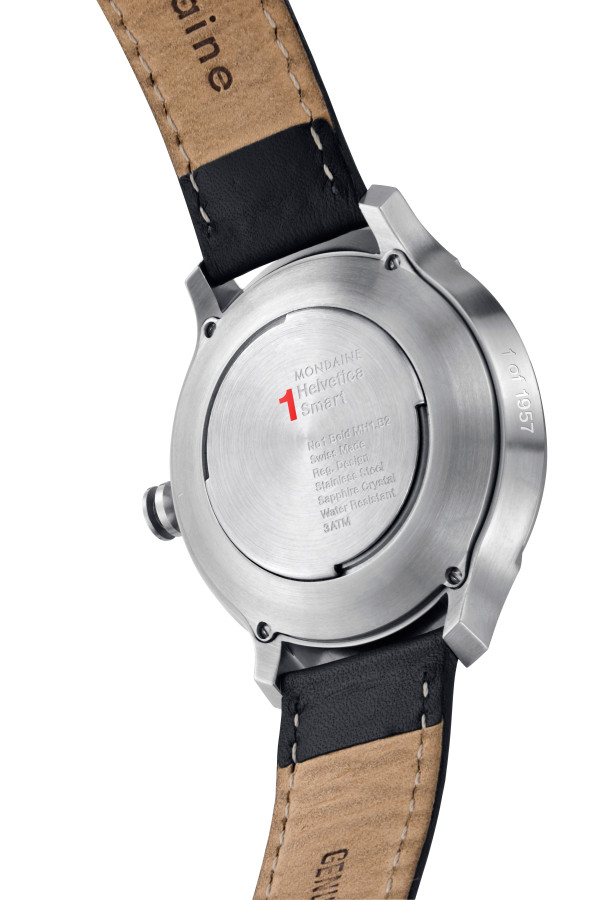 What was the most difficult challenge your team faced while designing and manufacturing the Mondaine Helvetica No1 Smart compared to that of a conventional timepiece?
Martin Drechsel (Industrial Designer for Mondaine): In general the transition was quite a challenge because of all the references and deep considerations that we had developed in the course of creating the original product range. Helvetica's history and values associated with it, alongside Mondaine's brand identity, are reflected in many aspects. The strict, typographical simplicity, balanced proportions, and its Swiss roots had been quite a tight framework of self-imposed limitations in addition to the technical issues.
In regards to technical issues, we found it was not easy to fit all smart technology inside of such a case when fractions of millimeters matter (on top of all the other components within an analogue watch). For the original version we had already aimed for a deliberately bold look and feel. But we wanted to make sure our smart edition was neither oversized nor bulky.

 
AB: We had to adapt our case to the dimensions – in diameter and thickness – of the smart movement. We added a 'soundbox' as we call it to support the watch alarm, which will wake you up during a light sleeping phase. We added this soundbox, which our father actually developed in the early 1970's for the world's first digital watches with alarm. As this is a Helvetica watch, the design of the soundbox was designed with very unique sound openings, too.
Another challenge was getting our factory and business accustomed with smart technologies. There are additional operations for the watch assembly and another step of final quality control for synchronization of our watch with the smart function. We had to apply for Bluetooth licenses in various countries, as this is the requirement for every Bluetooth device.
Noting those challenges, what was the reasoning then for making this smart watch an analog experience on the wrist, while pushing off the technological features over to a companion app?
AB: A purely digital watch, with functions similar to what you already have on your mobile phone, seems incongruous with our brand. It was clear to us a Mondaine watch needs to be analog: traditional, classic, yet still a modern Swiss watch.
However, when we considered a classical analog watch with additional connectivity features, this solution worked for us. Alongside being Swiss made, being able to offer a timepiece with a battery rated for 2+ years without recharging is in our view very important. We believe a Swiss watch is an emotional piece, an object you'll want to wear and keep for many years.
The Apple Watch was a high profile watch and device launch. What are your thoughts about what they've done with their first watch in regards to design, wearability, and utility? Where does Mondaine distinguish itself in comparison?
I would not like to talk about the pros and cons of other manufacturers. We know what we do, where our strengths are, and where we still can work on new technologies. Apple is Apple. They certainly lead the market in digital smartwatches and I expect there will be many other companies coming up with similar smart digital "techno-watches", including cheap knock-offs. From our perspective these are watches aimed at the tech set, developed and released quickly, similar to the cycle for mobile phones.
We're taking a different route: our Helvetica No1 Smart watch is meant to last, and for consumers to enjoy the design and story of the watch even when using it primarily as a time keeper. On the other hand, I do imagine that a lot more watches, including classic analog watches, will offer some form of connectivity in the future, far beyond what we know today. But a smart future is definitely ahead of us.
Recognizing you see your watches as objects "here to last", what then are some of the finer details that you think reveal themselves to the watch wearer over time?
AB: One of Helvetica's most recognizable characteristics as a typeface is the shape of the number "1". We have incorporated this number one into the strap attachments (also called lugs). In fact, each one is made from two number ones touching each other, representing the typeface's top standing worldwide, also that this is our 1st Helvetica watch, and finally our hope it will be the number one watch for our customers.
Our limited edition pre-sale model has additional hidden detail: engraved on the side wall of the case is '1 of 1957' – in honor of the year Helvetica was created, and also signifying this is our first smart watch, limited to 1957 units worldwide. It also has a red number 1 on its case back, as well as the a red number one on the eye of the subdial.
MD: Most wearers will appreciate a classic, but distinctly simple look and feel with focused functionality. Clear legibility at a glance in low light or under the glaring sun will be appreciated by the wearer every day, while its long life battery and modular upgradable components combine stylistic presence with technical longevity.
There are the embossed indexes and numbers on the dial, inspiration from old metal typing hardware used when the Helvetica typeface was born in 1957. As Andre already noted, the case lugs reveal their respectful nod to the characteristic details of the font in the shape of the numeral 1.
In contrast to its original Helvetica siblings, there is a special pusher instead of a traditional crown. Similar to the unique knob crown of the Mondaine SBB Stop2Go, this feature reflects directly how you interact with the object, reflective of our desire to find the most honest and functional approach. It is not something in disguise, pretending to be a crown. It does not look like it wants to be turned or wound. Its shape serves purely functional purposes and communicates its difference with a subtle confidence.
As with all our designs – we've also carefully considered the back of our watch: the two 90° slots of the bespoke water resistant sound enhancer correlate to the our Helvetica left-aligned text block layout on the front. The top priority was above all to create a real watch without any compromise. The added functionality should neither be in the main focus nor should it require the user to make any sacrifices, and we think we've accomplished that with our first smart watch.
The 1957 special edition will ship in early fall 2015 available for pre-order for $850 (after $100 off during the promotion period) in the US through the Mondaine website and the MoMA Design Stores as their exclusive pre-order retail partner. Four additional standard models are expected to launch in October 2015.

Design From Around The Web