Torquay House designed by buck&simple is the ultimate abode for a surf-centric vacation in Torquay, Australia. The holiday home is centered around surfing and outdoor activities and is designed to accommodate single stayers and groups of 20 alike.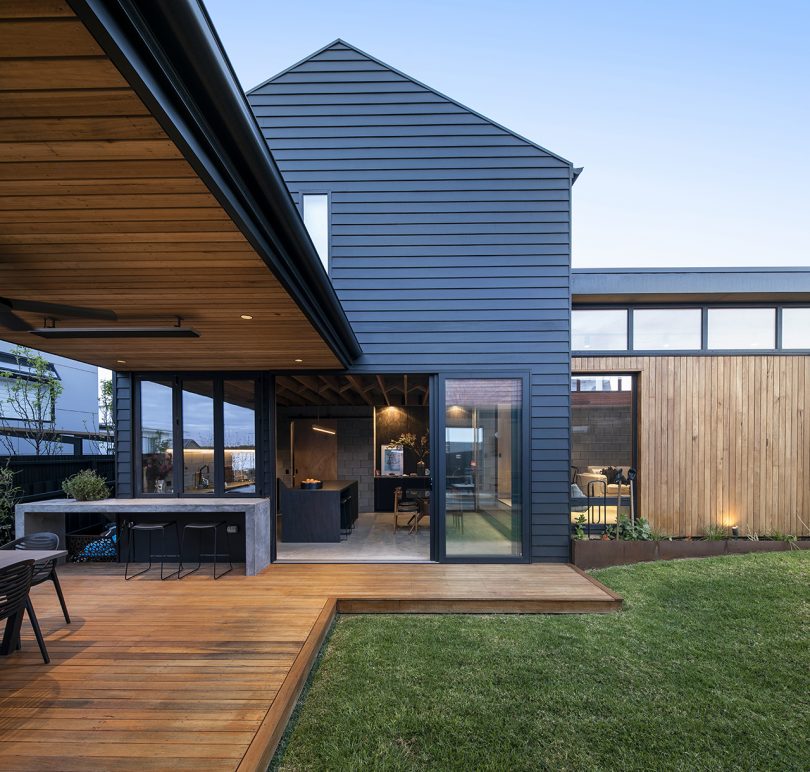 The structure plays off of the geometric nature of placing three different-sized structures together. A large house, a small house, and an entertainment deck enclose a central courtyard to create an all-inclusive atmosphere.
The open layout prioritizes outdoor activities, which are designed to be enjoyed in the prominent central courtyard. This inward-reflecting layout also creates a sense of privacy, as the house is part of a larger neighborhood.
The living areas feature robust raw concrete block walls, a burnished concrete floor, and natural timber and copper detailing.
An abundance of windows and doors create opportunities to connect with the outdoors and any outdoor activities happening in the courtyard.
The more private areas are accompanied by a calmer material palette, encouraging guests to slow down and relax after a day at the beach.
Outdoors, a timber screen frames a private courtyard that features a surf utilities area with an outdoor shower and surfboard quiver.
Photos by Steve Young.