El Anatsui must be one of the greatest recyclers on the planet. Dirty, rusted and smashed liquor bottle caps are transformed into incredible tapestries that sparkle like precious metals in his current exhibition at Jack Shainman Gallery.
It's a different visual experience from every distance – even just 5 inches away, the images ON the bottle caps are captivating.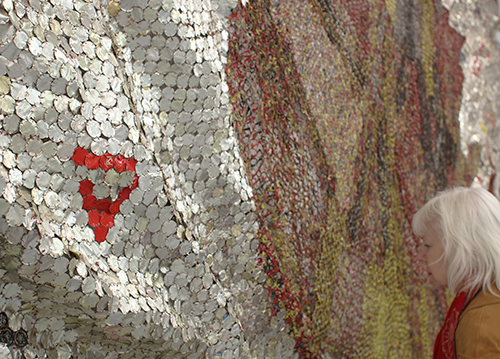 Not only are the materials humble, but the method of "hanging" is also unbelievably simple. Only a few drywall screws hold these pieces to the wall and cause the sensuous folds.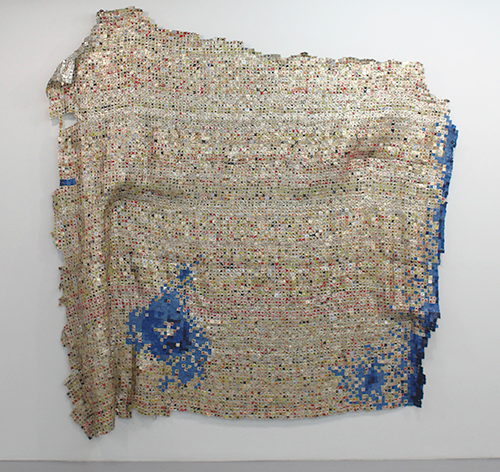 Anatsui's largest sculpture is far too big to fit in this (or any) gallery. A block and a half north and 30 feet up is a MASSIVE wall sculpture on the side of a building. Titled Broken Bridge II, it's created from discarded rusted metal and polished mirrors. Viewable from New York's elevated park The High Line, it complements the attitude of the urban design masterpiece perfectly.
The gallery exhibition closes this weekend, but the outdoor installation will run through this summer!
What: Pot of Wisdom by El Anatsui
Where: Jack Shainman Gallery, 513 W 20th St, New York, NY
When: December 14, 2013 – January 19, 2013
What: Broken Bridge II by El Anatsui
Where: The High Line, between West 21st St & West 22nd St
When: November 21 2012 – Summer 2013
Photographs by David Behringer, courtesy Jack Shainman Gallery, New York.