Thanks to the RIT's Product Timecapsule, we were fortunate enough to get an exclusive look at the design and development of Uniform Wares' 100 Series Watch. The epitome of minimalist, modernist fashion, this watch is like wearing Dieter Rams on your wrist. I was first introduced to Uniform Wares' watches in Josh Owen's Friday Five and then he got back in touch when Uniform Wares generously donated its 100 collection archives to the Product Timecapsule so that RIT students can use it as a learning tool.
Uniform Wares' celebrated 100 Collection was the company's first wristwatch design and is the cornerstone from which Uniform Wares began. In the company's four-year history, the 100 Collection has developed from the original 101 Series (above) to the current 104 Series. Each new Series has seen the collection evolve to its current design, which has come to represent the brand's signature minimalism.
The uncluttered, straightforward design of the 100 Collection is inspired by the simplicity and industrial, utilitarian functionality of mid-century factory wall clocks made by British manufacturers such as Smiths Sectric, Gent of Leicester and the G.P.O. (General Post Office).
Patrick Bek, Founder of Uniform Wares, explains, "Whilst designing the 101 Series wristwatch I was working at a furniture manufacturer in West London. The factory floor and warehouse walls were home to synced slave clocks that were robust and purposeful. They had been designed to be seen from a distance with incredible linear clarity. These clocks had a significant influence on our first collection."
The first collection of watches was released in two striking colorways, both produced using 7000 Series aluminium. Anodized one-part cases, screen-printed dials and polyurethane rubber straps ensured that the two-color palette was not interrupted by material finish; one color block to wear, the other to tell time.
The 100 Collection has matured since its initial release in 2009. The most recent incarnation, the 104 Series, includes a Swiss-made, 5-jewel Ronda movement, 2-part fully repairable casing and applied baton dial work.
In 2011, the 103 Series was featured in SFMOMA's Dieter Rams exhibition, Less is More: The Design Ethos of Dieter Rams.
Uniform Wares was one of only a few brands and designers, including Jasper Morrison, Industrial Facility and Naoto Fukasawa that were specially selected by Joseph Becker, SFMOMA's assistant curator of architecture and design, to be included in this landmark exhibition, highlighting the legacy of Rams in contemporary design.
Following this seminal exhibition, SFMOMA acquired the 103 Series for its permanent architecture + design collection.
The 100 Collection has gone on to seal its future as a design classic with the request from Josh Owen, Associate Professor and Chair of the Industrial Design program in the School of Design at RIT and an Associate in RIT's Vignelli Centre for Design Studies, to include the 100 Collection in the school's Product Timecapsule Archive.
In addition to this, Josh invited Uniform Wares Patrick Bek and Design Director, Michael Carr to deliver a Design Conversations lecture at RIT's Vignelli Center for Design Studies.
Patrick explains, "In 2009, two months after we had launched, Josh became Uniform Wares' 384th customer. At the time, he kindly wrote us this email that included a lovely sentiment:
My sincerest compliments on your outstanding watch design. While I have yet to receive my order, it appears to be a graphic masterpiece from the outside… it is always both exciting and worrisome to see a promising new brand emerge. One hopes that they can survive the inevitable difficulties which small business can suffer.
This was our last communication with Josh until in 2013 when we were exhibiting at the International Furniture Fair in Milan and Josh stopped by our stand to invite us to lecture at RIT. Of course, we jumped at the chance! To have the opportunity to not only converse with the students, but also donate product to the Vignelli Center for Design Studies was a huge honor. Our post-lecture round table discussion with graduate students was particularly engaging and the Vignelli Center is a significantly valuable resource for learning."
I asked Josh about his interest in acquiring it as part of the Product Timecapsule: "The Uniform Wares philosophy and corresponding artifacts carry the same principals demonstrated by many of the items in the Vignelli Collection by balancing engineering, materiality and aesthetics resulting in visually powerful and intellectually elegant output."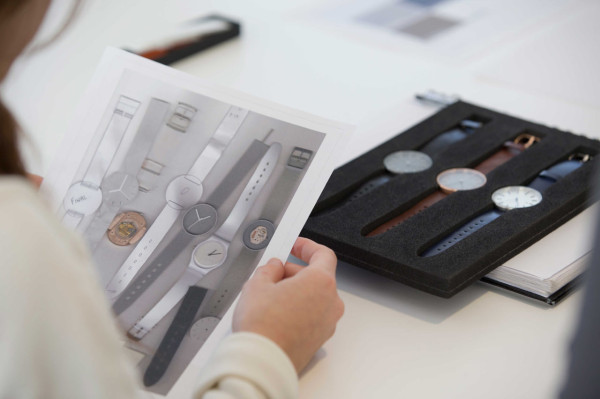 The teaching tools students will be able to reference include developmental sketches, mock-ups and physical samples of the iterative process that led to their commercial versions of the 100-Series watches. In a closed session referred to as a 'Vignelli Round-table", Graduate students from the ID department were given the opportunity to meet with the Uniform Wares team and to question their decisions for each stage of product development, Josh explains. "This unique case-study and corresponding discussion gave our students a rarified insight into the product-development process unique to the culture of their company."
We are very grateful to be able to peek inside the development of this new classic but even more delighted to hear how generous the Uniform Wares team is with their design process.