My cousin lived in Belgium for a few years and now I'm kicking myself for not visiting her. If I'd done so, I could have visited espoo., a boutique shop located in Antwerp that specializes in Nordic design. In addition to showcasing some of the best Scandinavian brands, espoo. also offers interior design services and has recently added a shop that focuses on accessories. I spoke with Owner/Founder Dries Brys about running the shops and some of their hot items.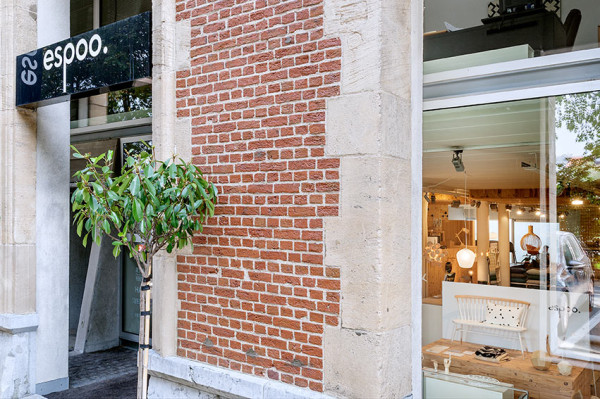 Why did you pick this city/neighborhood/storefront?
We know the South district of Antwerp quite well. As it became a vivid place since the revival of the area in the mid-80s and the opening of three modern museums, we thought this would be the perfect area for our shop. And since our opening in 2009, even more new interesting places have joined us.
Where did you get the name for the store?
We virtually travelled the globe to look for a name that was graphically matching our identity. We love the written Finnish language and the double oo in espoo. reflected this Nordic feeling.
Has it changed much since it opened? How?
It sure has. Our shop was the first design shop in Belgium to fully focus on new nordic design. Over the 5 years we have expanded our furniture and accessory collection with a lot of new brands. Last year, we even crossed the nordic borders and we added some Japanese, North American, Dutch and British design, without losing our Scandinavian roots. Also we decided to open another store on the same street: espoo. bütik, which focusses on accessories.
What's one of the challenges you have with the business?
In the past years, new nordic design has gained popularity and a lot of new shops focussing on Scandinavian design have now followed. Our challenge is to stick to our own identity and to create a unique atmosphere to keep customers inspired. And we love to continue our search for sparkling design.
What other stores have you worked in before opening this one?
None.
What's your favorite item in the store right now?
TATI table by Broberg & Ridderstråle for Asplund.
What is this season's theme/inspiration/story?
Urban nomadism.
Are you carrying any new products and/or undiscovered gems you're particularly excited about?
As for our main brands, we're looking forward to receive Tina Ratzer's rug Varjo for Muuto and the Kelim cushions from ferm living. Really excited as well about the new textiles we've got from Mae Engelgeer and the Split Mirror from Ontwerpduo.
What's been a consistent best seller?
The Dots by Lars Tornøe for Muuto.
Does the store have its own line?
Not for now. For our 5th anniversary, however, we are working on a limited edition bed linen in collaboration with graphic designer Emil Kozak.
Any special events/exhibits/pop ups/collaborations coming up?
We are decorating one of the temporary hotel rooms in the Eyes/Nights Only hotel during the international INTERIEUR Biënnale at Kortrijk next month (October) with furniture from Ercol, Asplund and Marina Bautier (awarded designer of the year 2014 in Belgium). Furthermore, in November we celebrate our 5th anniversary. More info on the party soon :)
Do you have anything from the store in your own home?
The MOODI cabinet from ZWEED. A lovely piece of craftsmanship.
What's next for you and your store?
As from the early start of espoo. we have always followed our instincts and are planning to keep doing so. The result is our own interpretation of interior design. So far, we have been trying to inspire customers mainly through our shops, but we want to explore new ways to excite people. Those new ways are a well kept secret :)
Follow espoo. on Twitter, on Facebook, and visit them at www.espoo.be.
Visit espoo. at Vlaamse Kaai 57 & 49 2000 Antwerp, Belgium.
Photos © Ans Brys.

Design From Around The Web