Ever read Walden; or, Life in the Woods by Henry David Thoreau? If not, it's a book that was published in 1854 where reflections of living in nature and having a simple life are explored. Inspired by that idea, Nils Holger Moormann designed Walden as way for nature lovers to store all of their tools needed to work in the yard, along with a table and chairs to take a breather, and a ladder to the upper level so you can stretch out and take a rest, just to name a few.
The design invites people to live outdoors while still having the things you love within reach.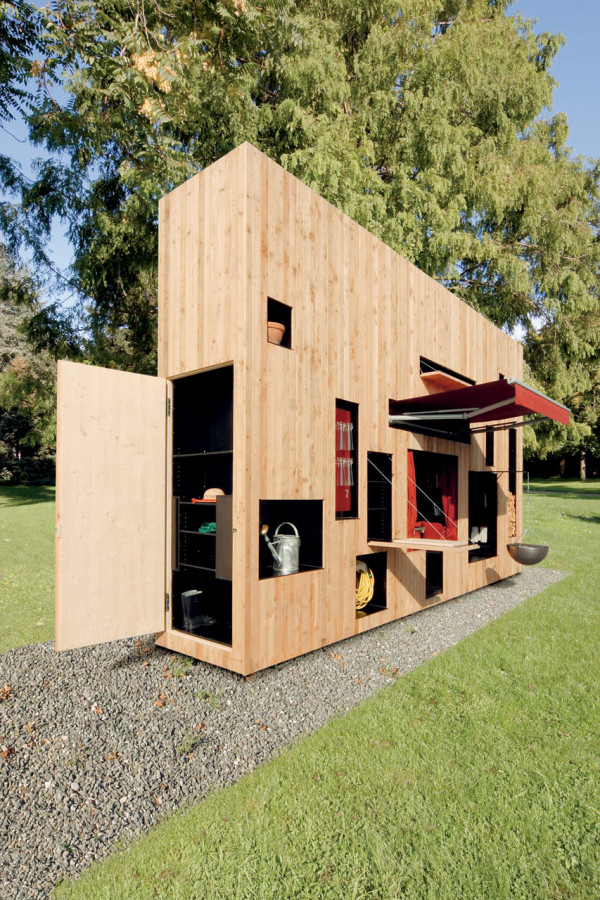 There are cubbies to store firewood and a swinging fire cauldron to let you cook over a campfire. There's a place to keep a birdhouse and bird seed, a flower pot, water can, yard tools, a wheelbarrow, grilling tools, and even a picnic table. A shade pulls out so you can have a nice shady spot to relax under.
Keep your drinking glasses stored out of the way until it's time to drink.
Right in the middle is a stagecoach-like cutout that has bench seating and a table in between so you can enjoy a meal, drink, or a game of cards.
When you're feeling a bit tired, climb the ladder…
to the upper level where you can stretch out and watch the stars.
Photos © Jäger & Jäger.