Interest in the horological instruments known as wristwatches has seen a notable uptick in recent months thanks to the Apple effect. With so much press surrounding the introduction of the Apple Watch – including an exclusive 18-Karat Rose Gold edition which will separate you from more than $12,000 after taxes – watches are back on the general public's radar as desirable fashionable accessory (horologists may scoff, noting they never went out of style in the first place).
The last time we checked in we spotlighted the most subtle and sophisticated of timepieces for the modern minimalist shying from attention. Turning around 180 degrees, here is a selection of watches with a level of flair sure to elicit, if not invite, the request, "Can I see what's on your wrist?".
1. Ressence Type 3: Impressively masculine, the automotive display-inspired Ressence Type 3 somehow veers into the lane of sophisticated in spite of an abundance of numerical graphical information spilled across its face. An array of 28 gears and 57 jewels hides underneath a "naphtha-type liquid" filled bubble top which supposedly reduces light refraction, and operates sans hands or crowns, its sexy bubble shape feeling both satisfying both held in hand or worn upon the wrist.
2. Uniform Wares C-Line Chronograph: Big, bold, and beautiful, the Uniform Wares C-Line is a mechanically muscular chronograph with a 41mm diameter face protected by sapphire glass and dressed up in rose gold.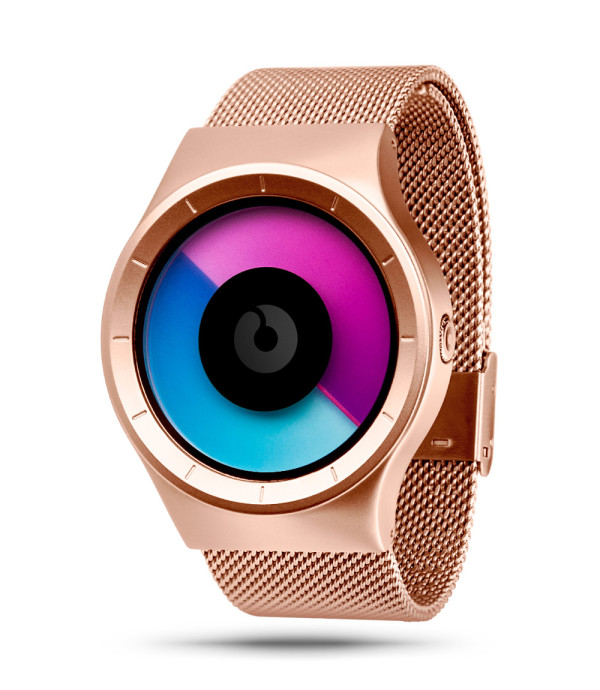 3. Ziiiro Celeste: Inspired by the phenomena of the Northern Lights, the Celeste's circular transparent disc movement of color might appeal to fellow colorphiles who like to arrange their book collection by color, organize their clothing by hues, and enjoy the graphical vs. the numerical.
4. Max Bill by Junghans: Polymath Swiss designer Max Bill's body of work continues to shape tastes today; his 1956 wall clock has long been an iconic example of the Modern Movement's commitment to finding the essence of form through function. German watch company Junghans has rereleased a line of Max Bill watches designed over a half-century ago, some true to the original designs, others like this women's edition adorned in felt, softening and modernizing the Bauhaus-aesthetic into a contemporary presence.
5. Olio Model One: Available in a natural steel finish or black PVD hardcoat, the Model One is a Humvee-tough smart device designed to swing for either mobile device team. The Android and iOS compatible smartwatch can also flip between analog and digital displays depending upon mood or need (but operates using it's own proprietary OS). The wireless charging 1.3″, 216 PPI IPS display smartwatch is built to be worn anywhere, with a water-resistance rating safe for up to 50M submersion, and constructed to be safe from dust, dings, and altitude thanks to a 316L stainless steel finish, "cold-forged nine times for hardness, milled, then hand-finished", so you now it's not going to die a premature and precious death like other wearables.
6. Jaeger-LeCoultre Master Ultra Thin Jubilee: In spite of its near two-dimensional and sleight dimensions, Jaeger-LeCoultre svelte timepiece is a statement piece nonetheless. The Jubilee's eye-widening 4.05mm thick "knife-shaped" case design makes the watch almost a skin-tight fit.
7. Grovemade Wood Watch: A perfect complement to the wood-obsessed company's handsome collection of home office organizing accessories, the Wood Watch is fashioned into a square or circular face with Eastern Hardrock Maple or Black Walnut then hand-sanded and oiled into a finish that gives their timepiece an almost furniture-like quality.
8. Mondaine Helvetica 1 Smartwatch: You know who is going to notice this watch? Design nerds. Specifically graphic designers with a passionate and affinity for typography. They'll be doubly impressed when you reveal the Helvetica font emblazoned watch is actually a smartwatch, the first from watch makers, Mondaine/SBB Swiss Railways.
9. Seaval Time: An earthy tan leather strap and Black Ash wood dial make for an eye-catching pairing in tune with the modern outdoorsman-style popular today. Beyond the significant steel construction engineered for an active lifestyle, what impresses us most is the unbranded dial, designed sans any visible logo. But then flip it over and a surprise wood grain graphic engraved onto the back offers a unique detail specific to the Seaval brand.