Imagine staying in a home that's so thoughtfully furnished and beautifully designed, you'd rather stay in than go out to the town you're visiting. A home that's filled with objects and amenities that are so surprisingly delightful, you're left thinking "I wonder where they got that from." Now imagine that this space is real, and that you can actually keep the things you tried and loved while staying here. Such is the case with OURS, a new hospitality concept by Ricky Chan and Brendon Garner that's centered around building a unique experience for the modern traveler.
Intrigued? So was I. For a few weeks, I was left waiting in limbo for OURS to officially launch, curious to learn more. When Ricky and Brendon graciously offered the chance to stay at Home No. 001, OURS' first and newly launched space in downtown Los Angeles, I jumped at the chance.
It's safe to say, my experience with OURS was incomparable to any other hotels I have ever stayed at before. I even got take-out delivered because I didn't want to stay away from the loft any longer than I had to be. Besides the obvious highlights (sky high ceilings, abundance of natural light, fine furniture and multitude of plants), I really enjoyed discovering and trying the complimentary products in the comfort of my own home (well, mine for the day) without the air of pushiness I might encounter in a shop or showroom. Plus, if I so desired, I could purchase anything I enjoyed via oursliving.com, Venmo, or Facebook Messenger and have it delivered to my home or to the loft during my stay—talk about instant delivery! And trust me, it was hard not to order everything from the home, especially after I got to try things out like those luxurious IN BED linens for longer than a quick, in-store touch test. The loft boasts a tasteful curation of brands and designers like Menu, Malin + Goetz, Casper, Stumptown Coffee, Google, Stephen Kenn, tokyobike, and much more. I also appreciated each meticulously considered aspect of the loft, from pink sea salt in the Menu Bottle Grinder in the kitchen to hair ties and Grown Alchemist facial cleansers in the bathroom.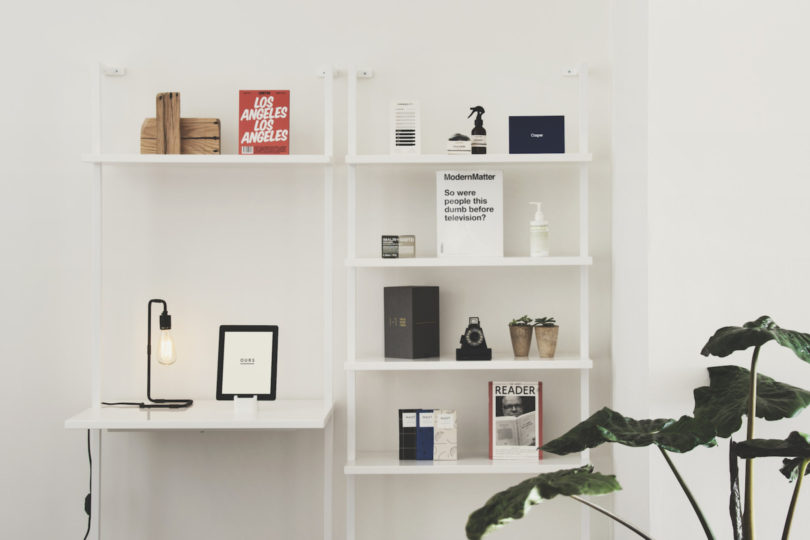 In addition to pleasantly experiencing the OURS concept firsthand, I also chatted with Brendon about the story behind the brand's name and (thankfully for modern travelers everywhere) what's in the very near future for OURS.
Why did you pick this city/neighborhood/storefront?
Home No. 001 is located within the Arts District of Downtown Los Angeles. For us, we see the neighborhood as a vibrant creative hotbed. The neighborhood is in constant evolution with a unique repertoire of restaurants, cafes and shops always serving up the goods. I actually live just a few blocks away at the Barker Block Lofts, enjoying the change of pace after a number of great years out on the Westside.
For us, it's evident that this whole area is on the verge of a pretty incredible transformation. From new neighborhood shops, to some pretty substantial developments like At Mateo and The Row, it's clear that this industrial area has not only the organic momentum of a community behind it, but strong financial backers encouraging its growth. When I first moved to LA, the first party I ever went to was a Sarcastic Disco warehouse party hosted by DJ Harvey in the Arts District, and the area seemed totally abandoned to me at the time. Seeing it now is completely remarkable. Thankfully, those all nighters are still alive and well!
Where did you get the name for the brand?
The name OURS comes from the time honored mantra of welcoming guests across the world with "what's ours is yours". We really resonated with the saying, as one of our core concepts for the project is finding ways we can all enjoy more while owning less. It's also really personal; it reflects the care and consideration we give not only to the Homes we design, but to the experiences of our guests as well.
What is the idea behind this brand and mission, and how did they come about?
Ricky and I both share an intense curiosity of what the world has to offer, and through travels and a passion for design of all kinds, we both became enamored with the idea of feeling at home, no matter what city you're in around the globe. Our goal is to create a network of conceptual travel destinations around the world, each with a focus on design and attention to the freedom people crave when traveling today.
Within each Home, we work with select brand and design partners to craft a unique atmosphere where guests can try out new products for free during their stay. If someone falls in love with an item they try, we make it easy for them to purchase it and have it shipped to their front door.
What's one of the challenges you have with the business?
For us, I reckon it's been a challenge of choice so far. We both have experience in the tech space in addition to design, so moving from the question of scaling digitally to scaling in the physical world is something we're constantly considering. Also, because we're currently leveraging short-term rental platforms like AirBnB that are also relatively new, it's definitely proving to be an interesting ride as the hospitality industry adjusts to the habits of the modern traveler. So, I would say that deciding how we scale, and choosing to establish ourselves in an evolving industry are the top tickets for us.
I'll add, because it came as a really pleasant surprise to us, that we've been fortunate to work with partners that are so open to what we're building and enthusiastic about being involved!
What other brands/stores have you worked in before opening this one?
Our combined backgrounds have seen stints in the arts, technology, architecture and fashion industries. In addition to cofounding OURS, Ricky is also the founder of OBJECT-MATTER, an award winning creative studio that has worked with some incredible clients including Google, Violet Grey and Spring. I spent a number of years in the e-commerce space as well, leading management projects for the likes of Target, and helping to bring new platforms to market by signing clients including Tesla Motors. More recently, I cofounded and lead the team at the mobile fashion platform Revel, where we worked with emerging high street brands like I Love Ugly, Second Layer, and Rochambeau.
What's your favorite item in the OURS Home No.001 right now?
This is a tough one because there's so many different types of items that make up each Home! If I had to pick a favorite though, it would be the one of a kind sofa we got from our friend Stephen Kenn. It's a special version of their recently released Bowline Collection, it's quite a striking design, one that our guests constantly comment on. We're also peppered with compliments about the Casper mattress and complimentary Grown Alchemist amenities.
What is this season's theme? (Is there a rotating theme at all?)
We design an experience with a central theme in mind for each Home. For Home No.001, located in the Arts District of DTLA, we were immediately drawn to the idea of creating a sanctuary from the hustle of city life. We brought in heaps of large and small plants to compliment the mix of modern and vintage furniture, which fills the large loft and creates a great balance of energy and comfort.
The space we selected for the upcoming Home No.002 is a bit more elegant by nature, so we're working with pieces that are cozy but still have very clean lines. There's definitely more glass, marble and brass thrown into the mix as well. It's been a bunch of fun and we're especially excited about some tricks we're playing with mirrors to really extend the natural lighting into each corner.
Does/will the store have its own line?
Since the day we began working with the floor plan of Home No.001, we've had our eye on crafting a custom line of home goods. Whether that will be large pieces or small, who knows, but it's just too fun of an idea not to explore. We'd love to produce a collab collection with some of our partners as well, and based on how some talks are going, we could see that as soon as this coming spring.
Any other special events/exhibits/pop ups/collaborations coming up?
While we've been soft testing Home No.001 for about a month now, we're really stoked to now be officially live with our new website and Home Collections online store where you can order anything found in our locations.
Over the next few months we're going to be throwing a series of dinner parties with our friends and partners, and leading up to the holiday season we're going to be opening the doors to Home No.002! With each new space, we have the opportunity to create relationships with amazing new partners, and we can't wait to share it all with our guests.
As for 2017, it's still early but we already have some exciting projects in the works, from collab designs to new Homes and maybe even some larger destinations.
Do you have anything from the OURS home No.001. in your own home?
I got pretty obsessed with Menu when I was putting together my own apartment before we started OURS, so it looks a bit like Home No.001's long lost brother.
What's next for you and the brand?
Right now, it's about continuing to expand our footprint across Los Angeles, select cities here in the US and potentially a few across the pond. It starts with collaboration, and we know we have a ton to learn, so it's going to be really fun for us to make the most of some incredible connections we've made and see where it all takes us.
The main focus for the near future is certainly on the hospitality space, but we're also exploring some avenues that can leverage our collective experience, and bring on board some friends from different disciplines that we think could really lead to something special.
What's one lesson you've learned since launching?
I'd say that learning how long it takes to really put a place together is a constant lesson in patience and determination. Until you've secured the location, it's so tough to even get a vibe for what it should feel like, let alone start the process of ordering pieces that can sometimes take weeks to build. Learning about the hospitality industry in general and interacting with guests has provided wonderful insights as well.
If you could give one piece of advice to someone who wants to follow a similar path to yours, what would it be?
Life makes so much more sense when working on a project that has a mission that feels completely natural and unforced. When you can combine that with friends that share the same mission and drive, the project can take on powerful life of its own.
OURS plans launch Home's 002 and 003 in the coming plans and then expand across LA, NYC, SF, and (fingers crossed!) across the Atlantic in the coming year. To learn more about OURS or to book a stay in Home No. 001, visit oursliving.com.
Disclosure: Design Milk received a complementary one night stay from OURS but all opinions are our own.