Do you see what I did there? I threw you a curve ball with that title…
This week we were going to show you a house tour, but we decided to share some news instead. Jordan and I had lots of projects planned for the first 6 months of moving into our new home. An enormous honey-do list of nonstop fun home improvement tasks to keep us busy until Christmas. However, a few months ago, we were hit with a curve ball of our own…
WE'RE GOING TO BE PARENTS!
Yes, a Little Milk*** maiden is on the way. All those dreams of brand new cabinets, paint, and bathrooms have been dashed, but replaced with equal excitement at the notion of taking on a nursery. A nursery! So that means we've had to revise our Summer To-Do list quite a bit to make room for our new baby girl who will arrive in early November.
This is our first child, so we have no idea what to expect or what we'll need. We do, however, know that she is going to be the most stylish kid on the block. We've started putting together lots of ideas for the nursery. We're not into cartoons, characters or frilly pink stuff, so we decided to try to do something colorful and fitting for a house from 1960.
I'm building the room around two main things: Eames Crosspatch decals and an Alexander Girard FLOR rug. I think the theme is going to be organic graphic modern, or something like that, but it doesn't matter what I call it because Design Blahg will make fun of me. Decorating is very hard for me. Despite the fact that I operate a design blog, I'm no designer. Also, color is equally as difficult; I'm usually one to throw a room together using only black, white, gray, and wood. Here's my inspiration board so far. I'd love to hear your thoughts/ideas/suggestions: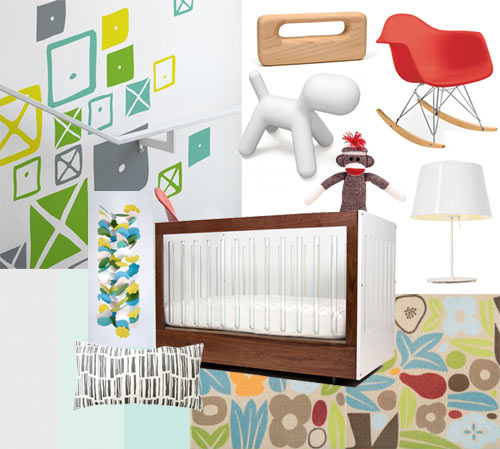 From top left, clockwise: Eames Crosspatch decals, Little Alouette wooden rattle, Magis Metoo puppy, Sock Monkey, Eames rocker, IKEA KULLA lamp, Alexander Girard FLOR Flora rug, Roh crib by Spot on Square, Frazier & Wing Summer mobile, Paper Cloud Wood Planks pillow, paint options by Sherwin-Williams.
*Little Milk™
**And, no, we're not launching a new website any time soon!

Design From Around The Web