Where I Work: Daniel Lantz of Graf Lantz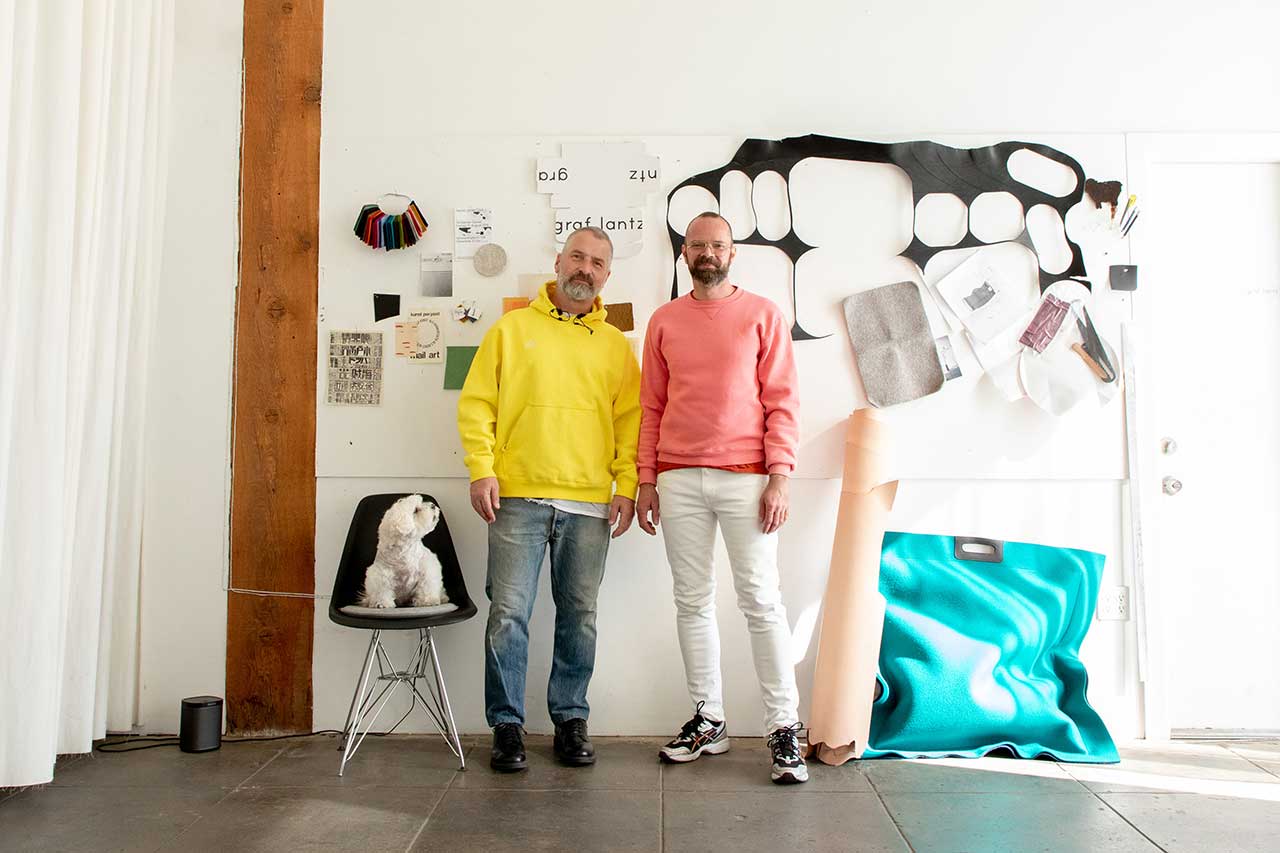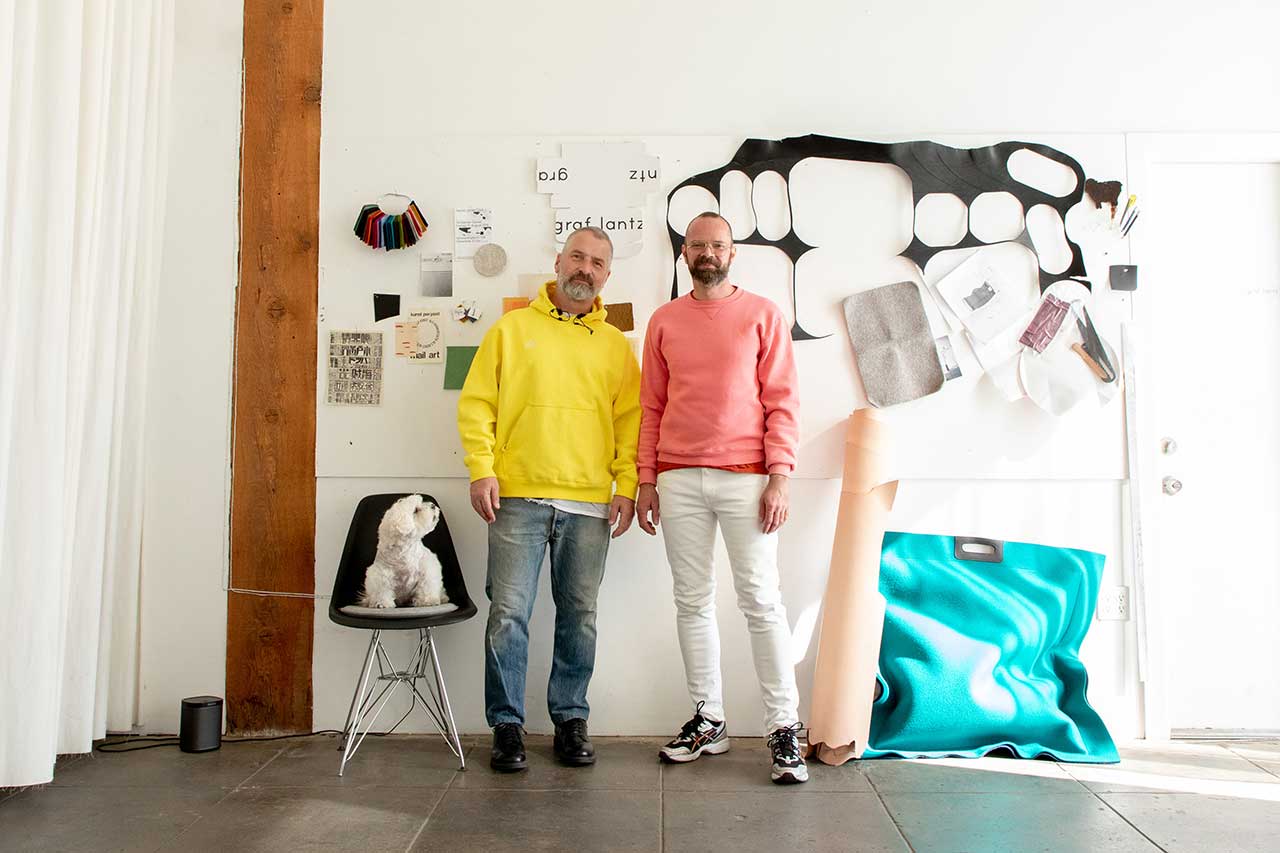 Where I Work: Daniel Lantz of Graf Lantz
1/15 Photos
2/15 Photos
3/15 Photos
4/15 Photos
5/15 Photos
6/15 Photos
7/15 Photos
8/15 Photos
9/15 Photos
10/15 Photos
11/15 Photos
12/15 Photos
13/15 Photos
14/15 Photos
15/15 Photos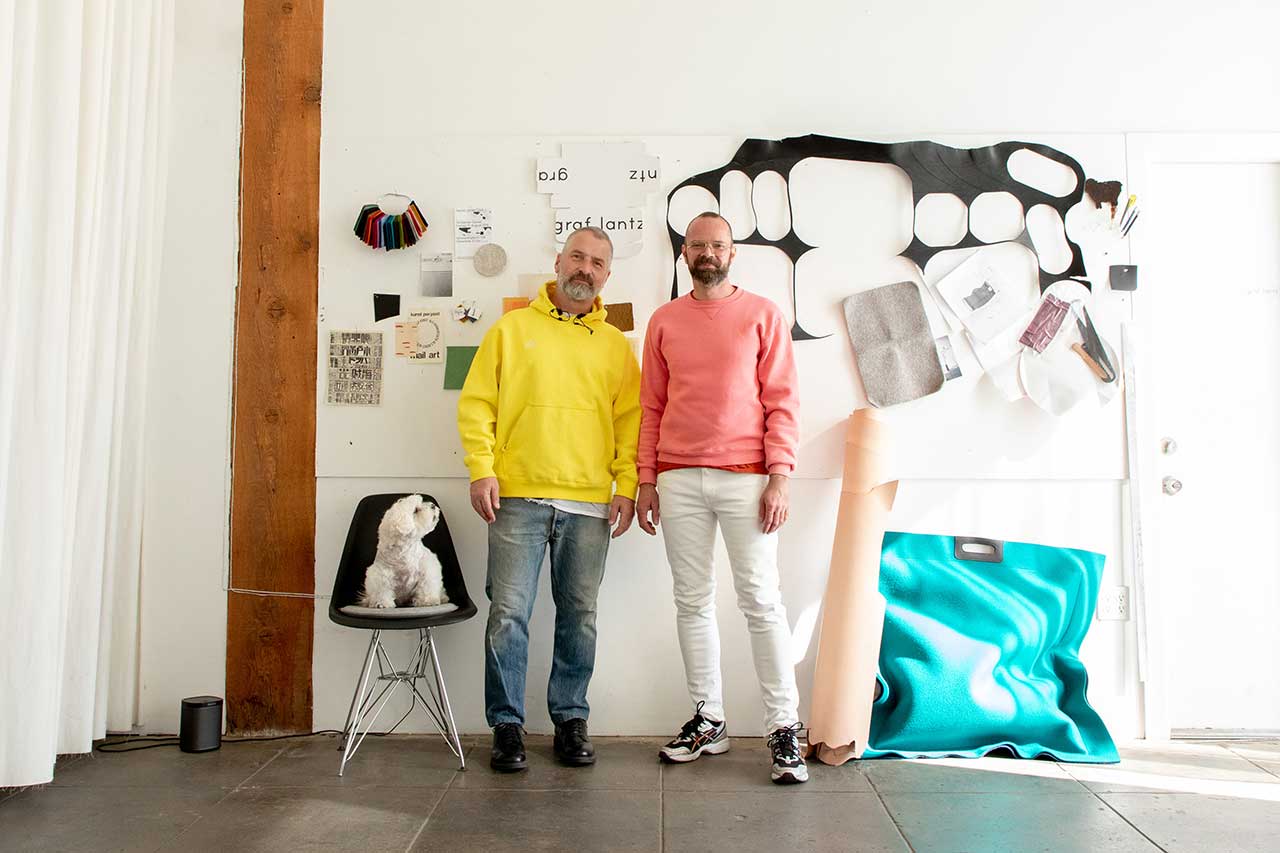 Holger Graf and Daniel Lantz founded Graf Lantz in Los Angeles in 2009, taking inspiration from Holger's German heritage and Daniel's passion for Japanese aesthetics. The unconventional home + lifestyle brand is best known for updating and reimagining classic styles using durable and sustainable merino wool felt and quality leather. The brand creates an ever-expanding line of practical and functional objects for the home and office, tech accessories and all kinds of bags + totes for any occasion. Every product begins in their Silver Lake studio which they've inhabited since 2012, and is now home to a small team dedicated to good design. In this month's Where I Work, Daniel Lantz takes us inside their L.A. studio to see how and where their built-to-last designs come to life.
How is your space organized/arranged?
Our space is messy, frenetic, constantly changing and becoming something else to fit the needs of the day. My desk is on wheels, it moves constantly. Whether it's conjuring a new handbag or growing a company, designing is always frenetic. The constant movement is kind of what keeps it interesting to us. All of my favorite art studios have been the kind of place where you're able to move things aside and have tea. I like the raw feeling of the space and its "functionality first" atmosphere.
How long have you been in this space? Where did you work before that? 
We've been in our Silver Lake location for 8 years. Every single thing we've ever produced has come out of here. Now that we've expanded, we can turn our beautiful building to focus on designing and growing the business.
If you could change something about your workspace, what would it be?
If I had my way, I would put everything on wheels. In a space you can clear everything off to the side, put some drinks out, and it suddenly becomes a dance floor. That is my idea of what I'd like our office to be like, a place that changes in a moment just like it does right now.
How do you see things changing in your workplace moving forward with COVID-19 now a part of our reality?
We will offer the option to work from home to anybody who wants to, whenever they want. I've always wanted the culture of our company to be one where people are both satisfied and have a system with which they can work. Where they know what they're doing, they know what's getting done, and they don't have to be there for 40 hours a week for the sake of it. It's more about knowing where you're at than spending x amount of hours at the office and feeling like you're not able to take a vacation. I want people to work in a different place than that. I think sometimes you just get more done when you're at home, it can be so hard to concentrate in an office when everyone's talking.
Is there an office pet?
Yes, Frankie! Frankie is not only our therapist, she's the queen of the joint and nothing happens without her say so.
Do you require music in the background? If so, who are some favorites?
We always have music in the background, but we encourage earphones because not everybody likes listening to that music. For me, it's Underworld. It's what I listen to in private all the time, and when I'm just working alone, which is my favorite time of all. I'm a voracious Spotify user, and I'm always in hope of using the disco ball. We also most definitely have KCRW's Morning Becomes Eclectic on.
Do you have an inspiration board? What's on it right now?
In my world, all walls would be cork. The only way that anything is ever remembered or recorded, at least for me, is if it's hanging on a wall laterally. My brain is a lateral memory board, it cannot go into drawers. I've hung everything on walls for ages. Right now, we have printing, design inspiration, felt samples, and the new leather project hung up.
What is your typical work style?
The truth about me is I love to be able to float in and out of a lot of things. Like today we're doing this, tomorrow it will be something else. When you need me I can dive in because I'm never focusing on one particular thing. I have to be sort of grabbed and dragged in. Holger manages every single leak on every single ship every day. The beauty of having this team is to be able to dive into different pots and things, and that's when we can lend our best hand. I've had this nickname "the hummingbird" for many years, and I love that because hummingbirds are awesome, and mysterious. They're great to hang around, but you can't really capture them entirely. I love the idea of knowing that things are happening, and anytime there's a problem we can do something about it, but otherwise we're not in everyone's face all the time.
What is your creative process and/or creative workflow like? Does it change every project or do you keep it the same?
This is a question we never really understand, I think it's too weird to try to explain. We've always been the people that when we get pointed in a direction, we just tighten in on it and leave no stone unturned. It just sort of develops. For example, I can be cooking a meal, and be straining a pot of pasta and have an idea come to me. We very seldom just sit somewhere thinking about it.
What kind of art/design/objects might you have scattered about the space?
We're not really "objects people", everything is functional. Everything has a reason why it's there, and most of the time it's not because it's pretty. We have no understanding of decorative objects. If the thing has a use, then we're generally pretty interested. Nothing around Holger and I is ever simply decorative. Anything other than that is usually a gift from our travels, or memories of people or of something we've done or seen.
Are there tools and/or machinery in your space?
We have spent our career learning how to walk quickly and sideways to get through all of the machinery in our space. The side-shuffle is how we travel through the factory. I absolutely love a rotary cutter, a lint razor, and our extremely heavy die-cutting machine which is really fun to run.
Let's talk about how you're wired. Tell us about your tech arsenal/devices.
Apple man all the way. We love a closed system. It's fun to buy Apple things, and I like their customer service. I think it's great that for such a large company they're still able to have dependable customer service.
Tell us about a current project you're working on. What was the inspiration behind it?
Everything, including the forthcoming Kuro collection in black leather, which is my favorite project right now. The inspiration behind it was the Japanese Urushi. I just love the blackness of them, they sit there and absorb the space surrounding them, and they have really lovely curves. Like all Japanese designs, it's the subtlety that is the main focus. And I just love that it breaks so many strange rules. This project isn't a real Urushi, but it follows the same kind of lines. It's not wood, but leather, which wouldn't typically be in those lines. I love how the pieces fit in and out of each other and become different things. It's fun because it's not a single thing, and it doesn't fall under what leather "should" be, because leather isn't usually like this. It's breaking rules that way, and creating the space for change. Change is everything, even if we as people typically shy away from it, we need change in our lives to survive.
Do you have anything in your home that you've designed/created? 
Just in our front room, I can count 11 things, including the Ravi pillows, a grey and white ottoman that I designed and Holger sewed, a million masks, coasters, you name it.
>>> Check out more from Graf Lantz in the Design Milk Shop here! <<<