In the movie Inception, Leonardo DiCaprio's character enters dreams to influence the dreamer or extract valuable information. To redeem himself and gain the opportunity to see his family once again, he agrees to take on a risky dream-within-a-dream-within-a-dream job to plant an idea, called "inception." For these dream sequences, he requires the assistance of an architect — someone who designs the cities and buildings in which the events of the dreams will take place.
Last week, for fun, I asked my Twitter and Facebook followers who they would hire as their architect to design their dream world, just like in the movie.
Here are the top five architects chosen in order of popularity and some info about each architect:

Jesolo Magica by Zaha Hadid Architects
1. Zaha Hadid
Iraq-born Zaha Hadid established her own firm in 1980 in London. She has designed some of the most influential and outrageous curvy, spaceship-looking buildings and objects in contemporary design. In 2004 Hadid became the first female recipient of the Pritzker Architecture Prize, architecture's equivalent of the Nobel Prize. She has taught and spoken around the world and is often cited as a top influential designer, architect and thinker. Still headquartered in London, her firm boasts over 350 employees. Notable works include the Central Bank in Baghdad, the Maxxi Museum in Italy, the Guangzhou Opera House in China, Vitra Fire Station in Germany, and the Rosenthal Center for Contemporary Art in Ohio. I think that her conceptual work is what makes her most intriguing.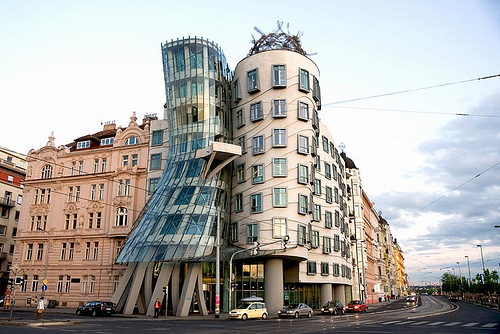 Dancing House by Frank Gehry
2. Frank Gehry
Based in LA, Gehry is a Canadian-American Pritzker Prize-winning architect whose work — in my opinion — can be described as disjointed movement. Each building that I see designed by Gehry looks almost like it made of movable parts. His work is often cited as part of the deconstructivism (deconstruction/DeCon) movement in architecture, where form doesn't follow function and the structures aren't rectangular in shape but fragment in a chaotic way. According to Wikipedia, he's inspired by fish… I don't see it. His work is either loved or hated. Notable works include the Guggenheim Museum in Spain, the Walt Disney Concert Hall in LA, his own residence in LA, the Experience Music Project in Seattle, the Weisman Art Museum in Minneapolis, the Dancing House in Prague, and the Art Gallery of Ontario in Toronto. We have featured Gehry's Lou Ruvo Center.

Fallingwater by Frank Lloyd Wright. Photo courtesy of the Western Pennsylvania Conservancy
3. Frank Lloyd Wright
Frank Lloyd Wright was an American architect and designer who designed works in the early to mid 1900s, perhaps best known for his work with stained glass. He was influenced quite a bit by Japanese art and architecture as well as nature. Some of his best known works include the Solomon R. Guggenheim Museum in New York City, Fallingwater in Pennsylvania, Taliesin West in Arizona, and his home and studio in Illinois.

Seattle Public Library by Rem Koolhaas (OMA)
4. Rem Koolhaas
Also a Pritzker Prize winner, Dutch architect Rem Koolhaas founded London-based OMA (The Office for Metropolitan Architecture) in 1975 along with his wife Madelon Vriesendorp and architects Elia Zenghelis, Zoe Zenghelis. He was a journalist, taught at Harvard and has been named as one of the most influential people int he world. He co-founded Volume Magazine with Mark Wigley and Ole Bouman, which focuses on architecture beyond the building — environments, spacial relationships and global views on architecture. Notable works include the Seattle Central Library, the Netherlands Embassy in Germany, the Casa da Música in Portugal, the McCormick Tribune Campus Center in Chicago, and the Prada store in Beverly Hills.
5. A four-way-tie between Antoni Gaudí, Koichi Kimura, Herzog & de Meuron, and Sou Fujimoto

La Sagrada Familia by Antoni Gaudí.
Antoni Gaudí was a Spanish architect in the late 1800s, early 1900s who was part of the Art Nouveau movement. Influenced by Gothic architecture, Gaudí developed his own style of sculptural style that seems to me to be overly ornate yet oddly forward-thinking. One of his most famous (and unfinished) works — La Sagrada Família in Spain — reminds me a bit of the Emerald Palace from The Wizard of Oz, except more heavenly.

House of Diffusion by Kouichi Kimura Architects
I wish that I had more information on Kouichi Kimura Architects, but I couldn't locate anything in English. Perhaps our Japanese readers can help us find out more? We have featured a few of Kouichi Kimura's works on Design Milk: Black House and House in Japan.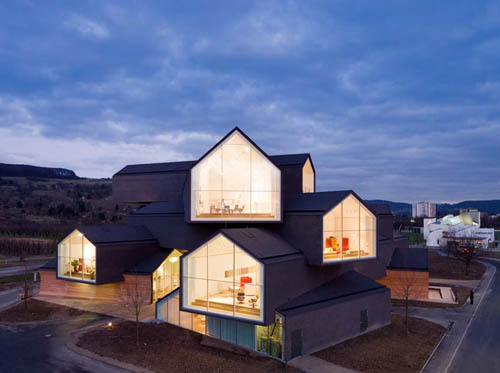 VitraHaus by Herzog & de Meuron. Photo: Iwan Baan
Herzog & de Meuron is a Swiss firm that was established in 1978 by Jacques Herzog and Pierre de Meuron. They won the Pritzker Prize in 2001. Notable works include VitraHaus, Prada Tokyo, the Beijing National Stadium for the 2008 Olympic Games, Walker Art Center expansion in Minnesota, and Tate Modern in London.

House N by Sou Fujimoto. Photo: Iwan Baan
Sou Fujimoto is a Japanese architect who established his own practice in Tokyo in 2000. He is also a professor at Kyoto University. We have previously featured Sou Fujimoto's T House.
Who would design your dream world?

Design From Around The Web