Artist Windy Chien is best known for her 2016 project The Year of Knots, but she creates on a vast scale – palm-sized pieces to installations spanning entire rooms. All of her life experiences combined to get her to this very spot, from owning a record store to working for Apple and everything in between. We reached out to Windy to learn more about her transition to full-time artist, her focus on knots, and the ways in which she uses Squarespace to keep her site on brand. Their professionally-designed site templates and all-in-one capabilities can assist with your domain(s), building your site, and marketing.
Chien happily claims the status of "outsider" by way of her "army brat" youth, ethnicity, and fringe culture that she's always been drawn to. But how does that play into her artist persona?
"I didn't go to art school (I went to the school of life!), so I have no preconceived notions of the gallery system, or of having to find representation to sell the work, or of what a 'real' art practice looks like. So I've started from scratch, but that hasn't been a hindrance, because I've lived long enough to have built a lot of confidence in myself. I self-direct and don't judge the way I do things. I know that the way to make a life is to do the things that come naturally to oneself, the things that make us happy, rather than try to fit into a prescribed role. My goal as an artist currently working with knotting is to make sculpture that elevates the vernacular, and in the context of knots, that means working at the intersection of function, design, history, and aesthetics in order to illuminate what I find fascinating about knots: the journey of the line," she said.
The worlds of technology and music combined to feed into Windy's love of art, eventually leading to her making the big leap to full-time artist in 2015 when she launched her studio.
She says, "I'm omnivorous about life and never thought I would do only one thing. By the time I hit my mid-40s, I had had two full careers owning a record store and working at iTunes and the App Store. As I'd sit at my desk at Apple, toiling on the computer, I noticed I was feeling envious of the people making tangible objects, whose work I would see each day on social media and on blogs on the internet. My hands got itchy. And crucially, I realized that my previous two careers had been about supporting *other* people's creativity – musicians, filmmakers, app and game designers. Once I realized that, it was game on. Within literally a matter of weeks, I left my tech job to focus solely on my *own* creativity for the first time in my life."
Windy's most recognized project – The Year of Knots – took place over the course of a calendar year, and provided a daily ritual that she then photographed and shared on social media.
"I approached the Year of Knots as an assignment I gave myself each day to learn a new knot. The seed of the idea was simple: self education. I had no idea that by the end of the year I'd have a single artwork comprising more than 300 knots that stood on its own. Nor that I'd have honed and owned my voice as an artist. That all happened as I was learning a new knot every day for a year," Chien shares.
Now known for her knots, we were curious where Windy's inspiration might flow from outside of the worlds of art, design, and tech that she was already so immersed in.
"It's pretty weird that I find old sailors' knotting books from the 1930s and '40s inspirational, but they're rich fountains of info," she says.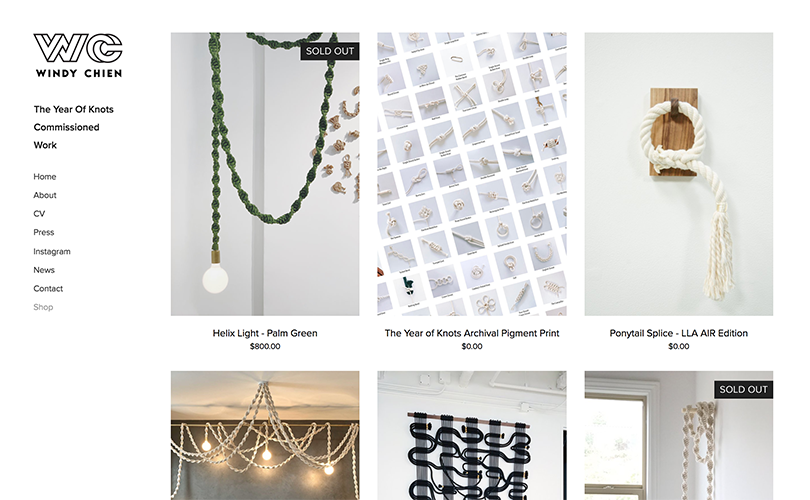 Windy relies on Squarespace to keep her site fresh and up to date, and now with their e-commerce capabilities Squarespace is able to make running her business even smoother from start to finish.
Chien praises the company saying, "There are only so many hours in the day and I want to use them to focus on my art and being creative, and I'm not interested at all in the production/scale/packaging/fulfillment side of things. Squarespace makes sending out an order literally as easy as a few taps on my iPad. If it wasn't as easy as Squarespace makes it, I would've closed my online shop years ago."
Ready to get to work on your own site? Take the first step with a Squarespace website. Use coupon code DESIGNMILK at checkout to get 10% off your first purchase.