Jamie Bush is a Los Angeles-based designer running his own interior design firm, Jamie Bush & Co., which he started in 2002. The New York born Bush received his Masters in Architecture from Tulane University and quickly established a name for himself in the design world, mastering modern spaces with layers of texture and color. For this month's Where I Work, Jamie Bush gives us insight into the space where all the design happens.
What is your typical work style?
I work normal business hours from Monday-Friday, but usually stay late a lot and work weekends too. I'm actually thinking about work all the time—I can't help it and I sketch ideas at home, send emails at 1am and am constantly thinking about the projects 24/7 because we have such great ones!
What's your studio/work environment like?
The studio is exactly what I love, it's like a NY loft that is a little rough around the edges. It's basically organized chaos—full of beautiful objects and furnishings, art, fabrics and materials everywhere with my cat knocking stuff over to keep everyone on their toes. ☺
How is your office organized/arranged?
I have a separate office for myself with reclaimed glass doors overlooking the big open studio space. Everyone else is working in a large open area with layout tables for everyone to use in the center of the space.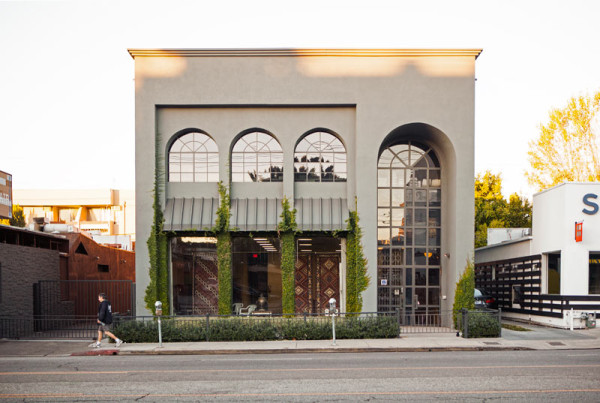 How long have you been in this space? Where did you work before that?
We've been here for almost 5 years now. It was a mess when we got it but I knew it had great potential. I was fortunate enough to be able to gut it and expose the structure and the windows to create my dream studio. Before I bought a charming little Spanish house in West Hollywood that I converted into my office. However I much prefer this space which is more of how I would like to live—big simple open spaces, lots of natural light and surrounded by rough natural materials.
If you could change something about your workspace, what would it be?
I would make it BIGGER! I love everything about it but we need more space ASAP.
Is there an office pet?
Yes, Timba is my cat that is the office mascot. She's pictured here on a rug I designed for Marc Phillips Rugs.
Do you require music in the background? If so, who are some favorites?
I like to have music going at all times. A lot of the time we listen to KCRW which I LOVE but it's an open forum—we have a Sonos system and everyone can control the music from their desktop so sometimes its Chet Baker and other times is Jamie XX, it runs the gamut.
How do you record ideas?
I have a huge stack of spiral bound black sketch books from the Holly Hunt showroom. They are the perfect size and a pen can slip into the rings so I can just carry that and always have something to write with. They go with me everywhere.
Do you have an inspiration board? What's on it right now?
I'm not so much for inspiration boards—I keep a lot of photos on my phone that I refer to and I keep lots of interesting objects, books and art around the office which I'm always referring to.
What is your creative process and/or creative workflow like? Does it change every project or do you keep it the same?
We typically try to focus on the architecture at the beginning. Is it great? Do we need to redesign portions of it? Does it just need a face lift of new finishes? What is the design aesthetic and what is the architecture asking for or lacking? Then we incorporate the client's wishes, likes and major dislikes and then address the budget. Each project is unique. However, if the architecture has inherent problems and isn't addressed then, in my opinion, the interior design is only a Band-Aid.
What kind of design objects might you have scattered about the space?
Lots of Japanese handmade ceramics, rocks and shells, photographs, driftwood and sculptures. I'm always drawn to the irregular patterns and textures found in nature and handmade objects.
Are there tools and/or machinery in your space?
The only 'tools' per se are my paints and brushes. I paint when I have time on the weekends and evenings.
What tool do you most enjoy using in the design process?
I sketch with these Japanese brush markers by Tombow. They create broad strokes and beautiful lines. I'm never without one.
Let's talk about how you're wired. Tell us about your tech arsenal/devices.
I personally like to be as low tech as possible. I do have an iPhone and iPad, however I find myself on my computer or phone way too much already so I try to balance my life with very non-tech activities – like cooking or making a fire at home.
What design software do you use, if any, and for what?
In the office we use AutoCAD, ArchiCAD, Photoshop, InDesign, Illustrator, SketchUp, etc. But I now don't use any of them, lol.
Is there a favorite project you've worked on?
I honestly don't have a favorite—usually my favorite is something that I'm currently working on, such as a great mid-century house on the water in Carmel, California called 'The Butterfly House'.
Do you feel like you've "made it"? What has made you feel like you've become successful? At what moment/circumstances? Or what will it take to get there?
I've been very lucky and have put in a lot of long hours and hard work over the years, and yes I feel that I've finally 'made it' in that I can work on projects that interest me in my bare feet and still be taken seriously. It was, perhaps, when I got my first big project in ELLE DÉCOR and everyone suddenly took notice of what we were doing over here.
Tell us about a current project you're working on. What was the inspiration behind it?
We are currently working on this great house in Houston. It's a rigorous, colonnaded mid-century house from 1965. It already undertook a two-year renovation and we are now designing the interiors in a warm, relaxed organic Brazilian vibe with tropical gardens inspired by Roberto Burle-Marx.
What's on your desk right now?
Lots of natural objects and ceramics—red corals, a hand carved bird sculpture, a jade plant in a vintage Japanese wooden planter and lot of turtles!
Do you have anything in your home that you've designed/created?
I draw a lot and I've been working on a large series of drawings that I called 'upside down L' series (in the background). I have a few of those framed in the house until I have about 300 to put on a show in a gallery, hopefully by years end.

Design From Around The Web