Kim Herforth Nielsen, of Copenhagen-based 3XN Architects, founded this Danish firm 30 years ago, after graduating from Aarhus School of Architecture in 1981, building an extensive catalog of impressive cultural and commercial projects, like the Muziekgebouw concert hall in Amsterdam, the Danish Embassy in Berlin, Museum of Liverpool, and The Blue Planet, Denmark's national aquarium, to name a few. Along with being involved in all of the firm's major projects, he often juries international architectural competitions and lectures at various universities around the world. Just about a year ago, he moved the firm into a picturesque converted navy canon boat house on the water in Copenhagen, letting the surrounding nature and energy of the city keep everyone inspired. For this month's Where I Work, we check out the new offices to get an idea of how Kim Herforth Nielsen and his team work.
What is your typical work style?
I get ideas everywhere. I think it is great to be out traveling, experiencing new things and getting inspired. But I work best at the office because the team is there. We work on sculpting and developing and idea together. Architecture is an evolution and development; it requires that we make model after model and develop the ideas together. It is hard work but fun!
What's your studio/work environment like?
We work in a converted historic naval gunboat shed on the canal in Copenhagen.
How is your office organized/arranged?
We all work together in one open space, which was one of the great motivators for moving into this new studio in December of last year. We had outgrown our previous studio and were spread across 2 ½ floors. It is very important to our culture that we all be able to work together and share ideas and inspiration. We have a non-hierarchical arrangement, with all partners sitting together in the studio with the design and administrative staff.
How long have you been in this space? Where did you work before that?
We moved here in December 2014. Our previous studio was only 10 minutes away, in the adjacent neighborhood, in a historic warehouse just down the road from NOMA.
If you could change something about your workspace, what would it be?
Since we just moved into the studio in December, we have created the place that best suits us to work. If I could change one thing, I would love it if the studio could be in more than one place! We work around the world and I love being in the studio, so it would be great to transport it to the other cities in which we are working. But seriously, I love it here more and more. We have the water just outside, amazing daylight, beautiful historic wood construction. It inspires me.
Is there an office pet?
No, unless you count the many swans and ducks that float past us on the canal.
Do you require music in the background? If so, who are some favorites?
One disadvantage to working in a large open space is that we cannot have music playing, as it will disturb some people. At home I often have loud music playing, which inspires me. I listen to everything from the Black Keys and Muse to jazz or James Brown or The Doors – it just depends on my mood.
How do you record ideas?
Primarily paper and pen.
Do you have an inspiration board? What's on it right now?
The whole office is my 'inspiration board' because it is full of our models. All of our architecture evolves and we learn from past projects and competitions, so we keep our models close by in the office. They are the biggest tool and represent our history and evolution of our thinking. They teach me and inspire me, as do the current projects and problems we are trying to solve.
Nature is perhaps my biggest inspiration. Years ago as a student I read that Jørn Utzon said that, but I did not really understand it then. Now I appreciate the repetition and randomness of nature; how it is not stiff but truly organic. So many opportunities to be inspired!
What is your creative process and/or creative workflow like? Does it change every project or do you keep it the same?
I sit in the studio amidst the design teams and all of my partners. We always have 3 or 4 teams working on projects and competitions and we evolve the ideas and design together. As I mentioned, our work is very iterative and we make many physical models, have workshops and work in a very collaborative way. I sit with all of the teams at different times during the day and we share ideas and feedback through the whole process.
I have the designers send me project logs when I am traveling. These help me track the development of the design and follow the whole process even when I am out of the studio. We have found that this process works for us as a studio and we use it on all of our projects.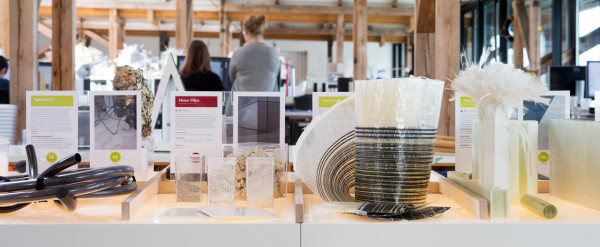 What kind of design objects might you have scattered about the space?
Models fill our studio, probably many hundreds but we have never counted. Even with digital modeling and all of the latest technology, I think it is incredibly important to work with physical models to solve our architectural challenges. We will often make dozens of simple cardboard concept and study models, and they are mounted on boards and hung about the space. GXN, our internal innovation unit, maintains a sustainable materials library in our studio as well.
Are there tools and/or machinery in your space?
Our new studio features a large, dedicated model workshop where two full-time staff and a collection of interns work to create our models. These are hugely important to how we design. The model workshop has a blade cutter and two laser cutters, as well as every hand tool and toy you can imagine for shaping projects.
What tool do you most enjoy using in the design process?
Models (for the reasons that I mentioned above.)
Let's talk about how you're wired. Tell us about your tech arsenal/devices.
An iPhone 6 is my lifeline. I recently burned through my old iPhone and my son had to bring a new phone to me while on vacation! I also use a MacBook Air and an iPad, especially when traveling, sometimes drawing on it using Adobe Ideas.
What design software do you use, if any, and for what?
A pen is my software. The rest of our team uses Rhino and a full complement of the latest software.
Is there a favorite project you've worked on?
I have four kids and I love all of them and could not name a favorite. There are some projects that you feel closer to than others, but I can never have a favorite project. My favorite is always the latest one!
Do you feel like you've "made it"? What has made you feel like you've become successful? At what moment/circumstances? Or what will it take to get there?
I definitely feel successful. When I think back thirty years ago to when I founded the firm, I never would have thought that we would be working in so many countries all over the world. I am grateful but am also always looking ahead and want to see what else we can achieve. I still have ambition and want to achieve and create more.
Tell us about a current project you're working on. What was the inspiration behind it?
We designed the new Quay Quarter Tower high-rise in Sydney, Australia that is very exciting. The building is very close to the Opera House and will have stunning views of this and the harbor. We formed the tower from five angled volumes, which will allow for the best views while also creating interiors at a human scale that encourage communication and interaction.
What's on your desk right now?
A bit of chaos surrounding my laptop – documents, trace, art books for inspiration.
Do you have anything in your home that you've designed/created?
I am always designing in my home. For example, I designed a large bookshelf (I love being surrounded by books and art) in the living room, a new staircase, bathroom, and now I am building a new kitchen that I have partly designed.