Wrap is a minimalist house located in Matsuyama, Japan, designed by APOLLO Architects & Associates. The creative clients of the project, who work in advertising and graphic design, acquired the land at the hilltop and wanted the architects to maximize the panoramic views while making the interior airy and open.
Exposed concrete with cedar paneling form a patterned facade mixed with galvanized steel to create a harmonious and orderly exterior for the building. The interior is mostly hidden, aside from the large opening which reveals the wooden structure within. An entrance courtyard lays beyond a wooden gate door, enclosed by a reinforced concrete wall.
The unique staircase features cantilevered steel that appears to float to the upper level. The soft diffused light coming down from the grating illuminates the courtyard space next to the bathroom located at the inner part of the building. All of the spaces within the ground floor, including the private room, face toward the inner courtyard.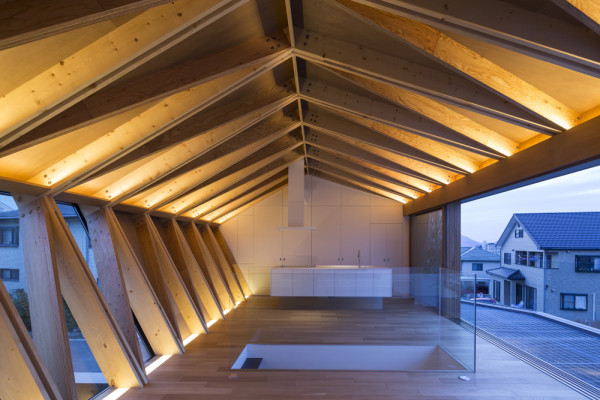 Photography by Masao Nishikawa.