With many cities banning plastic shopping bags and drinking straws, it makes you think about how badly we're damaging the environment with our plastic consumption. Luckily we have people like Rebecca Finell, the founder and CEO of FINELL, a luxury home goods and handbag brand, that are seeking ways to create beautiful and functional products that also don't destroy the environment. Her latest endeavor had us at Design Milk ready to hit "Add to Cart" before we even finished reading her email. What is it, you ask? It's Zip Top, virtually indestructible, reusable, 100% platinum silicone containers that will let you say goodbye to zip plastic bags and that cabinet full of mismatched plastic containers and lids.
They're made with the highest grade silicone available which means no BPA, lead, PVC, or phthalates will leach into your food like what happens with many plastic containers. Not only can you safely store your leftovers in them, you can carry your lunch to work, packs snacks for your car ride, store your toiletries, or corral your tech cables.
Zip Top containers are refrigerator, freezer, dishwasher, microwave, and oven safe (up to 425°F) so they're super convenient for everyday living.
Think about this: the average family uses up to 2000 plastic bags a year, all of which end up in landfills where it can take 400+ years to break down. A single Zip Top can replace 5000+ disposable bags which you can feel good about!
Their flat bottoms are great for resting on countertops or in the fridge and they're also handy in your car's cup holder when you need a snack within reach.
From Rebecca Finell:
I knew making this would be an engineering feat and manufacturing nightmare. Creating an open top container that holds its form and stands up, but keeping it flexible enough to close into a straight line at the top, was hard. But the hardest element, which took a year to engineer, was making open corners seal shut! It had to be air tight. ALL plastic baggies that zip shut are designed with two flat panels coming together which makes sealing easy.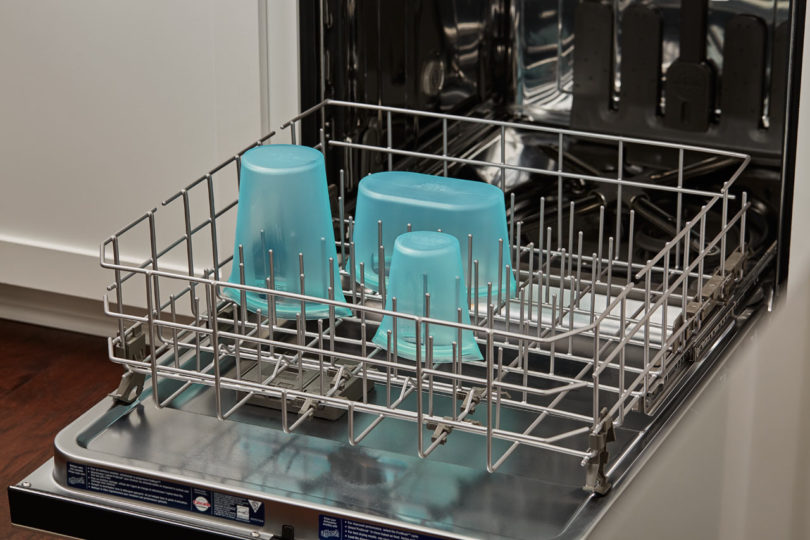 If you're like us and want Zip Top containers in your life, head over to their already successful Kickstarter campaign so you can take advantage of their early bird pricing!