Favorite Inspiring Designs in the World of Ramen
It's cold outside so we were inspired by hot bowls of delicious ramen. We round up some of our favorite, inspiring design contributions to the ramen world.
Household Brands Become Tasty Street Art
A quirky and delightful street art series of corporate logos of products and food made from the products themselves, like Cheez Whiz, Colgate, and Nutella.
Sharing Food is a Great Conversation Starter
Pinch took the idea of sharing food as a way to socialize and start conversations with people you don't know. Here, they gave us ideas on how to do just that.
Romancing the STONEWARE: Emerging Era of Tabletop Design
Pinch Food Design found a variety of fun ceramic, non-food related objects to create new, unusual, and non-traditional displays for food presentation.
New Ways to Have a Picnic
We found interesting ways to experience food and since it was summer, we looked at new ways to experience outdoor modern "picnic" adventures.
A Cocktail Party Collection of Tableware
Pinch Food Design created a new style of cocktail plate giving you options of stacking your plate on your glass and a slot to hold your fork.
Food as a Medium: Pigments and Dyes Made from Edibles
We check out artists that use food as a medium that achieve muted tones of pigments and dyes made from spices, vegetables, and other edibles.
Inspiration You Can Taste: Inspired Bites by Pinch Food Design
We give you a peek inside Pinch Food Design's new book, Inspired Bites! It's delectable for both your palate and eyeballs.
BRANCH RECIPE: Salt-and-Vinegar Tater Tots
Delve into this delicious recipe with an awesome presentation that takes the french fry to an entirely new level by way of a fancy tator tot.
A Set of Tools for People Who Have Difficulties Eating
A set of food-related tools to help people who have difficulties eating food and drinking so they can rejoin the social aspects of both.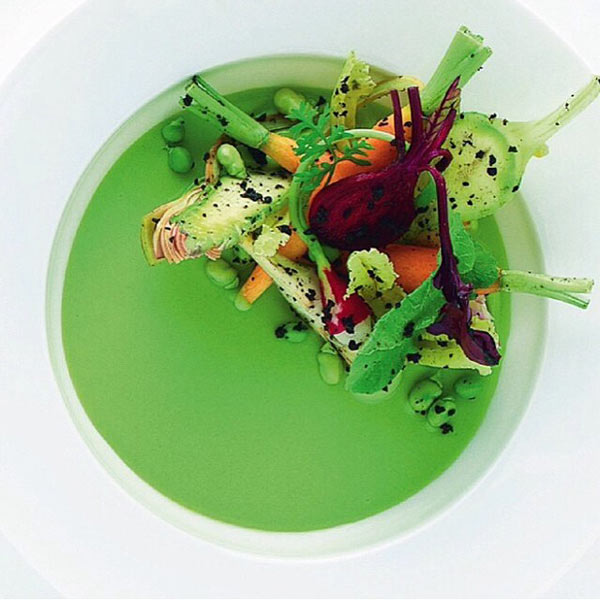 The Art of Plating: Where Food and Design Meet
Chefs try to impress a diner with "new" visuals, using textures, colors, aroma, shapes, architecture, balance, and The Art of Plating serves up inspiration.