Traveling can be a stress-induced nightmare. Delayed and cancelled flights, lost luggage, missed connections, seatmate who sits cross-legged barefoot (*cringes*)? I've been through it all. What makes traveling easier–besides never checking in luggage unless you absolutely have to!–are the things you bring with you on the trip. Below are some items that will hopefully make all parts of traveling a little more enjoyable, from packing to being in transit to landing at your destination.
17oz Water Bottle by S'well \\\ $35
I never travel without a water bottle but I hate luke-warm water. I always carry my white S'well bottle with me because it makes ice water last for 24 hours (often times longer!). My husband carries the larger 25oz size ($45) with him and although he initially balked at the price, he no longer goes anywhere without it.
Natural Beauty – Cognac Toiletries Kit by Stephen Kenn \\\ $325
I recently discovered Stephen Kenn when I spent the night at the OURS Home No.001 (he designed that amazing sofa). When I looked into him more, I discovered he created a completely splurge-worthy leather dopp kit filled with lots of natural toiletries. I'm hoping my husband sees this and gets it for me for Christmas…
Crumpled City Maps by Pizzolorusso \\\ $13
There's something about an actual, in-your-hands map that makes traveling so nostalgic. It promotes the art of getting lost and discovering a city, don't you think? These maps aren't so precious that you need to fold it neatly back to its original form (because who has the time for that?) but are still legible after you've crumpled it for the 18th time trying to get to the main street.
Field Guides by Wildsam \\\ $18
These travel guides uncover the soul of a city, documenting lesser known history as well as a curated list of recommendations that you would get from a friend who just visited.
Mini Jambox by Jawbone \\\ (on sale!) $45
While most modern hotels have some sort of small system that plays music and charges your phones, bringing one of these portable bluetooth speaker means that you can relax with your favorite tunes, especially if you're going somewhere tropical.
Experiences by Airbnb \\\ Varies
Have you heard? Airbnb recently launched Experiences, a way for you to book excursions, classes, and more by the locals in your city. You'll need to download the free app to book the experiences. With a variety of categories (sports, nature, social impact, entertainment, food, and arts), this new feature ensures that you'll have a most memorable vacation doing things like mending pottery with a Kintsugi master or creating music with an electronic producer.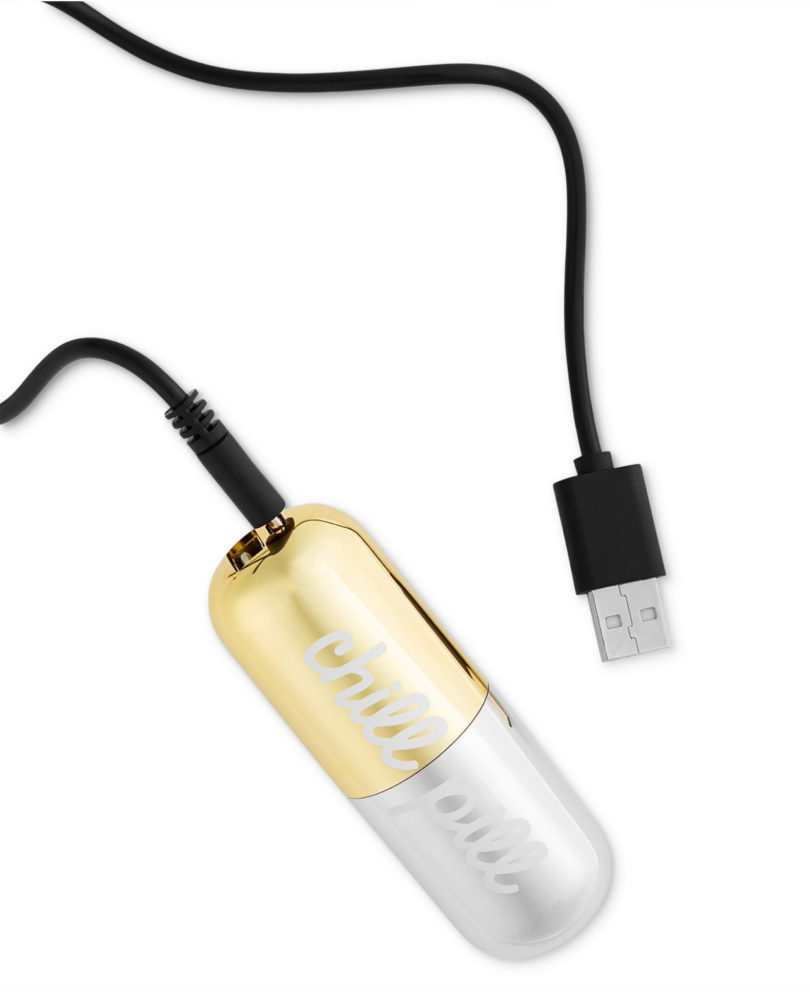 Chill Pill Charger by Whimsical Shop \\\ $30
It's a standard now: never travel without a portable charger with you. This Chill Pill version made me laugh because it's true, there is no chill when you're at 1% and your gate just changed.
SLR Camera Strap by Tanner Goods \\\ $125
I purchased a new camera a few months ago and have been trying to find the right camera strap to carry it. This leather one looks very sturdy and also has very minimal metal hardware that might scratch it (a must when investing in a new camera!).
Watch Roll by Convoy \\\ $75
Packing your most favorite timepieces is easy with this watch roll that can also be doubled by using it to store your jewelry.
Herman Big Bag by Herman Studio \\\ $71
Finally, this bag can be used to trek your belongings across the city for a weekend's stay when it's not being used as a grocery bag or a shopping bag (multi-purpose products for the win!).
And in case you missed it, the Design Milk team shared more travel accessories and gear (the ones we own and always bring) in this roundup here!