There's something about shopping for kids that feels way more fun than adults, right? Maybe it's getting to re-live our childhood during the hunt for the perfect gift, or seeing the unfiltered joy on the face of the child opening it. Either way, you can't beat it. From books to blocks to playhouses, we've rounded up a little something for every child on your holiday gift list.
Octahedrom Crayons Set of 15 by Kid Made Modern \\\ $13
You can never go wrong gifting a kid new crayons. I mean, was there anything better than opening a fresh box when you were little? And these crayons are even cooler with their two-toned design and multiple edges you can draw with for hours of fun.
Make A Face by Rock & Pebble \\\ $40
A wooden disc with pieces a kid can add to show various emotions and facial expressions. Teach them about their emotions or just let them play and make funny faces – either way, it's hours of fun.
Andy Warhol Wooden Dominoes by Mudpuppy \\\ $30
With Warhol's colorful, camouflage artwork adorning them, these dominoes bring a twist to the traditional game. The set includes 28 wooden pieces that fit within a wooden box with a sliding lid for easy storage.
Pantone Colors: A Children's Book \\\ $10
It's never too early to share your love of color with your favorite child. This visually stimulating book will teach them all about color and the variety of tones for each one from the color experts, Pantone.
Yayoi Kusama: From Here to Infinity by Sarah Suzuki \\\ $20
It's hard to escape the Yayoi Kusama popularity boom and for good reason. Her infectious and visually enticing art not only makes for Instagram-worthy photos, but her use of colors and repetitious patterns are super enjoyable to stare at, so you know an illustrated kid's book of her work will have the same effect on the little ones.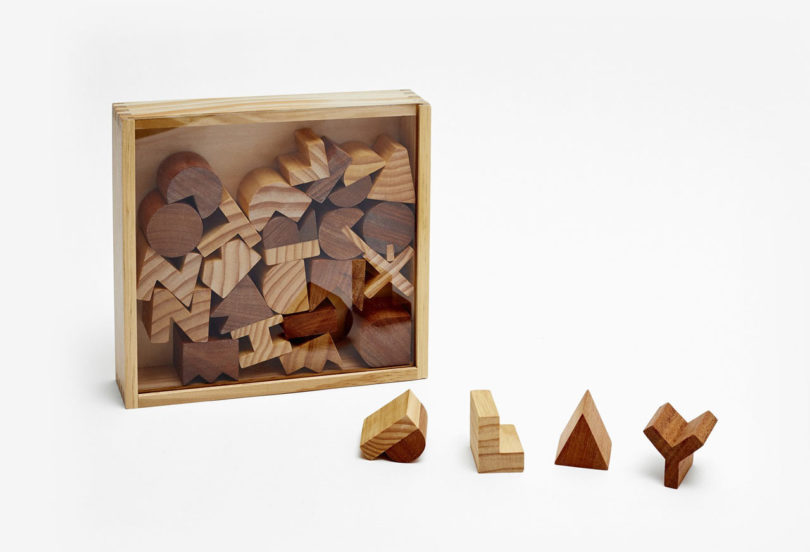 Alphabet Blocks by Pat Kim for Areaware \\\ $36
A twist on traditional alphabet blocks, these remove the block and leave you with 26 wooden letters in mahogany and pine. The "blocks" can help kids learn to spell or if they're a little bit younger, they can enjoy stacking them and using them as shapes.
Funkis Doll House by ferm LIVING \\\ $225
ferm LIVING designed a miniature version of a Funkis House (short for functionalism), which is a Scandinavian style of house that became popular with its flat roofs, square shapes, and straight angles. This modern dollhouse is made of natural plywood and can be played with on a flat surface or hung on a wall.
Knit Rainbow Cushion \\\ $48
This colorful rainbow pillow is bound to bring any kid happiness as they're lounging around watching TV or reading a book.
The Nugget \\\ $229
This set of four foam elements (1 sturdy folding base, 1 soft folding seat cushion, and 2 supportive pillows) can be arranged to form a sofa, bed, lounger, tent, or any variety of other configurations of forts a kid wants to build. Nugget is made to be furniture or to be used for play, but the options are limitless.
Palm Springs Playhouse by Sarah Walsh \\\ $169
Playhouses don't have to only be brown plastic boxes or pink Victorians, they can also be modern, and in this case a nod to mid-century architecture. Complete with a slanted roof and clerestory windows, this Palm Springs inspired playhouse is decked out with desert themed motifs.