German design studio Designliga renovated an old metal workshop in Munich into a modern studio for themselves. Preserving the character of the space was important so they worked with the bones of the building and created an industrial space perfect for a creative hub.
Inside the space, two ridge roof buildings were built that contain two floors each of office space. It not only breaks up the massive, single room, it helps add extra private offices for the employees. Other zones are created throughout the studio for specific uses.
I love that one of the "houses" is covered in smooth gold panels helping to create a striking element in the enormous space.
Additional workspaces are formed in the 2nd floor lofts, helping to set up privacy.
That space, along with the entire hall, is flooded with light thanks to the glass blocks that cover the east and west sides.
The former foreman's offices, accessed via the staircase, were converted into conference rooms with styles that contrast.
One room is a stark white with black furniture while the other is covered with dark blue walls and more homey furnishings. The rooms are separated by glass.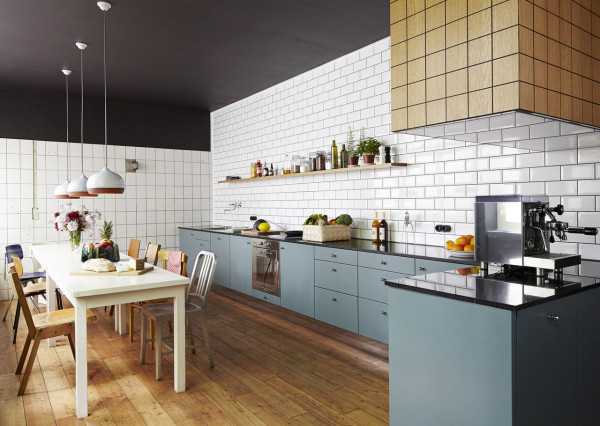 Directly under the conference rooms is the beautiful kitchen and private bathrooms.