Remember I posted about Architect Barbie? In that post I also mentioned that the American Institute of Architects (AIA) was holding a competition for architects to design the ultimate Barbie Dream House. The winner has finally been announced!
Congratulations to Ting Li, Assoc. AIA, LEED AP and Maja Paklar, Assoc. AIA whose house design was chosen by a voting system. Their design is not only chic and modern, but green, too. Of course, it's located in Malibu, CA on the ocean and is 4,881 square feet of living space.
On the first floor there's an open kitchen along with meeting and office space. On the second floor, there's a 500-square-foot terrace. The top two floors are Barbie's private space, for bedrooms and such. The roof also has a greenhouse and landscaped garden for her pets.
Lots of green features are part of this home, such as low flow toilets, zero VOC paints, Energy Star appliances, solar panels, bamboo flooring, landscaped roof with irrigation system, operable shading devices, and locally sourced and manufactured materials and furnishings.
Click on the images below to enlarge: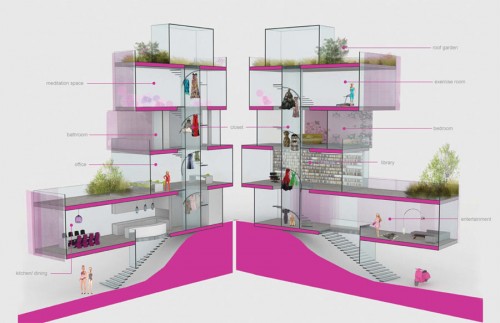 Will we be seeing this design in stores soon? Unfortunately, no, it will not be produced by Mattel. However, the creators of the winning design will have a $1000 donation made in their name to CHAD, a charter high school in Philadelphia focused on architecture and design.